Episode 11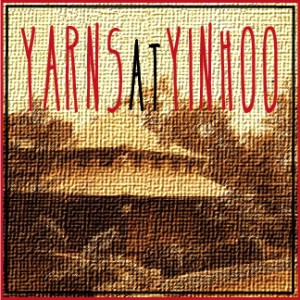 This episode includes segments titled: Yarn Lover at Large, Off the Shelf, and The Back Porch.
---
The Yarns at Yin Hoo website was hacked over the weekend.  The situation has now been corrected.  Thank you to everyone for your patience.  My site was one of many that were compromised and my server, Machighway, has restored regular service.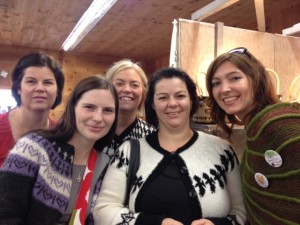 Yarn Lover at Large
My first trip to Rhinebeck for the New York Sheep and Wool Festival was everything I expected and more.  A sunny October day with a light breeze would be a treat all on its own; but paired with the festivities at Duchess County Fairgrounds, it was dazzling. The place was swarming with my kind of people: artsy, funky, eclectic free spirits — all with huge grins on their faces because seriously, there was nothing to do but walk around happily, among other people walking around happily. When I returned home, I was completely exhausted by my whirlwind of a day, but inspired and encouraged too.  I had little conversations throughout the day with knitters and fiber lovers from all over the world.  In the photo above, I've just met four women from Iceland who were questioning me about the welts in my Batad.
Videocaster Malia (rhymeswithmaria) calls Rhinebeck "knitter prom."  It's a see and be seen kind of event.  If you've ever felt that your knitwear is under-appreciated or even unnoticed, you need to go to Rhinebeck.  My Batad by Stephen West was perfect for the crisp weather.  I was warm when I walked around outside, and comfortable inside the buildings.  The striking architectural design attracted attention and lots of questions.  Best of all, I felt proud of myself for following through on intentional spinning and a challenging pattern with several new techniques.
I stuck with my shopping plan: buttons, new to me fiber, new to me yarn.  If I get to attend Rhinebeck again in the future, I will go even further and concentrate on vendors with which I'm totally unfamiliar.  This time, I did make purchases from a few vendors I knew about, but whose products I had not yet tried.  Purchases included: buttons from Melissa Jean, fiber in the honey to fig gradient from Fiber Optic, mill ends (bargain) sock yarn in Rare Gems from Socks that Rock, and worsted weight yarn in the color Bean from Creatively Dyed Yarn.  I'm attempting to complete all current projects so that I can get spinning and knitting with my new purchases.
---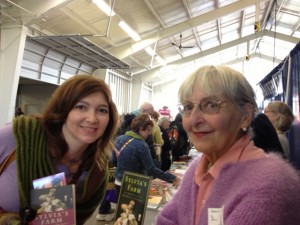 Off the Shelf
I wasn't thinking too much about a book tent with authors signing their work, but this aspect of the festival turned out to be one of the most rewarding.   I didn't expect to be doing any Christmas shopping, either, but I left with two signed books that will be perfect for loved ones on my Xmas list.
Sylvia Jorrin is the author of Sylvia's Farm. Soft-spoken and charming, with piercing eyes, she kindly chatted about her farm, her sheep and her writing process. She's not very tech-savvy, and sends her handwritten pages off to a typist. So elegant and quaint, right?  Edith Wharton did the same thing.  Verlyn Klinkenborg, New York Times columnist, was  signing copies of his collection of essays / memoir titled The Rural Life.
---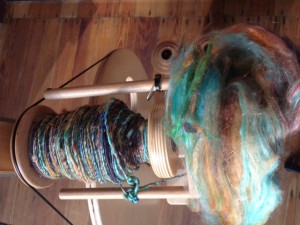 On the Back Porch
The bus trip from Emmaus with Conversational Threads was a great opportunity to get a lot of knitting done.  I completed my 22 Little Clouds shawlette by Martina Behm.   This morning, exhilarated by my exposure to so many knitters, I completed the finishing work on Samuel's Stringband.  It looks very handsome and it's incredibly soft and warm.  Finally, I gave the porch a good cleaning, then sat outside for several hours and finished spinning my art batt from Beesybee Fibers. It yielded about 180 yards of lumpy-bumpy singles.  My plan with this yarn is to use it in a weaving project.
---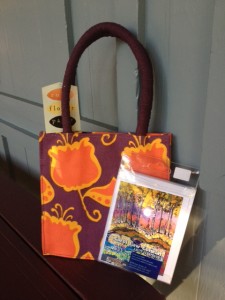 Teacher Tribute Challenge
One of my shopping objectives at Rhinebeck was to find prizes for our contest, which ends on Halloween.
For entries to Episode #7 on the Yarns at Yin Hoo website: Batik notecards from Carol Law Conklin.
For entries on the contest thread on Ravelry: a charming little project bag from rock, flower, paper.
"Can you row?" the Sheep asked, handing Alice a pair of knitting needles.  "Yes . . . a little — but not on land — and not with needles," Alice was beginning to say.     — Lewis Carroll