#100daysproject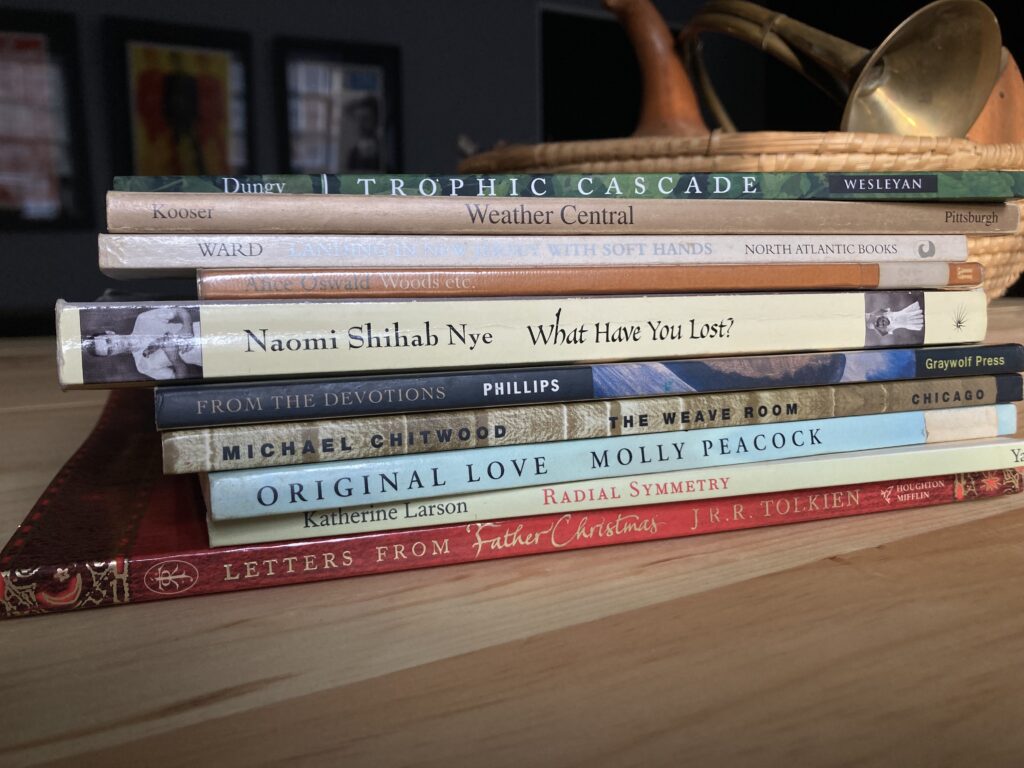 Starting on Friday, November 25 and concluding on March 3rd, I'll be reading a poem each day. Most will be from my own collection of volumes, but I will see out some new poetry too. Perhaps I'll find some poetry where I least expect it.
I plan to keep a running list of poems here, with updates each week. I may even read a few poems on IG REELS.
11.25.22 Trophic Cascade by Camille T. Dungy
11.26.22 "Kind" by Leonard Nathan from Naomi Shihab Nye's What Have You Lost?
11.27.22 "Shakespeare as a Waiter" by BJ Ward
11.28.22 "Moon Hymn" by Alice Oswald
11.29.22 "Etude" by Ted Kooser
11.30.22 "Life Study" by Molly Peacock
12.1.22 "Mrs. P., Who Worked in the Cloth Room, Became Famous for Her Quilts" by Michael Chitwood
12.2.22 "Luna Moth" by Carl Phillips
12.3.22 "Statuary" by Katherine Larson
12.4.22 from Letters from Father Christmas by J.R.R. Tolkien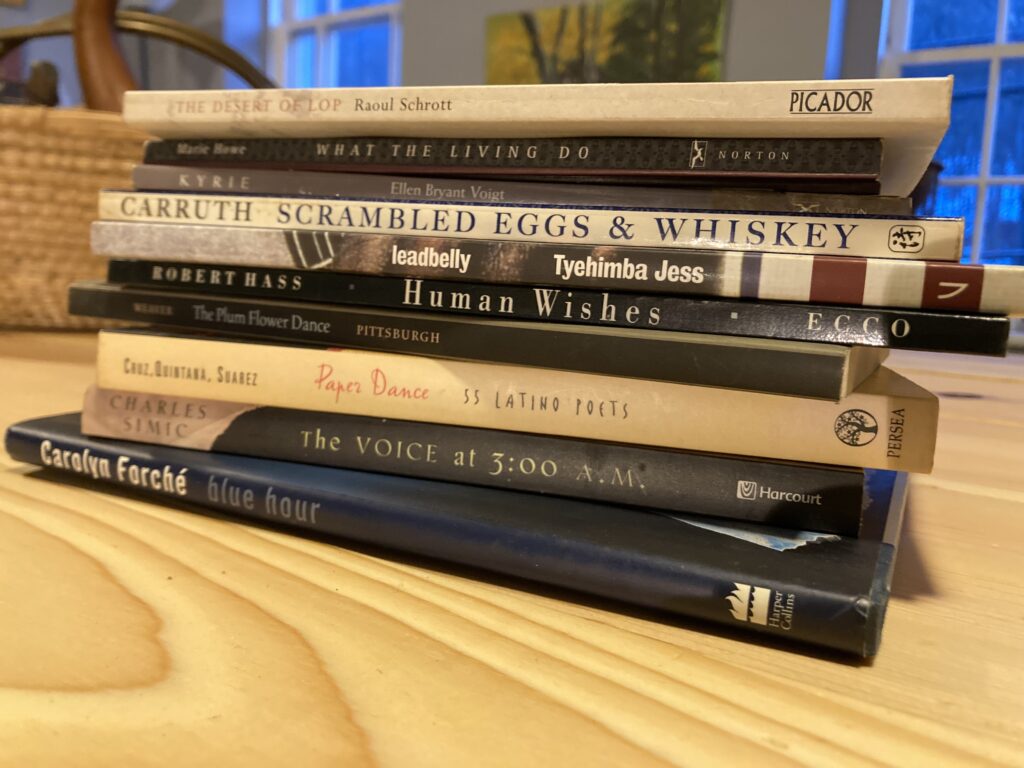 12.5.22 "Writing Kept Hidden" by Carolyn Forché
12.6.22 "Lost Glove" by Charles Simic
12.7.22 "Why My Mother's Teeth Remained in Cuba" by EJ Vega in Paper Dance: 55 Latino Poets
12.8.22 "Provincetown" by Afaa Michael Weaver
12.9.22 "Quartet" by Robert Hass
12.10.22 "sallie ledbetter: a mother's hymn" by Tyehimba Jess
12.11.22 "Saturday at the Border" by Hayden Carruth
12.12.22 from Kyrie by Ellen Bryant Voigt
12.13.22 "The Gate" by Marie Howe
12.14.22 XXXI from The Desert of Lop by Raoul Schrott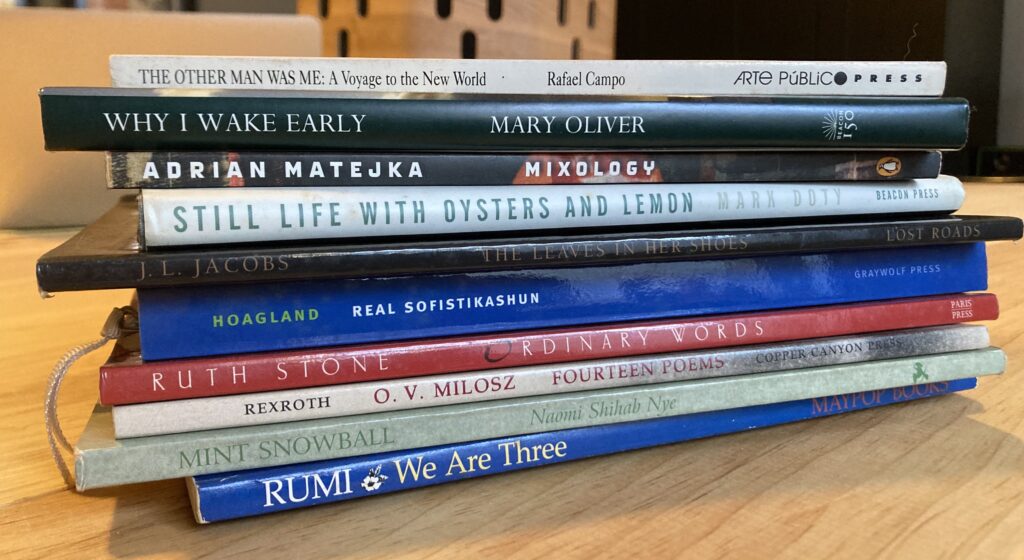 12.15.22 "deliberation is born of joy" from RUMI trans. Coleman Barks
12.15.22 "Eraser" by Naomi Shihab Nye
12.16.22 Elegy #8 by O. V. de L. Milosz
12.17.22 "Vermont Nature" by Ruth Stone
12.18.22 "In Praise of Materialism" (chapter) by Tony Hoagland in Real Sofistikashun
12.19.22 "The Timber They Kept Back" by J. L. Jacobs
12.20.22 from Still Life with Oysters and Lemon by Mark Doty
12.21.22 "Seven Days of Falling" by Adrian Matejka
12.22.22 "Snow Geese" by Mary Oliver
12.23.22 "Aida" by Rafael Campo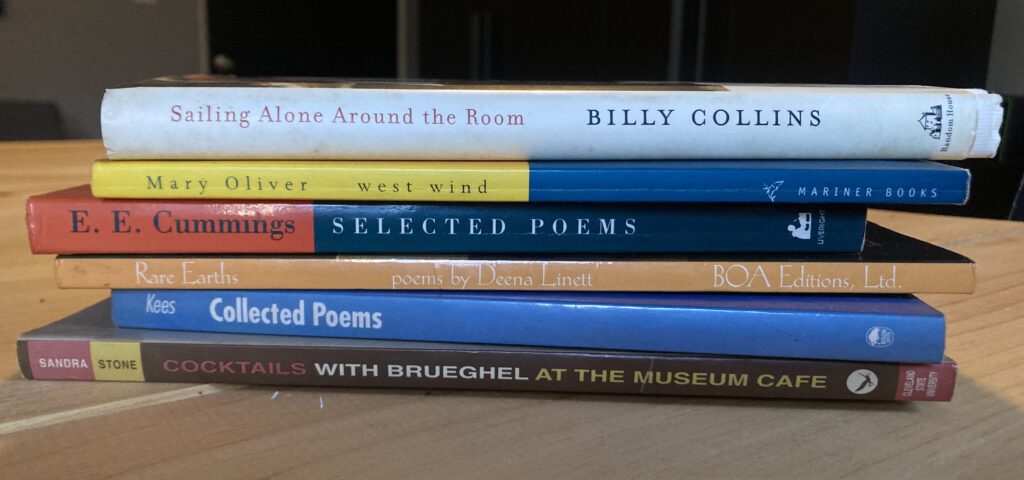 12.24.22 "Sun in an Empty Room" by Sandra Stone
12.25.22 "Early Winter" by Weldon Kees
12.26.22 Rare Earths poems by Deena Linett
12.27.22 Rare Earths poems by Deena Linett
12.28.22 Rare Earths poems by Deena Linett
12.29.22 Rare Earths poems by Deena Linett
12.30.22 Rare Earths poems by Deena Linett
12.31.22 Rare Earths poems by Deena Linett
1.1.23 "Picasso" by e.e.cummings
1.2.23 "Fox" by Mary Oliver
1.3.23 "Prairie Dusk" by E. Edward Horne in Taproot Issue 53: AMEND
1.4.23 "Somewhere in the barn owl's shadowed slide" by Judy Jordan
1.5.23 "Another Reason I Don't Keep a Gun in the House" from Sailing Alone Around the Room by Billy Collins
1.6.23 "Purity" from Sailing Alone Around the Room by Billy Collins
1.7.23 "Candle Hat" from Sailing Alone Around the Room by Billy Collins
1.8.23 "Nostalgia" from Sailing Alone Around the Room by Billy Collins