FOREST FLOOR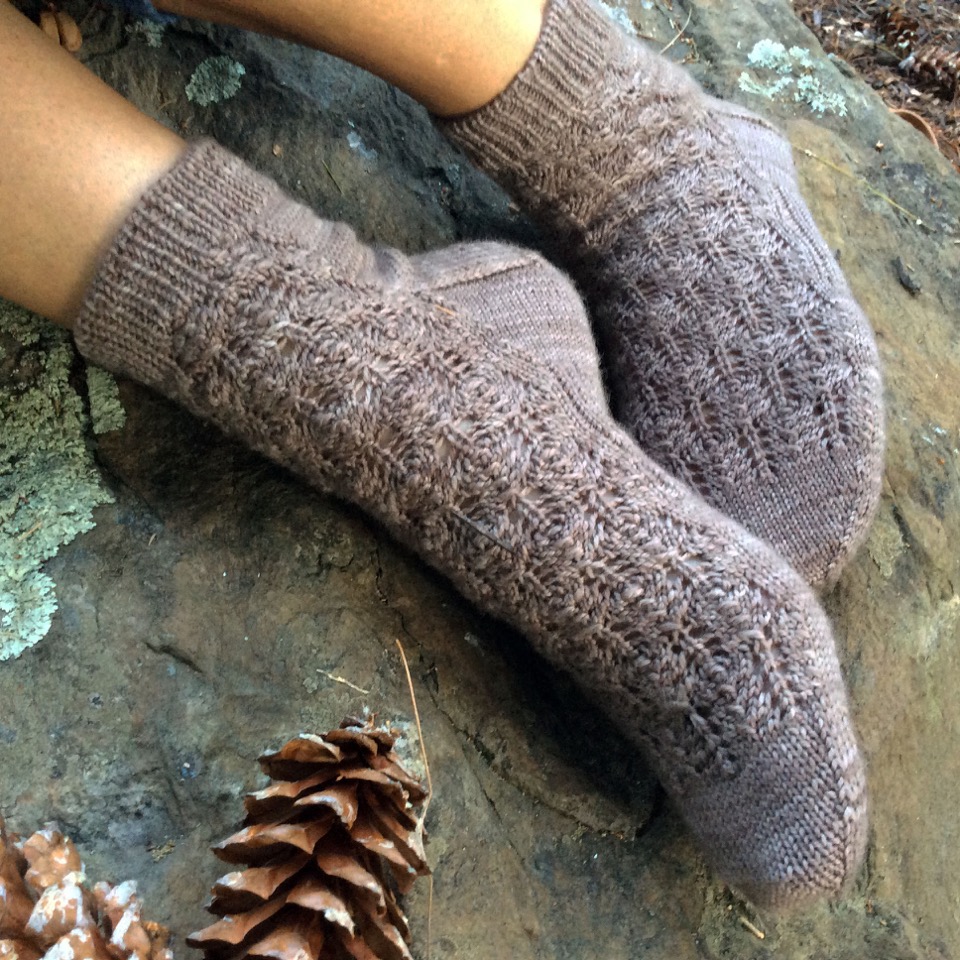 When I see a scattering of cones beneath the trees along my favorite paths, I slow my pace and breathe deeply, savoring the scent of the woods and the crisp autumnal edge to the air.  Pine cones are fall's flowers: their petals are dark, fragile—a harbinger of the coming months of cold.  This sock design, with a petite fir cone lace pattern on the instep and narrow cable at the back leg, was inspired by autumn walks and the wonders of the forest floor. It features cuff-down construction, a traditional heel flap and heel turn, and gussets on the sides of the foot. The pattern includes directions for a ribbed band at the arch and a gently tapered toe with a grafted closure.
Available October 4th on Ravelry.
DISTELFINK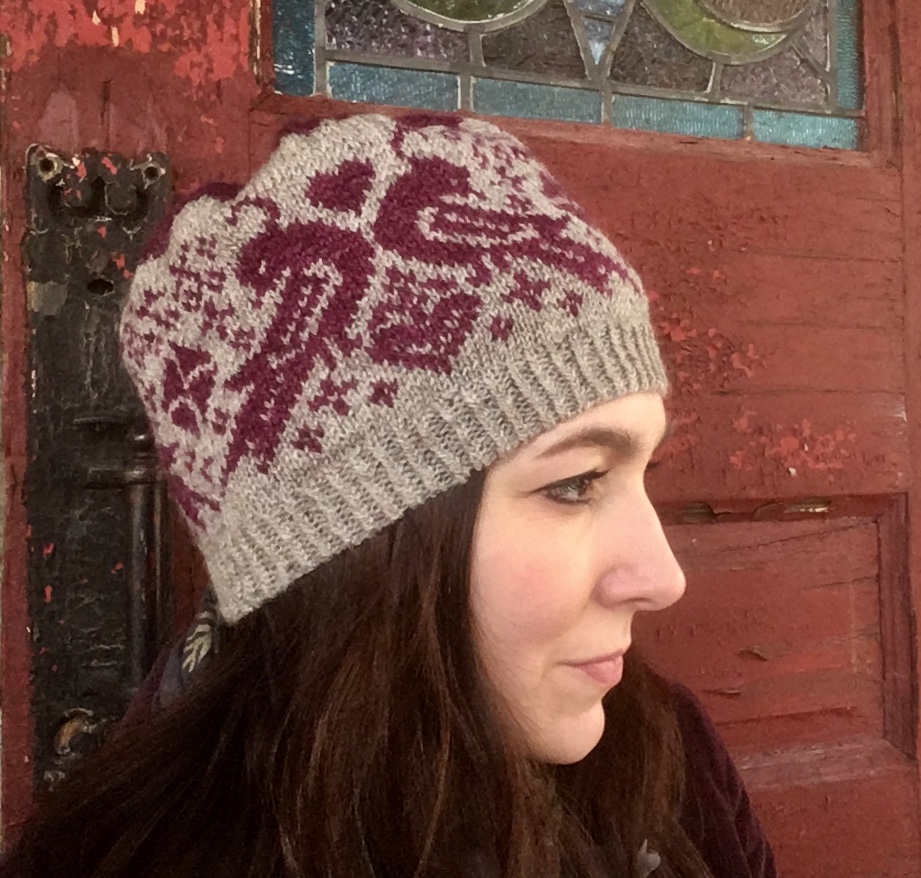 This pattern for a close-fitting beanie begins with several rounds of twisted rib.  The large colorwork motif features a pair of stylized goldfinch and additional symbols from fraktur art.  Known alternatively as a distelfink or "thistle finch," the goldfinch is prominent in Pennsylvania Dutch folk art and represents happiness and good fortune.
Available April 15th on Ravelry.
Venus & Cupid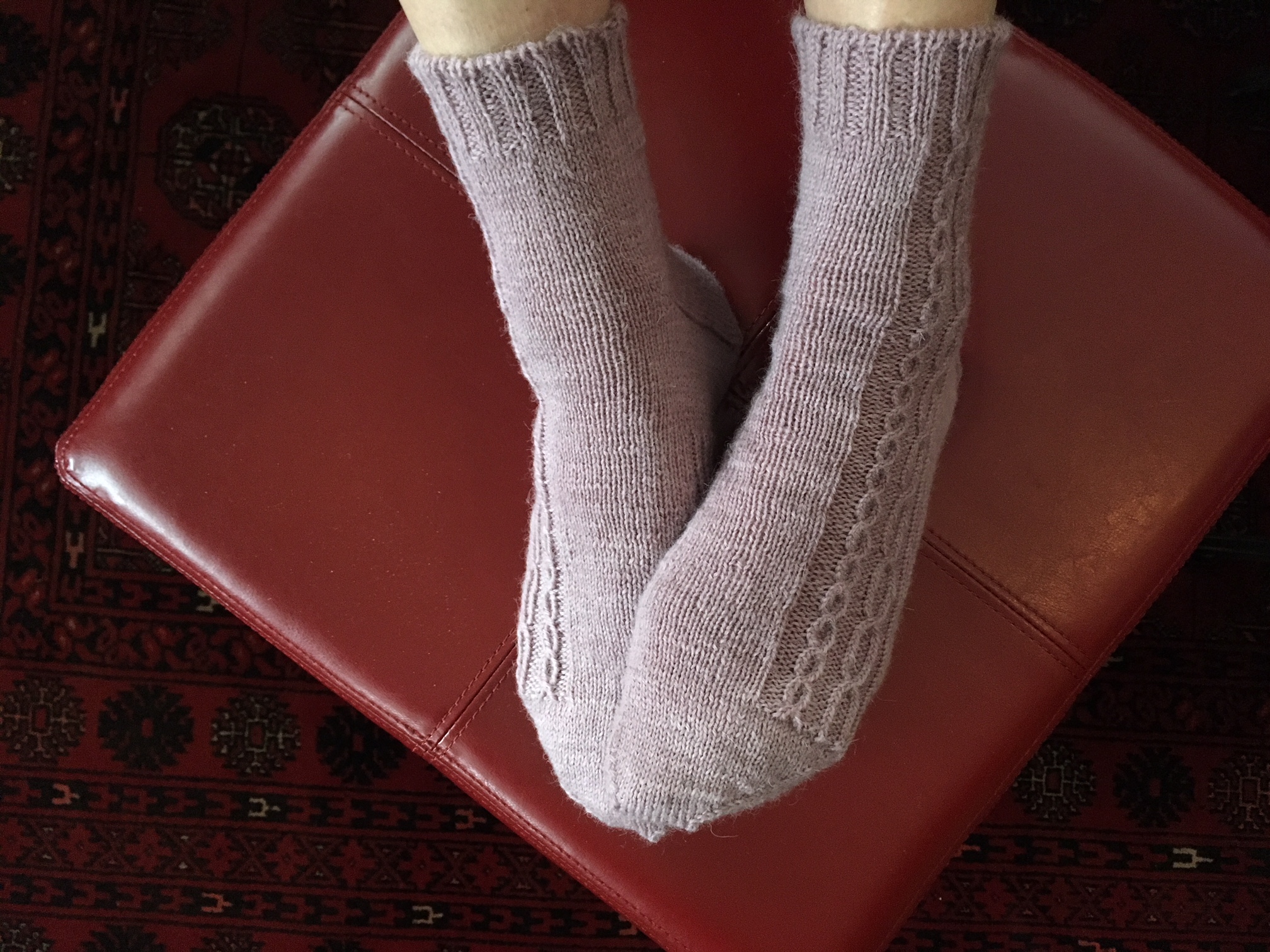 Myths and stories of the ancient Romans are endlessly instructive and entertaining, as their deities possess an array of quirks, foibles, rivalries and jealousies. Enter Venus, goddess of love. Given a much broader sphere of influence than her Greek counterpart, Aphrodite, Venus is the deity associated with love, sex, and beauty as well as fertility, victory, and even prostitution. Her fiery romance with Mars resulted in the birth of Cupid, who possesses qualities of both his parents.
God of desire and erotic love, Cupid is often portrayed as a chubby winged child who wields a bow and arrow with which he can impose feelings of uncontrollable desire on his chosen target.
Inspired by Venus and Cupid, and celebrating love in its many forms, these socks feature side by side cables set into a panel—one elegant, elongated cable and one cherubic little cable.  This is the ideal opportunity to try working cables without a cable needle. Included in the pattern are several techniques to intensify your romance with sock knitting, including an eye of partridge heel with a double gusset, a ribbed arch, and anatomically-shaped toes.
Available now on Ravelry.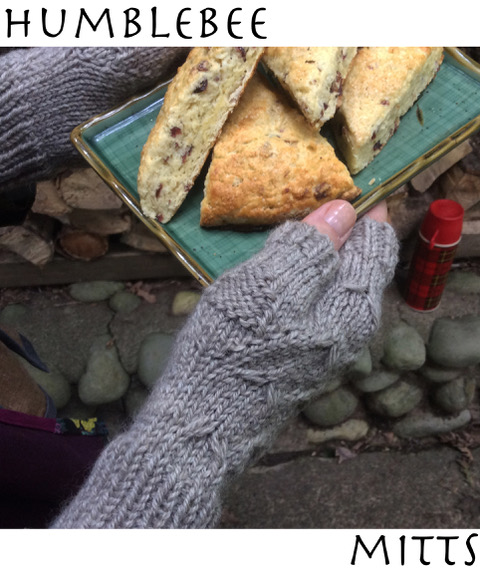 A delightful ascending pattern of wings adorns these fingerless mitts. These are the perfect accessory to knit with a skein of farm yarn from your local mill, farmer's market, or fiber festival. These mitts are especially nice for handspun yarn, as they were designed to accommodate yarns ranging from sport to light worsted weight. Knit from the cuff up, they feature simple cable stitches and a sweet skep motif on the thumb gusset.
Available now on Ravelry.
---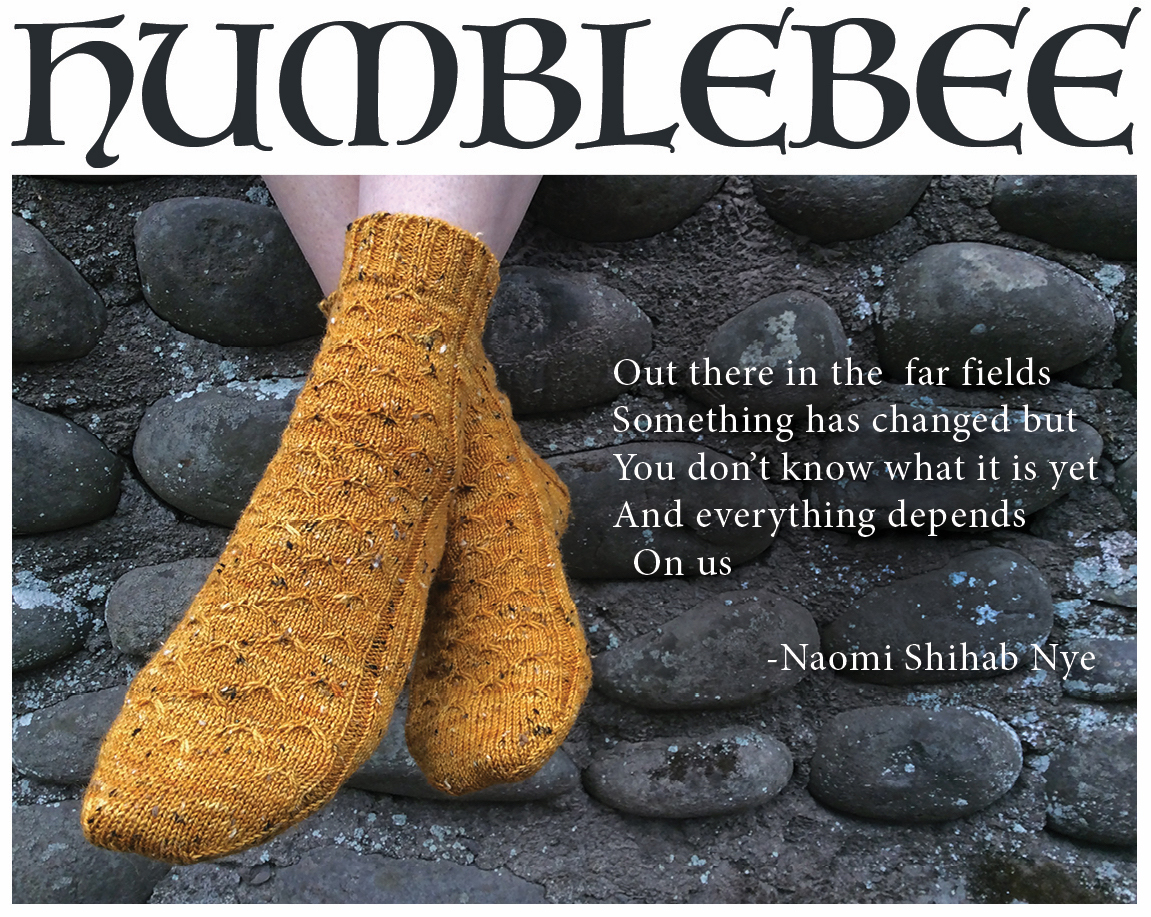 Apian imagery from Greek and Roman mythology reveals a belief that bees routinely traveled between human and divine realms.  Today, we continue to be fascinated—even mystified—by bees. These socks are a knitted tribute to the small but mighty pollinators that do important work on our planet. Your pattern purchase helps to support Heifer International's endeavor to supply honeybees to farmers in agrarian communities. Humblebee socks will keep you humming as you knit a simple cabled texture on the front and a charming column of bees on the back.  This pattern includes several techniques for a secure heel fit and a ribbed band at the arch to keep your feet feeling energized all day.
Available now on Ravelry.
---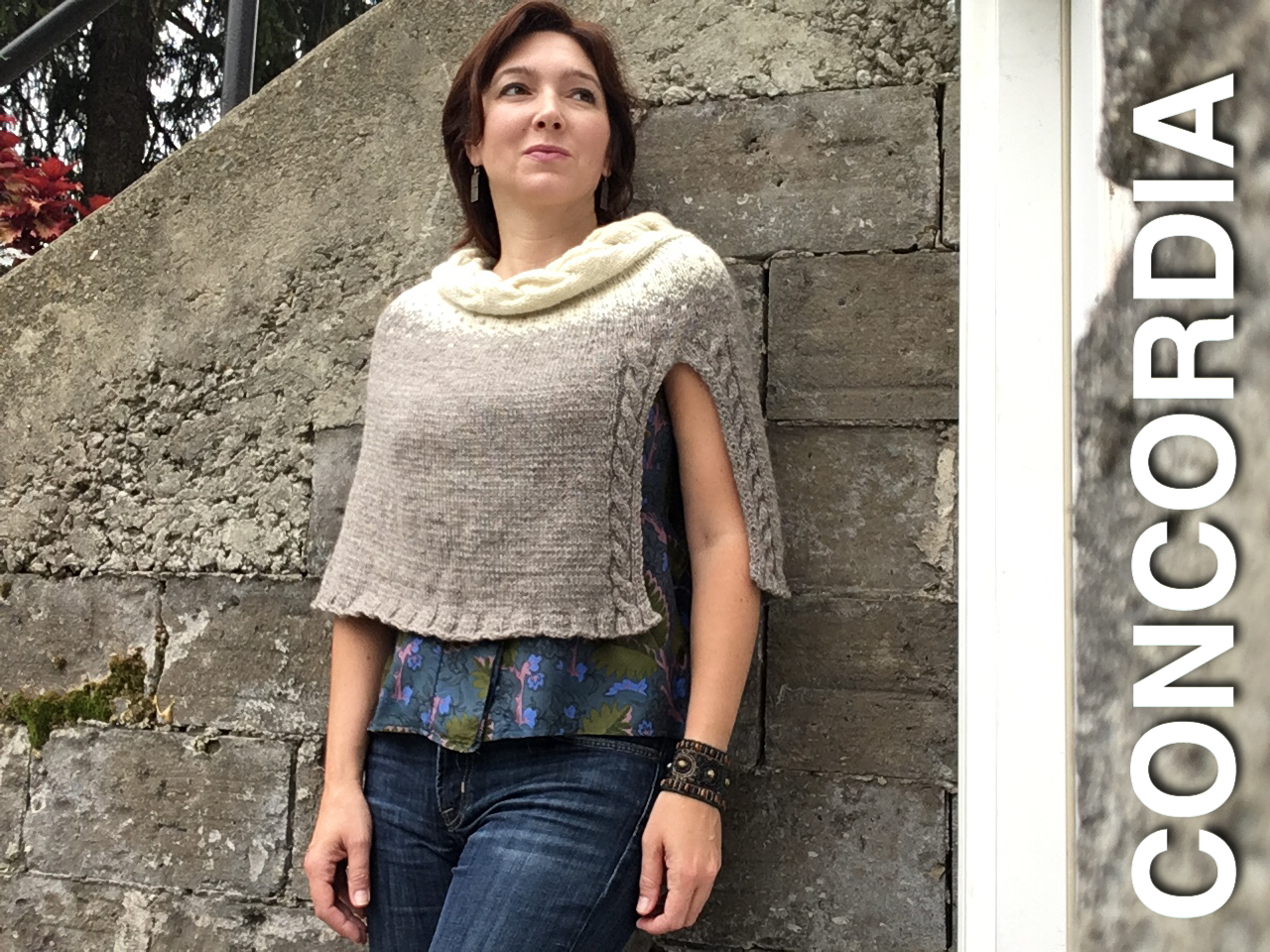 In Roman mythology, harmony is represented by the goddess Concordia. She is often depicted wearing a cloak and holding a cornucopia, a symbol of abundance. Inspired by the harmony created when natural fibers from different continents are blended together, this capelet features a luxurious cabled neckline and a simple, yet graceful transition between colors at the yoke. Concordia settles around your shoulders like a warm hug on cool days or chilly nights. Choose two yarns with high contrast and enjoy working a bit of stranded colorwork and a few cables as you knit to create elegance and harmony. The cabled opening can be positioned at the center of the garment or to the side for a fetching look favored by goddesses.
Yarn: Foster Sheep Farm – Concordea
---
BRAIDED BERRY HAT & MITTS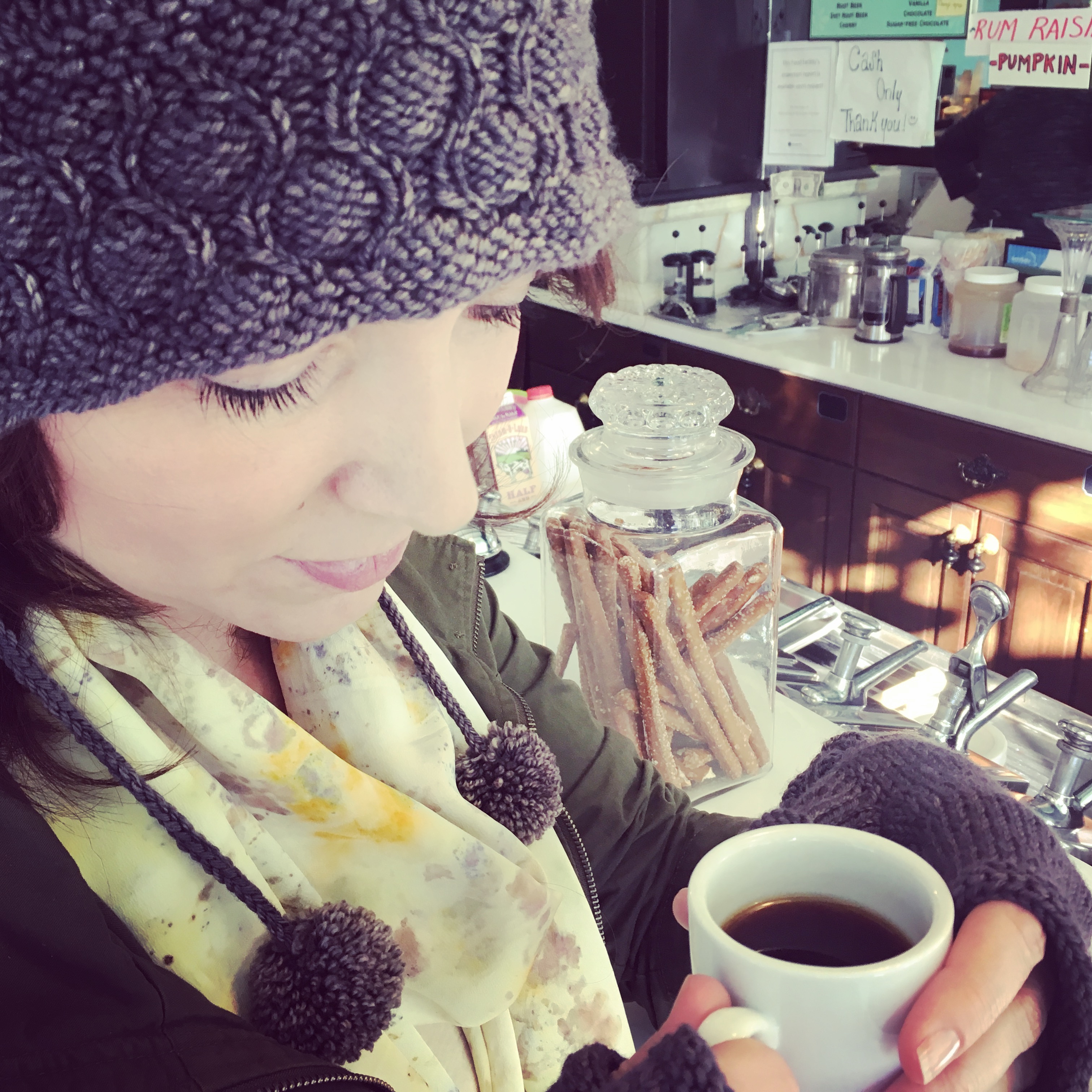 These pieces combine rich, beautiful texture with the smooth elegance of stockinette stitch. Knit in versatile DK weight yarn with a split brim and cuffs—plus pompoms for a touch of whimsy—this hat and mitts are quite fetching accessories for spring or fall.
---

LETTERPRESS
Beginning with a cabled neckline, this cowl cascades in gentle swirls around your neck and shoulders. The pattern includes a bit of shaping, a bit of texture, and many opportunities for color-play. Create a dramatic addition to your wardrobe with a mini-skein set or yarn left over from some of your favorite projects. Wear your Letterpress with the drape in front, or over one shoulder for asymmetric flair. LETTERPRESS is available for purchase on Ravelry.
---
Rusted Wing
Inspired by the variety of color and texture in rust-dyed fabric, Rusted Wing is an asymmetrical shawl knit in alternating sections of stockinette and garter stitch.  A growing expanse of simple eyelet runs along the outside of the "wing." Select yarn with color and fiber differences in order to create visual as well as textural interest. The knitting grows in sections of horizontal stripes, but the shawl's dramatic asymmetry emerges when it is worn with the garter border along the left side of the body.  Available as a Ravelry download.
---
Reliquary
"Sylvie and I (I think that night we were almost a single person) could not leave that house, which was stashed like a brain, a reliquary, like a brain, its relics to be pawed and sorted and parceled out among the needy and the parsimonious of Fingerbone." –Ruth from Housekeeping by Marilynne Robinson
Reliquary is an amulet with a ribbed opening and buttoned flap. Use three colors of special yarn to create this keepsake pouch. Add beads, a leather cord, and use it to hold treasured belongings close to your heart.
This pattern includes line by line instructions, and a series of eight instructional photographs to guide your knitting. Available as a Revelry download.
---
Another Door Opens
"When one door closes another door opens; we so often look so long and so regretfully upon the closed door, that we do not see the ones which open for us."                                       — Alexander Graham Bell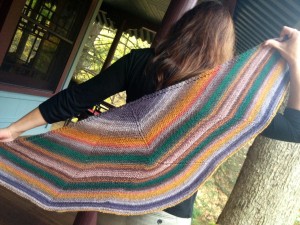 Autumn is a season of transformation and brilliant colors. It begins with subtle changes, but soon the sun's rays strike the landscape at ever-sharper angles, until trees and grasses around us seem to glow. We enjoy the fruits of the harvest and reflect on the bounty of the season before winter's chill arrives. During the coldest months of the year, we spend time with close friends and family, opening the door to the pleasures of the holiday season.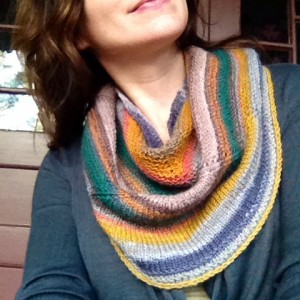 Another Door Opens is a medium-sized shawl that begins with a traditional triangle shape. A combination of stockinette and garter stitches creates strong diagonal lines, while a set of increases within the pattern establishes a subtle curve in the border of the shawl. This project can be knit with just one skein of fingering weight yarn. A border knit in a complimentary color will emphasize the soft shape of the border. Hand spinners will enjoy knitting with a special skein of 2-ply yarn—perhaps something with a bit of silk. This pattern is available as a Ravelry download. You can read more about the development of this shawl pattern here.