Episode 10
This episode features segments titled: Ever-expanding Skill Set and Yarn Lover at Large.
---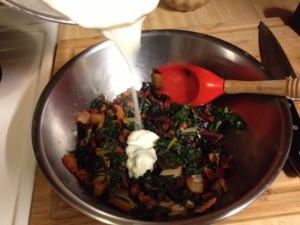 Ever-expanding Skill Set
Over the Rainbow Chard: an ideal autumn dish, rich in all the nutrition of leafy greens, that can be served as a main course or side dish.  Try the recipe with rainbow chard, swiss chard, spinach or kale.
In a cast iron saucepan over high heat, sauté 1/8 cup diced dry cured meat until soft.  Add the chopped stems of a large bunch of swiss chard and sauté for about two minutes.  Add the chopped leaves of swiss chard, sauté for a few minutes and cover to wilt.  After five minutes, toss in 1/4 cup of finely diced golden raisins.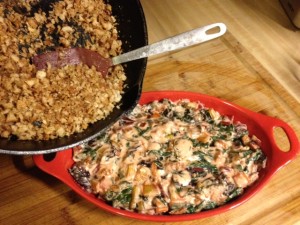 In a saucepan, melt 1 tablespoon of butter.
Whisk in 1 tablespoon of flour and cook to make a roux.  Slowly add 1 cup of milk or cream and bring to a slow boil.  Allow mixture to boil for about 30 seconds, then add 1-2 ounces of goat's milk feta and whisk to blend into the sauce. Combine cheese sauce and swiss chard mixture and pour into an oven-safe casserole dish.
Reheat the cast iron pan.  Add a tablespoon of olive oil and add 1-2 cups of bread crumbs.  Toss to coat crumbs and saute until toasty.  Sprinkle with 1/2 teaspoon ground cinnamon. Top the casserole with bread crumb mixture.  Bake in a 350 oven for 20-25 minutes.
---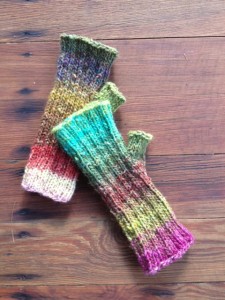 Yarn Lover at Large
My friend Kristy (wisdom wellness) and I did a bit of shopping at the Brass Lantern in Metuchen, NJ.  There we purchased some Noro yarn and dpns (double-pointed needles) to knit Clara Parkes' Maine Morning Mitts.  It's a great pattern for beginners, knits up nicely for gift giving, and goes very quickly as you watch the magic of Noro colors between your needles.  Mine were in progress at the time of recording, and now they're finished.  Can't wait to pick out my next colors for this pattern.  I'd like to experiment with different kinds of cast ons and bind offs, as well as different lengths from simple wristers to mitts that extend nearly to the elbow.
"Dare to love yourself / as if you were a rainbow / with gold at both ends."
                                                          — Aberjhani, The River of Winged Dreams