Episode 78: At the Same Time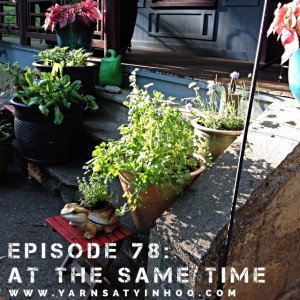 This episode includes the following segments: On the Porch, Ever-expanding Skill Set, and Off the Shelf. The weather has been beautiful, and I've been gardening, cleaning up, and spending time on the porch with a variety of projects. I provide an update on my fiber arts progress. I've developed an interest in rust dyeing, which seems like an ideal project for the summer — this week I began what will be three different experiments and I'm eager to talk about them. There's also a review of a new book on my shelf, Embroidery Workshops by Rebecca Ringquist.
---
On the Porch
Hane by Kirsten Johnstone
Nunoco fiber — Summer Surprise Challenge hosted by the Jenkins Woodworking Lovers
Hobbledehoy Battlings on my Jenkins Kuchulu
---
Ever-expanding Skill Set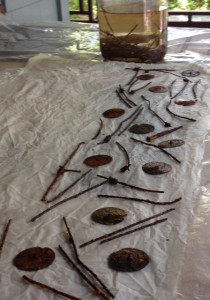 Inspired by an article in the Textile Arts Center (TAC) publication that I discovered at Fiber Craft Studio, I've decided to make 2015 the Summer of Rust.  This weekend, I took advantage of the fine weather to begin a rusty dye bath, pre-treat some 100% cotton muslin fabric with a vinegar solution, and place objects to obtain a rusted pattern. It's intriguing work, and satisfies my love of old and decaying things. I think the dye bath would progress more quickly with the addition of steel wool. Later, I will divide the dye bath and add strong black tea to half of it — that should yield a stunning graphite color. On the right, you can see a piece of fabric with rusty objects placed on one half. The fabric is folded over the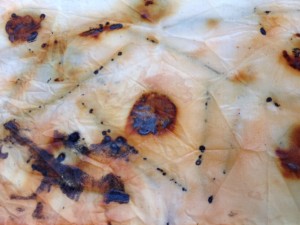 rusted objects and spritzed with a water & vinegar solution to keep it moist. To keep insects and plant debris off the project, I cover it loosely with heavy plastic. It's important to allow some air flow around the project in order for oxidation to occur. As the rust penetrates the fabric, brilliant marks, stains and patterns begin to emerge. A salt solution stops the oxidation process so that the fabric doesn't continue to deteriorate.
---
Off the Shelf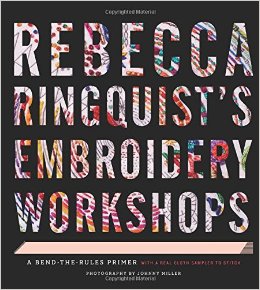 Rebecca Ringquist is the artist behind Dropcloth Samplers and the host of several embroidery classes on Creativebug.  I enjoy her design aesthetic and her playfulness, so I was eager to take a look at her first book, just released.  Ringquist describes her work as "fractured narrative," and there is abundant evidence of the artist infusing her pieces with her own story and style.  As she says, "More is more" — there is an emphasis on layering, contrast, and juxtaposition. This book scores better on inspiration than it does on instruction.  It is not a stitch dictionary.  There are only a few stitches explained; there are no photographs showing you how to execute each stitch. Instead, there are drawings and quite articulate written explanations.  If you'd like more help with the basics of how to stitch, I'd recommend one of Ringquist's Creativebug classes.  However, if you've already received an introduction to the basics, or if you're not concerned too much with the "rules" of embroidery (the subtitle is: a bend-the-rules primer) and you just want to get going with projects — this is the book for you. The ideas are many, uniformly charming, and will result in unique works of art for your home or to give as gifts. This book is ideal for crafters who want to engage in projects that combine their many skills.  (It doesn't hurt if you have a sewing machine and a stash of vintage fabrics and trims.)  A sampler is included inside the back cover so that you can get out your thread and needles and start stitching right away. Available via amazon and the dropcloth website.