Episode 77: Fill to the Rim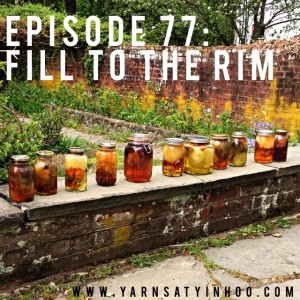 This episode includes the following segments: Sheep to Shawl, Ever-expanding Skill Set, The Front Porch, And Sew Forth.  Oh, there was exciting activity at the Fiber Craft Studio during our May class session — we began our experiments in plant dyeing! I have reporting to do on the Clun Forest and Lincoln fleece samples; plus, I came home with Polypay, Romney and Navaho Churro in addition to more Jacob fleece. Are you wearing hand knits or handcrafted items in celebration of MeMadeMay? There's an Instagram contest. Listen to learn more.
---
Sheep to Shawl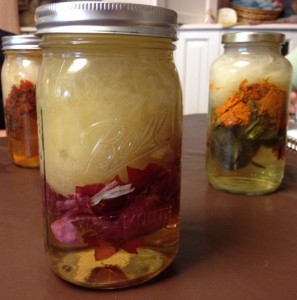 During our fifth class session of the year, we were introduced to plant dyeing techniques. Everyone had a jar and a hand full of Jacob fiber that had already been washed and treated with mordant. The choices for dye materials were: yellow and red onion skin, yellow cosmos, marigold, and madder root.  I selected red onion. My jar of fiber and dye material will sit in the sun for a week — then I will rinse and see the results. In the meantime, I purchased some alum and cream of tartar in preparation for more dyeing at home.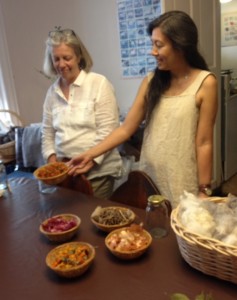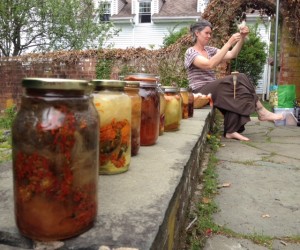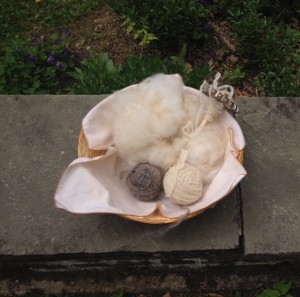 ---
Ever-expanding Skill Set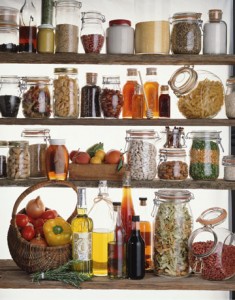 In May, let's discuss specialty ingredients. Maybe it's a real financial splurge, maybe it's something high in fat or calories, or maybe it's just something simple that is special to you and your family. What do you keep on hand to make something impressive, or to chase away cooking doldrums?
Also, can you share sources for your specialty ingredients?
Chatter here and use #powerpantry to tag your posts on social media.
---
The Front Porch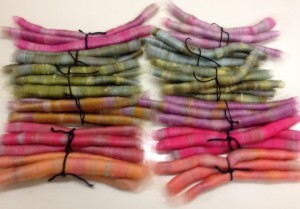 I have never spun with Nunoco fibers, but I've heard about them and I've seen some spectacular yarn and finished projects, so when I learned that the Jenkins Woodworking Lovers were hosting a Summer Surprise spin-along, I had to join in. My fiber arrived and the colors were mostly WAAAY outside my usual palette. With input from my student spinners, I used my blending board and created a series of rolags that will become a two-ply yarn.  The spinning begins on May 15. It will be a thrill to see what other spinners come up with and the many blending and spinning techniques we use to make our yarn.
---
And Sew Forth
The feather skirt is complete! Months after beginning the project, I have finally finished the hem stitching to this eight panel skirt. Over time, the project grew to be a blend of the Yard Sale Wrap Skirt pattern by Heather Ross and the Birds of a Feather Maxi Skirt by Anna Maria Horner. Next up: Schoolhouse Tunic by Sew Liberated. I ordered the pattern, but I haven't purchased the fabric yet!
Are you participating in Me Made May? All month, makers are invited to wear hand made garments and accessories and tag posts on social media.  Yarns at Yin Hoo listeners have a chance to win prizes when they use #yayhmmmay15 to post on Instagram. You don't have to participate every day — just days when you show the world how talented and amazing you are.  Check the corresponding Ravelry thread for more details and information about the prizes!
---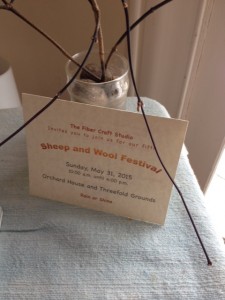 The Sheep and Wool Festival at Fiber Craft Studio in Chestnut Ridge, NY is a family-friendly event with lots to see and do.