Episode 33: Black Is the New Green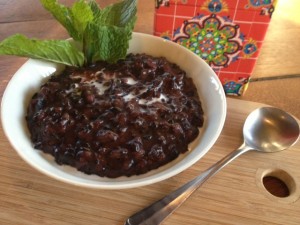 This episode includes the following segments: The Back Porch, The Front Porch, A Little Bit of Learning, Ever-expanding Skill Set, and Double Happiness.
LISTEN:
The Back Porch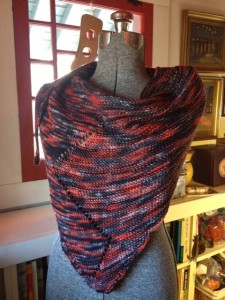 Complete: Deviate, a shawl design by Lisa Mutch, in the squishiest superwash Merino sock yarn dyed up in Fresh Flannel by Heather of Highland Handmades.  I should have been working on some other projects, but I couldn't resist this really cool design and very pleasing garter stitch texture.  It's a winning combination.
The Front Porch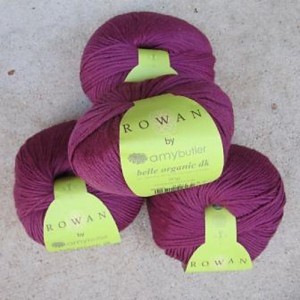 It's time to think spring with craft projects as well as culinary ones.  This week, I'll be starting Galactic Orbits, a crocheted tank top by Linda Skuja.  I've made her Triangle Cowl at least three times.  I've decided on an organic yarn of wool and cotton in a gorgeous peony color.  My plan is to complete this top in time to wear it to Maryland Sheep & Wool Festival.
A Little Bit of Learning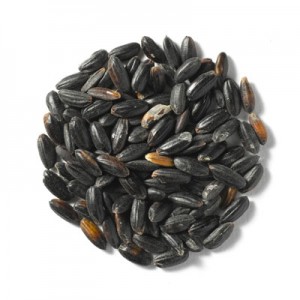 Is black the new green?  My endeavors with the Bulk Bins Cook-along are more to do with experimentation and improvisation than nutrition.  Still, it's difficult not to investigate the nutritional value of ingredients that are new to me.  This week, I cooked black rice for the first time.  This recipe for rice pudding yields a subtly sweet, luxurious dessert.  The rice grains are soft, but still a bit chewy.  Incredible.  And I learned that black rice contains even higher levels of immune-bolstering vitamin E than brown rice, and as much anthocyanin (an antioxidant) as blueberries.
Rice is great if you're really hungry and want to eat                              two thousand of something. — Mitch Hedberg
Ever-expanding Skill Set
Sunday morning's searches for a springtime rice dish turned up some fresh ideas.  I added a few of my own improvisational touches and came up with this recipe.  What flavors do you associate with spring?  For me, sweet peas, artichokes, lemon and mint are the essential elements.
A Taste of Spring Warm Rice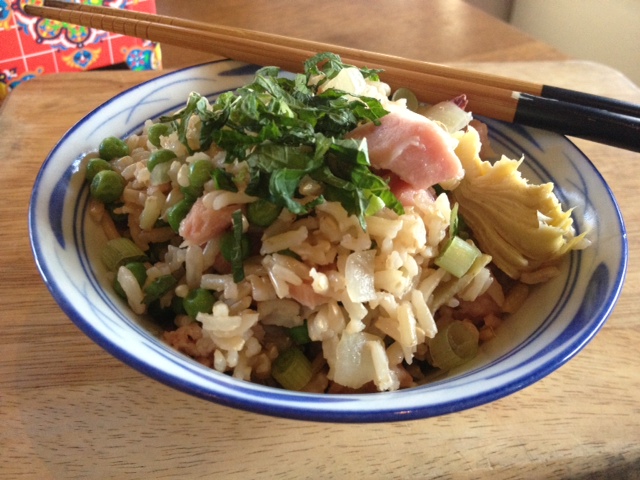 Pour 1 1/4 cups water into a medium saucepan.  Add 1 tablespoon butter, 1/2 teaspoon salt, the juice of 1/2 lemon and 1 tablespoon dried mint leaves or 1 mint teabag.  Bring to a boil.  If using teabag, simmer for 3 minutes then remove bag. Add 1 cup brown California basmati rice.  When rice boils, reduce heat and cover.  Simmer for about 45 minutes, or until all liquid has been absorbed.
Meanwhile, set a large earthenware bowl on the counter and add ingredients to it as you prepare them.
Saute one small, diced onion in a bit of olive oil.  Add 1-2 cups diced ham and warm through. Add these ingredients to bowl, along with 1 cup fresh or frozen petite peas and 1 cup quartered artichoke hearts.
Spoon cooked rice into the bowl and toss to warm all ingredients.  Garnish with chopped fresh mint, sliced scallions, and additional lemon juice or grated lemon rind.
Double Happiness
It's April — National Poetry Month.  I'll be ending each episode with a poem.  This week, I'm reading "Daily" by Naomi Shihab Nye.  This poem reflects the importance of craft and the beauty of objects that get a lot of use.  Nye has a special ability to make the ordinary extraordinary in her poems.