Episode 31: Love me some flannel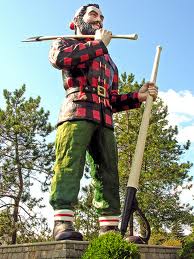 This episode includes the following segments: The Back Porch, The Front Porch, and Ever-expanding Skill Set.
LISTEN
The Back Porch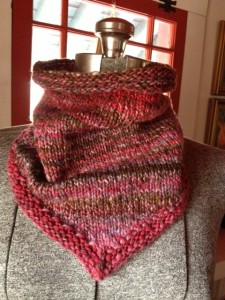 This week I completed Round 1 of Sock Madness by finishing my Brucie socks.  This very clever pattern by Amy Rapp was a lot of fun to knit.  Since I was on a field trip that yielded a lot of knitting time, I was also able to complete two other quick projects.  Purl Soho has a great tutorial for the Bandana Cowl.  This pattern is easy and fun, and is idea for men and women — and kids too.  I think it's a great project to turn 4 ounces of bulky 2-ply handspun into wearable art.  I'm very pleased with the way mine came out.  For the wraps and turns in the pattern, I turned to Alice Yu's tutorial on shadow wraps, which can be found on the Socktapus blog.  Since learning about the Sockhead hat, I think I will always have one of those on the needles.  I just finished the one I started at VKL in NYC.  The SockEase yarn in rock candy is nice, sturdy yarn.  I've already started another hat, and I have a ball of SockEase in lemon drop to continue the project.
The Front Porch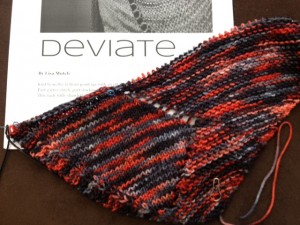 My first order from Highland Handmades came in the mail and I immediately started a new project.  Deviate by Lisa Mutch is an asymmetrical shawl pattern with a zig-zagging spine, garter stitch and stockinette stitch.  It is working up beautifully in Heather's yarn.  I mean BEAUTIFULLY.  The colorway is Fresh Flannel and the base is White Maple Sock, which is 100% superwash merino.
Ever-expanding Skill Set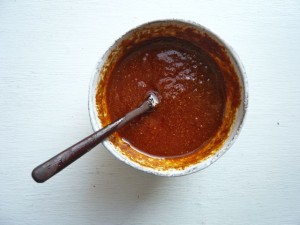 This week, I've been experimenting with harissa, a North African spice blend of hot peppers, other herbs and spices, and oil.  Because of the oil, it's a condiment or sauce.  I like the balance of mint and peppers — it doesn't need to be searingly hot.  And a home cook can really improvise with this stuff. Tonight, I'm drizzling it over some leftover mashed potatoes.  For more ideas of how to make and use harissa, check out this series of recipes from The Huffington Post.
Once you get a spice into your home, you have it forever.  Women never throw out spices. The Egyptians were buried with their spices.  I know which one I'm taking with me when I go.  — Erma Bombeck