Episode 30: Hill and Dale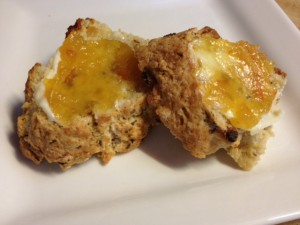 This week's episode includes the following segments: The Front Porch, Ever-expanding Skill Set, A Little Bit of Learning, and Double Happiness.
LISTEN:
The Front Porch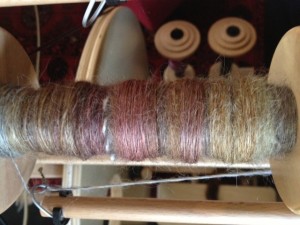 I'm still very busy knitting the Brucie sock for the opening round of Sock Madness.  But sometimes I need a break from my US #1 needles. That's when I go to my wheel and spin some  Wensleydale.  If you feel like a departure from Merino, Wensleydale fiber is about as far away as you can get.  A conservation breed from the English Longwool Family, Wensleydales "may be the only breed that can be traced directly to a single ancestor," according to Deborah Robson and Carol Ekarius in their Fleece & Fiber Sourcebook.  The Wensleydale I'm spinning was dyed by Ginny of FatCatKnits in the London Fog colorway.  The wool has incredible luster; the single seem translucent.  With a staple length of 6-8 inches, it can be spun with a low amount of twist.  There's quite a halo on the spun product, but the singles are very soft.
Ever-expanding Skill Set
This weekend, I'm making several loaves of Irish Soda Bread.  Over the years, I've experimented with several different recipes.   I began with this recipe from Epicurious, and made some subtle changes.
Irish Soda Bread from Yin Hoo Cha Yuan
2 1/4 c. organic all-purpose flour, divided
1/4 c. organic whole wheat flour
2 tsp. baking soda
1 tsp. baking powder
1/2 tsp. salt
1/4 c. (1/2 stick) butter, cubed
1 c. golden raisins
2 tblsp. caraway seeds
1/3 c. organic sugar
1 c. buttermilk
2 eggs
grated rind of 1/2 orange
Preheat oven 350.
Sift 2 cups of all-purpose flour and next four ingredients together in a large bowl.
Use a pastry cutter to cut butter into dry ingredients.
Measure raisins and caraway seeds into a small bowl with 1/4 c. reserved flour.  Toss to coat.
Whisk last four ingredients together in a medium bowl.
Make a well in the center of dry ingredients, then pour in wet ingredients.  Stir about ten turns with a large wooden spoon.  Before ingredients are thoroughly mixed, add raisins and caraway seeds.  Stir a few more times, then turn out contents onto the counter.
Give the dough a quick knead with a very gentle touch to make sure all ingredients are well-incorporated.  Add a bit more flour if the mixture is sticky.  Don't overwork the dough or your bread will be tough!
Shape into a large round loaf and place on cooking tray.  Cut an X 1″ deep on the dough surface.
Bake for about 45 minutes, or until bread is golden brown and skewer inserted into center of loaf comes out clean.
Cool.  Serve with real butter and orange marmalade.
A Little Bit of Learning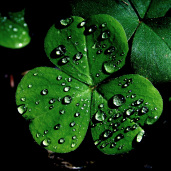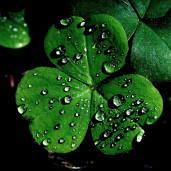 Here I've been thinking that making Irish soda bread is an authentic way to celebrate St. Patrick's Day.  It turns out that the recipe above constitutes an American adaptation of the soda bread that would have been familiar in Irish households as early as the 1800's.  The raisins or currents in most contemporary recipes would have been considered luxury ingredients.  However, buttermilk, traditionally a by-product of butter making, would have been on hand in most households.  Also, there was a custom of putting a handful of caraway seeds in bread — a custom that made its way to America.  Read the whole story about the corruption of real Irish soda bread by Megan O. Steintrager here.  She cautions against kneading the dough.  I find that a very quick knead actually works the dough less than turning with a spoon to fully incorporate ingredients.
At Yin Hoo, mixing traditions is a way of life.  So it won't be a surprise that, instead of Irish breakfast tea, Samuel and I enjoyed our soda bread with some delicious homemade Chai. Thanks to Linda from Delaware for posting her recipe on the Bulk Bins Cook-along board. Post your recipes, links, and photographs.  Each month, a randomly-selected participant on the board wins a free pattern on Ravelry.
Double Happiness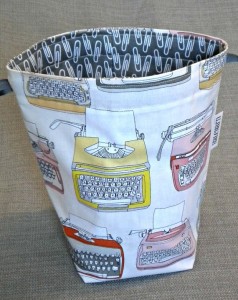 This week, I found out that I was selected  Valedictorian of  the February graduating class.  This tradition, on Dr. Kelly's Ewe University's audio podcast, is a lot of fun. Join the Ewe University group on Ravelry and post projects you've completed in March for a chance to win. My new Just My Type project bag from Halcyarn Knitting Accessories is really cool.  Colorful typewriters on the outside, groovy paperclips on the lining, and the perfect size for a small or medium project.  Check out Kris' Etsy shop to find a the perfect project bag.
In Ireland, you go to someone's house, and she asks you if you want a cup of tea. You say no, thank you, you're really just fine. She asks if you're sure. You say of course you're sure, really, you don't need a thing. Except they pronounce it ting. You don't need a ting. Well, she says then, I was going to get myself some anyway, so it would be no trouble. Ah, you say, well, if you were going to get yourself some, I wouldn't mind a spot of tea, at that, so long as it's no trouble and I can give you a hand in the kitchen. Then you go through the whole thing all over again until you both end up in the kitchen drinking tea and chatting. 
In America, someone asks you if you want a cup of tea, you say no, and then you don't get any damned tea.
I liked the Irish way better.
                                                                                                                  – C. E. Murphy,

Urban Shaman