Episode 15
This week's episode features: The Back Porch, The Front Porch, A Little Bit of Learning, and Ever-expanding Skill Set.
---
The Back Porch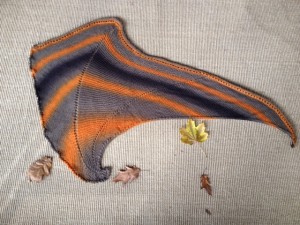 This week, I completed the Ikarus shawl, by Simone Eich of WOLLWERK.  It's an asymmetrical shawl, an enjoyable knit, and has a lot of cool features.  I'm learning to pair yarn and pattern, and the Schoppel-wolle Gradient is a good match for the design.   Simone asked to feature photographs of the finished project on her Ravelry project page.  What an honor.  I'll be on the lookout for more WOLLWERK to knit in the future.
---
The Front Porch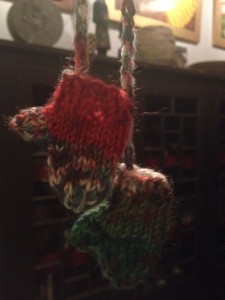 I've been in search of an idea for holiday greeting cards.  I like to make my own cards for close family and friends.  In recent years, I've been attaching a crocheted ornament to the front of the card, and enclosing a hook to give recipients the hint that they should remove the ornament and hang it on the tree.  The Holiday 2011 issue of Knit Simple has a darling pattern for knitted mittens by Loretta Dachman and I think one knitted mitten with a little loop is just the thing for this year's greeting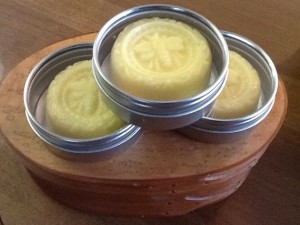 cards. I have some Red Heart Heart & Sole in festive Christmas colors, which should work very nicely and use up stash. Speaking of holiday gifts, luxury lotion bars from Spinner's End Farm are the perfect stocking stuffer.  They smell wonderful, and leave your hands soft and smooth after a marathon session of spinning, knitting, or baking.
---
Ever-Expanding Skill Set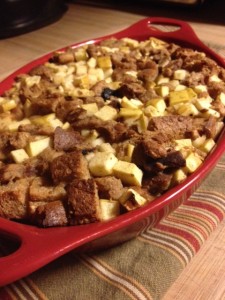 When I cleaned out freezer this week, I found a package of sad-looking whole wheat hot dog buns.  There won't be any hot dogs on the grill for awhile, so I decided to be inventive and use them for an impromptu bread pudding — great for dessert or breakfast!  Listen to the episode for some historical notes on bread pudding and few recipe notes from the 1800's.
Bread Pudding with Apples
(makes 3-4 servings)
3 whole wheat buns, toasted and cubed
1 diced apple (preferably with thin skin, like Ginger Gold)
1 c. milk, light cream, or half and half
2 eggs
2 tblsp. honey or turbinado sugar
1 tsp. vanilla extract
dash cinnamon & nutmeg
In a large bowl, whisk together last five ingredients. Add bread and apple; toss to coat.  Refrigerate 1 – 12 hours. If the bread looks dry prior to baking, add some additional milk or cream.  Pour into a shallow, buttered baking dish, sprinkle with cinnamon and sugar, and bake at 350 for about 30 minutes.  Serve hot or room temperature.
"Being creative is not so much the desire to do something as the listening to that which needs to be done; the dictation of the materials."  — Anni Albers from Weaving in College, quoted on Sally Schneider's Improvised Life blog.