Episode 14
This episode includes: The Back Porch, The Front Porch, On the Screen, and Prize & Contest Announcements.
---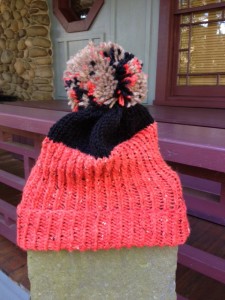 The Back Porch
I've completed several projects, including two Pom Pom It! hats by Stephen West.  This is a great project for using small amounts of worsted yarn.  The pom pom topper pulls the whole hat together and makes it look wintery.  I experimented with different yarns in the pompoms.
---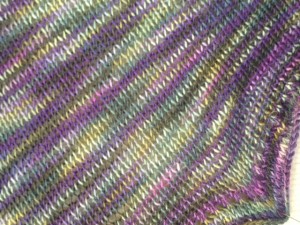 I also blocked the 22 Little Clouds shawlette by Martina Behm.  Before blocking, this shawl didn't look like anything much. I took it off the needles and it rolled up like a tube. Gasp!  But blocking worked wonders.  The colors of Frolicking Feet DK are soft and lovely without belonging to the pastel family.
---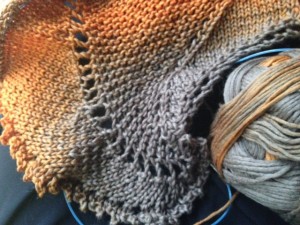 The Front Porch
I'm really enjoying the knitting on Ikarus by Simone Eich of Wollwerk designs.  It's an asymmetrical shawl with a garter stitch center section and two stockinette sections with two different borders. The shawl reaches out to one side, which gives it the appearance of a wing. Schoppel-wolle gradient is a single-ply yarn that's a pleasure to work with.
---
Prize & Contest Announcements
Congratulations to Sherry McKinnon and SallyfromIdaho, who were selected as winners in the Teacher Tribute Challenge.  And thank you to everyone who participated in Yarns at Yin Hoo's first contest.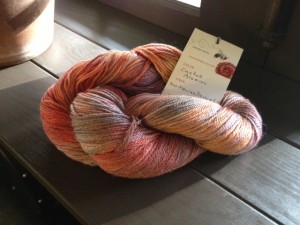 Our November contest is called Side Dish.  This contest will take place on the Yarns at Yin Hoo discussion board on Ravelry.  Please join the group in order to participate.  Tell me about your favorite side dish for the harvest table.  Recipes and links to recipes are welcome!  This contest will run for the month of November.  The randomly-selected winner will receive a skein of yarn from Beesybee Fibers in the Cactus Bloom colorway.