Episode 13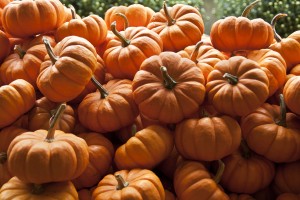 Did you know that a serving (1 cup) of cooked pumpkin provides nearly 200 percent of recommended Vitamin A, about 20 percent of recommended Vitamin C intake, and as much potassium as a banana?  Pumpkins are tasty, versatile, and a reliable source of fiber and beta-carotene. In this episode, I'll provide recipe ideas that feature pumpkin for breakfast, lunch and dinner.
---
 Breakfast, Lunch and Dinner — It's Pumpkin All the Time!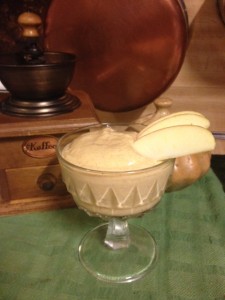 Here's an ingenious idea from my friend Kristy of Creative Wisdom Wellness.  I subscribe to her e-newsletter and this week it came with a recipe for Pumpkin Breakfast Mousse.  Very easy and very, very tasty. You probably have the ingredients in your fridge and pantry right now.  It might even sneak its way into my lunchbox.  I love it for so many reasons; one is that it's the perfect opportunity to use some of my Vermont maple syrup.
Fall is the season to roast just about anything.  Pumpkin, acorn or butternut squash — even sweet potatoes will work in this recipe. Creamy Harvest Soup is simple enough for a quick lunch, and hearty enough for dinner.  I cut the vegetable in half, scoop out the seeds, and place each half cut-side-down on a baking sheet, then roast in a 350 oven until they are fork tender. Onions and apples can roast on the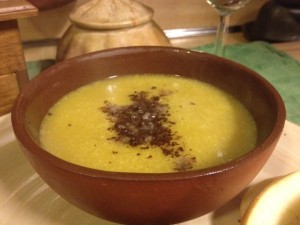 same baking sheet, if you're into complex flavors.  Scoop out the pumpkin flesh and freeze any extra.  Combine two cups of cooked pumpkin with one cup each chicken broth and coconut milk.  Puree in a blender.  Add salt and seasonings.  I prefer sweet curry powder in this recipe.  Ladle soup into warmed bowls and garnish by grating a frozen Mounds bar over the top of each serving.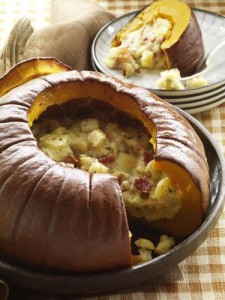 And for dinner, Dorie Greenspan's Pumpkin Stuffed with Everything Good.  This is my kind of recipe because there are no rules.  If you're like me, you will read through the recipe and then go off on your own culinary adventure.  Stale bread (can you imagine corn bread in this recipe?) a variety of cheeses, eggs, milk — how can you go wrong?  I think this is also a canvas for experimenting with spices.  If you have vegetarians dining with you at Thanksgiving, make this dish!  It elevates a vegetable to the status of "main course," and is more exciting for your vegetarian guests than a mish-mash of side dishes.  If you put your thinking cap on, you could prepare a vegan version of this recipe.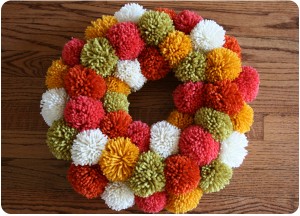 Pompom has its origins in the French word for pumpkin, pompon.  To make fun, festive pompom's check out the video Stephen West made to accompany his pattern, Pom Pom It!