Episode 119: Hello Sunshine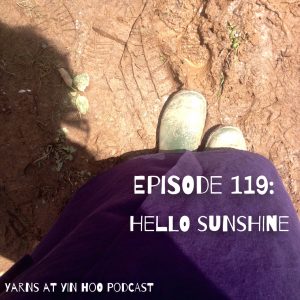 After many days of soaking rain, the Howard County Fairgrounds in Frederick, Maryland were pretty muddy — but that didn't deter eager fiber lovers, who shopped and ate and petted sheep happily at the Maryland Sheep and Wool Festival this past weekend. This was my second trip to the festival, and on my way I fondly recalled 2014, when I met Sarah of Fiber Trek and Emily of Fibretown for the first time. This year, I found Emily at the fleece sale building, just after I got to reconnect with Carole of Foster Sheep Farm. Carole was assisting with fleece sales for the weekend. She shared the news that Abbey, her daughter, had successfully launched a new blog about farm life and helping to run the yarn shop at the farm.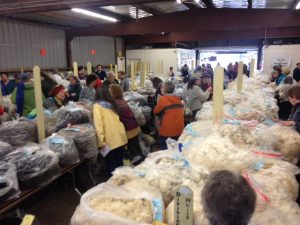 Emily was in the midst of shopping, and purchased two fleeces. One is a Gotland, raised with care by a young shepherdess named Mercy Melo. Even though I didn't purchase a fleece from the sale this year, I enjoyed the frenzy created by other shoppers. I also learn so much from listening in on the conversations of shoppers and asking questions of the extremely knowledgeable and helpful volunteers. For instance, I learned some tips for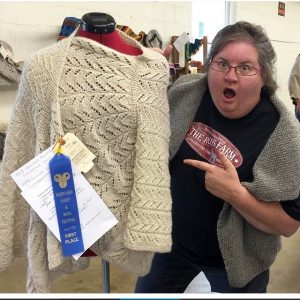 differentiating between yolk stains (which can cause discoloration) and canary stains (which indicate structural damage). I had been expecting to purchase my first fleece from The Ross Farm, but when I visited Amy and Scooterpie, I was greeted with very good and not-as-good news. The very good news is that Amy's project was selected as a winner in the festival's skein and garment competition. For Amy, a new knitter, this is great news and really a boost for her beautiful 100% Leicester Longwool yarn. Unfortunately, I will have to wait a little longer for a Ross Farm fleece, since their shearer didn't make it in time for the festival. All this waiting has only caused my sense of anticipation to build, as I prepare to process, spin and knit from a Shetland fleece.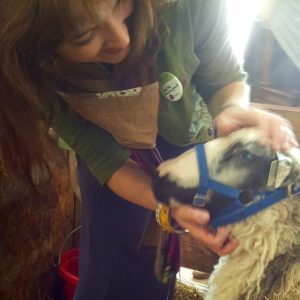 MDSW emphasizes sheep, fleece and spinning, as well as raising sheep for meat production. There are several barns housing animals, and breed displays, which are a great way to start learning about breed characteristics that contribute to specific qualities in finished yarn and fiber products. Each year, one breed is featured at the festival, and there is a lot of emphasis placed on education and agriculture. I entered one barn in search of Cookie and Cream, two Finnsheep (the featured breed of 2016)  from Fair Winds Farm. Their shepherdess, Jan Hanby, was away from the stall when I found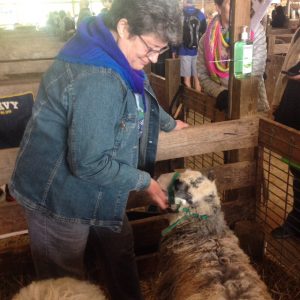 them, but she soon returned and let me enter so that I could really get to know these affectionate eleven-month-old rams who would soon become award-winning sheep. Most Finnsheep in the US are white in color, but this handsome pair is unique, with coats ranging from light to grey, with dark patches). It was great to meet Jan and talk with her in person after several years of listening to her co-host the Twinset Designs Podcast with Ellen. While Jan was talking at length about the Finnsheep breed with passersby, I snapped a few photos.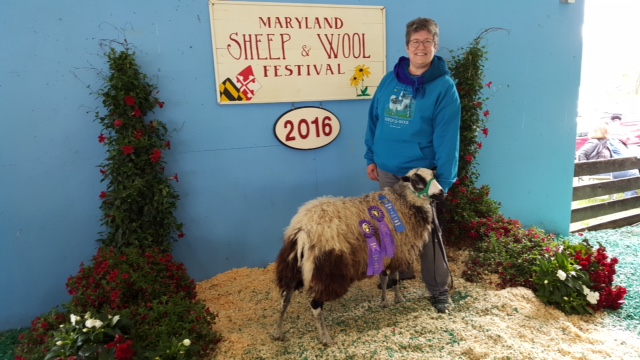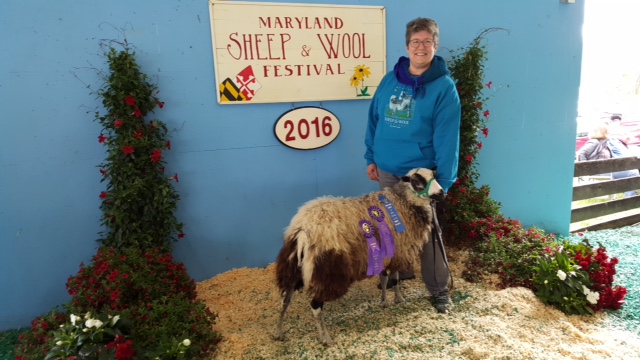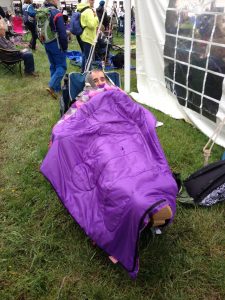 Emily introduced me to Sarah (flaneuse on Ravelry), who has been co-hosting the Fibretown podcast with Fibre West episodes, devoted to a year of knitting Stephen West's patterns. Sarah was wearing a brilliantly-colored Exploration Station, and knitting on an equally vibrant pair of socks. I also got to chat quite a lot with Janice, co-host of the Carolina Fiber Girls podcast. We met at Rhinebeck, but had much more down-time at MDSW. In general, I have found the Maryland festival more relaxed than Rhinebeck, but that could be the result of Emily and Jaime's tradition of setting up camp in a shady spot. Jaime was snuggling under blankets to escape the chilly morning, but when temperatures climbed, he emerged to work on his cowl and learn a stretchy bind-off. Emily and Jaime are endlessly hospitable; friends come to visit, show off their shopping, have a snack, and rest for awhile. Having enjoyed this tradition before, I was prepared with my Turkish spindle from TurtleMade, with which I began spinning Hello Sunshine battlings from Hobbledehoy. It was a great day and tiring.
It's unlikely I will remember to mention everyone with whom I spoke at the podcaster meet up; in fact, I said hello to a few podcasters before the meet up occurred. Early in the day, I saw Laura and Leslie of TheKnitGirllls. Jennie and Devon of Tiny Paper Foxes were shopping for Jacob fiber at The Ross Farm tent. It was really nice to finally meet Heather of Fiberista Files and say hello to Lisa of 90% Knitting, too.
Listeners of the podcast know that I'm not a tenacious shopper because I don't have a lot of room for stash. Also, having a lot of yarn on hand gives me anxiety that I need to get knitting it! When I visit a festival, I like to do some holiday shopping, since my family appreciates the things I find from local producers. I have already begun planning next year's purchases. Below is a list of vendors I mention in this episode.