Recipes: Nashville-inspired Tasting Menu for 40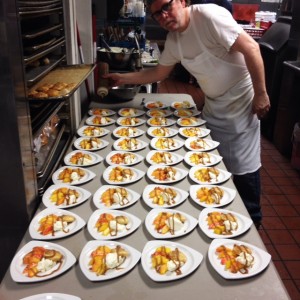 A note about the recipes:
These recipes were developed for a four-course wine tasting menu at Sarah Street Grille in Stroudsburg, PA, where Samuel and I were guest chefs on July 14, 2015.  We wanted to re-create some of the tastes from our visit to Nashville last summer. Recipes were sourced from various web and text sources. All recipes have been heavily modified for the tasting menu.  In some cases, ingredients and quantities were changed during preparation.
---
Course 1: watermelon gazpacho w/ steamed lime shrimp
STEAMED LIME SHRIMP
GAZPACHO
2 large watermelon
8 seedless cucumbers
8 ripe tomatoes
8 shallots
10 jalapeno peppers, seeds and veins removed
10 limes
raspberry vinegar
salt
fresh mint
mint sprigs for garnish
PREPARE
Lightly steam shrimp until JUST cooked; chill in juice of five limes.
Mince shallot and place in bowl with juice of 10 limes. Set aside.
Cut HALF of first three ingredients into even dice. Keep VERY COLD.
Roughly chop the remainder of watermelon, cucumber and tomato.
Finely mince jalapeno. Add to evenly diced ingredients, TASTE for heat.
BLEND roughly chopped watermelon, cucumber and tomato with lime/shallot, mint, salt, and splash vinegar.
SERVE
Pour a small amount of blended mixture into serving dish. Add ½ cup diced mixture. Garnish with shrimp and mint sprig.
---
Course 2: summer salad w/ sweet potato gratinettes & caramelized onion dressing
CARMELIZED ONION DRESSING
6 large sweet onions, thinly sliced
¼ c. brown sugar
¼ c. Dijon mustard
¼ c. honey
½ c. malt vinegar
2 ½ c. extra virgin olive oil
salt
pepper
dried dill
GRATINETTES
12 medium sweet potatoes
1 lb. Gruyere cheese, shredded
1 lb. bacon, diced, and fried
1 pint heavy cream
salt
pepper
SUMMER SALAD
mixed greens (romaine, Bibb, baby greens, arugula, etc.)
grape tomatoes (red and yellow)
baby zucchini
candied pecans
PREPARE DRESSING
Caramelize onions.
Blend onions with other ingredients in a blender. Add salt, pepper, and dill to taste.
PREPARE GRATINETTES
Preheat oven 400.
Peel and slice sweet potato into 1/8" thick rounds. Toss with salt and pepper.
Coat muffin tins with a THIN application of non-stick spray, butter, or bacon fat.
LAYER sweet potato, cheese, and bacon X3.
Spoon 1 tbsp. heavy cream into each muffin cup.
Bake at 400. Covered for 20 minutes. Uncovered for 20-25 additional minutes.
SERVE
Toss salad greens with vegetables and a small amount of dressing. Plate salad. Place one gratinette on each plate. Garnish with dressing and candied pecans.
---
Course 3: pulled pork tacos w/ Southern slaw & fixins
PORK SHOULDER
24 lbs. bone-in, skin-on pork shoulder (2 – 12 lb. cuts will work well)
2/3 c. fennel seeds
6 garlic cloves, peeled
½ c. kosher salt
1 c. olive oil
1 c. grade B REAL maple syrup
¼ c. malt vinegar
salt
pepper
2 c. fruity ale
PREPARE PORK SHOULDER
Bring meat to room temperature.
Preheat oven 450.
Score skin with ½" grid.
Toast fennel seeds and crush in mortar and pestle. Add garlic cloves and salt. Grind to a paste. Transfer to a bowl. Slowly add olive oil. Season with pepper.
Spread 1/3 paste onto skinLESS side of pork shoulder.
Place meat SKIN SIDE DOWN in roasting pan in bottom 1/3 oven. Roast at high heat for 30 minutes.
Meanwhile, add maple syrup and malt vinegar to remaining 2/3 of fennel paste.
Remove meat from oven and carefully flip over (skin side up). Use a spatula to apply maple syrup mixture, pushing into scored skin.
Return to 225 oven for 18 hours.
Baste the meat with 1/3 of ale and drippings at three intervals.
Return heat to 450 for last 20 minutes to crisp exterior, if desired
SLAW
2 heads green cabbage, sliced thin
2 heads red cabbage, sliced thin
2 carrots, grated
5 jalapeno peppers, halved, seeds and veins removed, thinly sliced
DRESSING
1 c. mayonnaise
1 c. buttermilk
1 tbsp. vinegar
1 tbsp. sugar
½ tsp. salt
PREPARE SLAW
Toss slaw ingredients in a large bowl with a bit of salt.
Whisk together dressing ingredients.
Pour dressing over slaw. Toss to coat.
GARNISH
4 large red onions, halved and VERY thinly sliced
juice of 3 limes
2 c. cilantro leaves, picked from stems
lime wedges
crumbled feta cheese
100 4" corn tortillas
SERVE
Layer slaw, pulled pork, onions, and feta into a warmed corn tortilla. Serve 2 per person. Garnish with cilantro and lime wedges.
---
Course 4: biscuits w/ peaches, bourbon whipped cream, and caramel bourbon sauce
CARAMEL BOURBON SAUCE
1 ¼ c. butter
2 ¼ c. brown sugar
1 ¼ c. heavy cream
¼ tsp. salt
¼ c. bourbon
PREPARE
Bring first four ingredients GENTLTY to a boil.
Boil on LOW heat for 5 minutes.
Remove pan from heat and CAREFULLY stir in bourbon. Adding alcohol will cause sauce to bubble furiously.
BOURBON WHIPPED CREAM
2 quarts heavy whipping cream
powdered sugar
vanilla
bourbon
BISCUITS
3 1/3 c. unbleached all-purpose flour
2/3 c. finely ground cornmeal
6 tbsp. sugar
2 tbsp. baking powder
1 tsp. salt
1 c. (2 sticks) butter, frozen & grated
2 large eggs, lightly beaten
1 c. half &half
egg white, beaten
raw sugar
PREPARE
Preheat oven 425.
Sift dry ingredients together.
Cut in butter.
Stir in wet ingredients.
Quick knead on floured surface.
Press into ¾" thick slab.
Cut with biscuit cutter.
Brush with egg white and sprinkle with raw sugar.
Bake 12-15 minutes.
Store in airtight container.
GARNISH w/ caramel bourbon sauce & basil leaves.