Episode 73: Cast Iron Skillet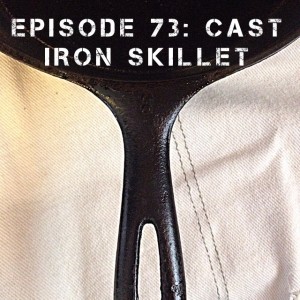 It's been spring for a week, but there are still snow patches on the ground and even flurries in the forecast!  Each day, however, there's a little more bird song.  Finally, the scent of muddy earth greets me each time I open the door.  How delightful to have spring break — a week to work on projects and spend as much time as possible out-of-doors.  This episode includes the following segments: The Front Porch, Ever-expanding Skill Set, And Sew Forth. Join the conversation and share ideas on the Yarns at Yin Hoo board on Ravelry, or post your comments below.
---
The Front Porch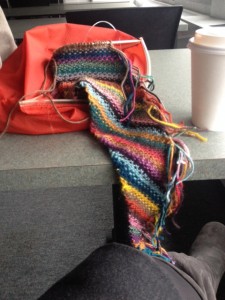 Flickerl by Simone Eich of WOLLWERK designs turned out to be the perfect project to take on an overnight field trip. I had it memorized by the time we arrived, and, at least at the beginning where the rows are short, it's easy to put down and pick up again between colors.  I can't say enough about this pattern, perfect for scraps of yarn, in linen stitch. This is my second time knitting the pattern, and it may very well become my tradition to knit one each year. It's easy to combine light worsted, dk, sport, and even fingering weight yarns together with this pattern.  My preference is for solid an tonal yarns rather than variegated or self-striping ones. That way, you can really admire what's happening with the linen stitch.
Ever-expanding Skill Set
This week I share my experience of cooking Country Captain — perhaps one of the first instances of fusion cuisine! The dish has an interesting history, and I enjoyed doing a little research on the American Food Roots website.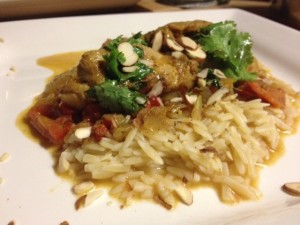 My objective was to combine the old and the new — try a new recipe for the cast iron skillet — a tool on which I rely. I used a recipe from The New Cast Iron Skillet cookbook. Of course, I didn't follow the recipe exactly. I put a lot of freshly-grated ginger into the dish, and substituted a container of halved grape tomatoes for the can of diced tomatoes. Rather than sherry, I used some white wine. And, though I love currants, I didn't have any on hand, so I chopped some golden raisins instead. Can you believe I was out of rice? I served this delicious dish over orzo.  I think it would be better over rice, though.  Even better: coconut rice. I think it would be delicious and hearty over a baked potato.
You can add your thoughts about kitchen tools by posting in the thread on Ravelry or using #powerpantry for posts on social media.  In April, we'll talk condiments!
And Sew Forth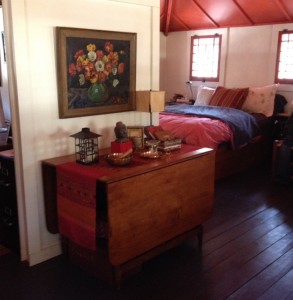 It's time to get back to my sewing.  Making my own skirt pattern turned out to be a poor choice, so I'm going to salvage the beautiful strip-pieced feathers and use them to adorn the yard sale wrap skirt, a pattern by Heather Ross. Last weekend, a cherry table that has lived with several different family members came to Yin Hoo.  The table has long leaves and space underneath for yoga gear. This summer, it may be refinished.  For now it has been given a nice rub with lemon oil and is ready to serve as a cutting table and a place for other short-term craft projects.