Episode 72: Mud & Molasses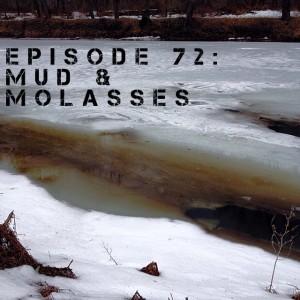 I'm thrilled about the warmer temperatures, and have been enjoying muddy walks along the Delaware River.  There's lots of news to share this week!  I think that the read-along revitalized my interest in books, because I'm now enjoying Sylvia Jorrin's work — which goes very well with a slice of her ginger bread (slathered with butter, of course).
This episode includes the following segments: The Back Porch, The Front Porch, Sheep to Shawl, Off the Shelf, Ever-expanding Skill Set, and Double Happiness.
---
The Back Porch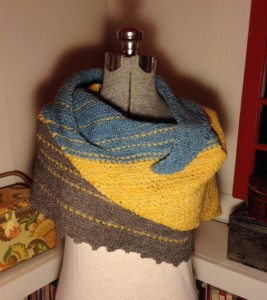 I completed Ashburn, a lovely pattern by Melanie Berg. The inspiration for this was Sarah and Claire's call for #soulfulstash swap participants. I began to think about what soulful stash I already had on hand, and then searched for a pattern to show off its beautiful texture. For this knit, I used yarns from Green Mountain Spinnery and Ross Farm. This shawl is a therapeutic knit and can be adjusted depending on the amount of yarn you have on hand. It's quite a large shawl, too; you can wrap it in different configurations to expose the colored panels and stripes. I like the slipped stitch striping detail and the picot border.
---
Sheep to Shawl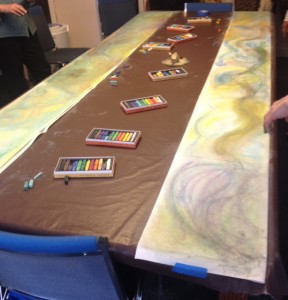 The third session of my year-long course at the Fiber Craft Studio included some exploration of the water element.  In addition to handling fiber, we're also doing some biographical investigation. Activities include free-writing/journaling, story telling, movement, and artistic experiments. We created a communal drawing of moving water using pastels.
At this point, I'm  starting to suspect that the biographical work is intended to inform the shawl / garment design we will do later in the year. The afternoon work session was dedicated to techniques for plying.
Each session, the group becomes a bit more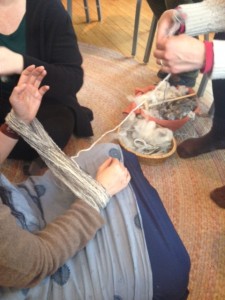 cohesive. This week, the room hummed with soft conversation as participants helped one another with unruly singles. Even though we are all working with the fleece of Hazel and Fiona (did I mention Fiona?), there are pronounced differences in the yarn we're producing. It is a joy to engage in the handwork and to watch others working together.
Our homework for the next session is to think about, swatch for, and maybe even get started on, a little knitted bag or pouch. We were also given a reading and a poem by Mary Oliver.
---
 Off the Shelf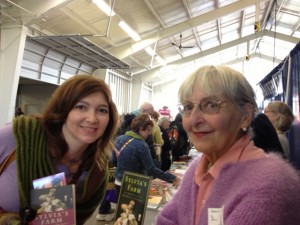 Hosting a read-along and participating in rich conversation about Housekeeping by Marilynne Robinson has revitalized my interest in reading. Since becoming so enamored of the fiber arts, I haven't made time for reading in my life as much as I think is good for me. This re-kindling of interest has coincided with receiving two books I have been wanting to read. Two years in a row, I have given signed copies of Sylvia Jorrin's books about sheep farming as gifts, without purchasing copies for myself.  Now that Jessica and my mother have read both books, they are in my hands.  My, are they lovely reading.  In doing a bit of investigation, I found Syliva's recipe for ginger bread, and baked two versions this weekend.  In each version, I used freshly-grated ginger in addition to crystallized ginger. The bread-like recipe went into my mini-loaf pans (see below). Adding two beaten eggs to the recipe yields a cake-like version. Both are delicious.
---
Ever-expanding Skill Set
There has been some excellent and informative conversation about kitchen tools on the Ravelry forum. This week, I talk about my top ten useful tools. For this list, I thought beyond the essential must-haves.  Yes, I could can certainly live without these items; however, they are truly #powerpantry tools because they help me get creative and inventive with my ingredients. They also enable time-efficiency.
microplane
kitchen snips
metal tongs
ricer
silicone-coated oven mitts
slotted spoon
enamel coated bowl with plastic lid
mortar & pestle
cooling rack
mini-loaf pans with extra-wide rim
Post your top ten list and engage in the #powerpantry banter on the Yarns at Yin Hoo thread on Ravelry.
---
Double Happiness
String Theorists have been busy with their spindles and I couldn't be happier with their progress. On Monday afternoons, we have been making plying balls, plying yarn, winding skeins, and blending rolags — so that we can spin more yarn. Most excellent. Lately I've been listening to back episodes of Teaching Your Brain to Knit. Margaret and Catherine converse about their knitting, and they ask brainy questions like, "What has your knitting been teaching you?"  Oh, I love it.  Their episodes are giving me a lot to think about as I envision handwork curriculum for the upcoming year.