Episode 69: Dense & Moist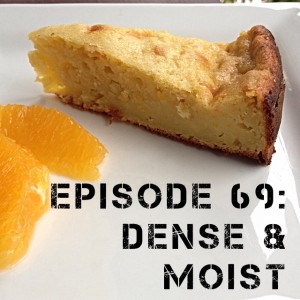 This episode includes the following segments: Yarn Lover at Large, Ever-expanding Skill Set, The Back Porch, Sheep to Shawl, Off the Shelf, and Double Happiness.  I thrilled by the number of folks saying that they plan to participate in the podcast's first read-along.  Have you secured your copy of Housekeeping by Marilynne Robinson?  I suggested a read-along because my reading life has dwindled over the past few years, just as my interest in crafting has increased. Now that I've begun this novel,  I'm really enjoying it. It's not too late to join in!
---
LISTEN:
---
Yarn Lover at Large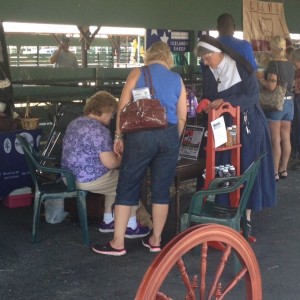 Back in September, when I visited the Southern Adirondack Sheep & Wool Festival, I found out about a farm tour that takes place in the spring. The details for the Washington County Fiber Tour are finally available online.
Saturday & Sunday
April 25 & 26, 2015
Washington County, NY
(north of Troy / east of Saratoga Springs)
Two days of touring, sampling local products and specialties, shopping, and adventure. Doesn't that sound like fun?
I plan to arrive in Greenwich on Friday late afternoon/early evening and depart by Sunday at noon. Would you like to get together for a meal or at a farm? Let me know and I will provide updates in this thread.
My itinerary for the weekend is not firm at this point, but the following locations are a priority:
Battenkill Spinning Mill — Greenwich, NY
St. Mary's on the Hill — Greenwich, NY
Ensign Brook Farm — Greenwich, NY
Dancing Ewe Farm — Granville, NY
Argyle Brewing Company — Greenwich, NY
Dish Bistro — Greenwich, NY
Please contact me if you plan to attend this event. It will be fun to make new friends.
---
 Ever-expanding Skill Set
This month, we're playing "the pantry game," cooking from our pantries and sharing recipe ideas and suggestions. In this segment, I repeat several listener contributions from February's #powerpantry thread on Ravelry. So many good ideas!  I found myself with 1/3 a container of high-quality ricotta cheese, so I searched for a recipe and the Food 52 blog called up Louisa's cake. Dense and moist, this cake is likely to become a standby. What and ingenious idea to add one grated apple to the recipe! I substituted orange rind for the lemon, and, as usual, I reduced the amount of sugar by 1/3.
---
Sheep to Shawl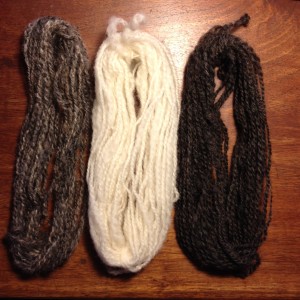 In preparation for next weekend at Fiber Craft Studio, I've spun some samples of Jacob fleece. I sorted the locks into batches according to color. Then, I used my hand cards to prepare loosely-formed rolags.  For these samples, I prepared three distinct colors: white, gray and brown.  But I would like to increase the colors to four or more by working carefully with the gray. I noticed that there is a gray-brown and a silvery gray; perhaps I could also add a bit of white to the gray for additional variations. The carded rolags spun beautifully. I'm amazed and the softness and the loft of my samples. My Jenkins Aegean (turkish) spindle works well with this fiber, so I plan to bring it with me for my class next weekend. Find a collection of photos and details of my Sheep 2 Shawl course on a specially-designed project page on Ravelry.
---
Off the Shelf / Double Happiness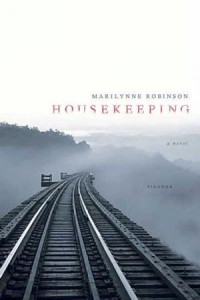 This week, while reading and re-reading Marilynne Robinson's Housekeeping, I was struck by the references to textiles. I suppose the title should be a strong indication that the text will concern itself with domestic matters. My first find was mention of the word "embroidered" in Chapter 2. So I went back to Chapter 1 to see what I could find in the way of terms and details associated with textiles. I was not disappointed. These references take two forms: 1) details about textiles themselves (fabric, garments, etc.) 2) words and terms for textiles that are used to describe other things — things unrelated to textiles. This second type is a variety of metaphor, in which unrelated things are connected. Consider this example:
"Their lives spun off the tilting world like thread off a spindle."
Sometimes, abstract observations can seem obtuse, preachy, or over-intellectualized. Here, the use of spinning terminology keeps the Ruth's observation grounded in tangible things. It also gives us clues about what is important to her — only someone who knows about spinning and spindles could venture to make such a comparison.