Episode 68: Thrummed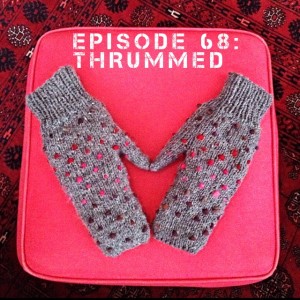 Yin Hoo is covered in snow and there has been a lot of shoveling to do . . . but I'm trying to take advantage of the snow day to release another episode.  Congratulations to canyonwren2 and blisskat — winners of the Kauni yarn giveaway! This episode features the following segments: The Back Porch, The Front Porch, Ever-expanding Skill Set, Off the Shelf, And Sew Forth. This week I completed the first pair of mitts to actually keep my fingers warm on long walks. Plus, I've been washing Jacob locks, swatching for a new sweater, and learning to cut on the bias.
---
LISTEN:
---
Sheep to Shawl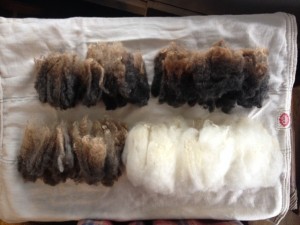 Here are some of the washed locks from Hazel, a Jacob sheep from Jenny Jump Farm in Hope, NJ.  I used a technique I learned this summer at the Super Summer Knitogether. Sadie of Knitter's Nightmare explained how to maintain lock formation by separating the tips of locks, placing them in rows in a lingerie bag, then submerging them in a pan of soapy (but not bubbly) VERY warm water for 20 minutes. After carefully removing the lingerie bag and squeezing out excess water with a towel, the locks to dry on an elevated rack. I'm amazed by the softness and the beautiful colors. I cleaned one batch of colored fleece and a separate batch of white fleece. In this photo, you can see that the fleece varies in color as well as staple length (the white fleece has a much longer staple).
---
And Sew Forth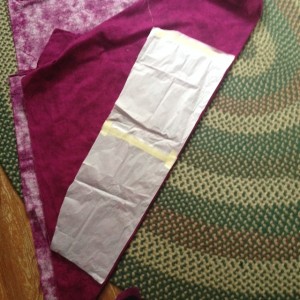 This weekend, I visited my mom, who supervised while I cut fabric for my Birds of a Feather Maxi Skirt. Though Anna Maria Horner explains a few aspects of the process in her Creativebug tutorial, I discovered that some crucial information has been left out! Cutting on the bias requires special care, as the fabric can stretch out of shape easily. I also learned some techniques to create a double-wide piece of fabric, and to ensure that both front and back skirt pieces could be cut from the fabric.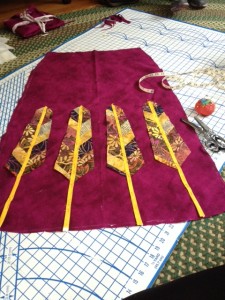 I was glad to use some of my mother's sewing tools, including the fold-out cardboard cutting board on the right. There are markings to guide a subtle shaping of the skirt bottom. How clever! Now that the pieces are cut, I can envision the appearance of the hand-applique feathers. My inclination is to place one of the feathers so that it extends down from the skirt waist. Mom disagrees. So, I need to give this some more thought. If I manage to get all of this snow shoveled, maybe I can devote some time to sewing the skirt today!