Episode 64: Ewe-ltide Greetings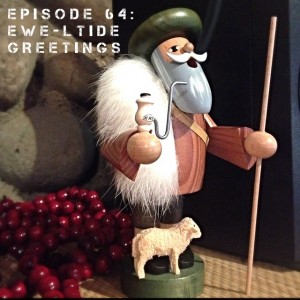 Happy Holidays, everyone! I hope you enjoy this episode, recorded along the Delaware River–unscripted and without segment titles. I do a great deal of chin waggin' about the holidays here at Yin Hoo, including an absolutely delicious lemon cheesecake and some recipes I improvised for our Christmas Eve open house. There is not much knitting content, but crafting will take on new dimensions with the addition of another lazy kate for my Louet and a sewing machine. Oh, the possibilities. And #powerpantry will begin in January. Listen for more details.
---
LISTEN:
---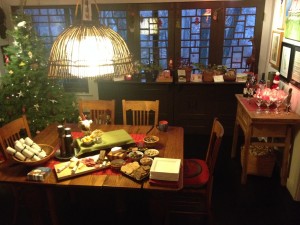 Christmas Eve open house
Meyer Lemon Cheesecake: This recipe is very easy to follow, and yields delicious results.  My guests really enjoyed the tartness of the lemon after an evening of high-calorie finger foods. The Biscoff crust is delicious.  I would use this for any cheesecake recipe.
Improvised hors d'oeurves
Tangy Turkey Meatballs
Crab Cakes with Panko Crust
Spinach & Ricotta Pockets
---
#powerpantry
In January 2014, I made a year-long commitment to buying and cooking with products from my local health food store's bulk bins. And I invited Yarns at Yin Hoo listeners to join me in the #bulkbinscal. It has been an exciting year of experiments, recipes, and shared stories.
Since kitchen know-how is a valuable post-apocalyptic skill set, I plan to begin a new endeavor in 2015 — something with a slightly different twist, but still focused on practical culinary techniques.
I invite you to join me in an exploration of ground zero in food preparation: The Pantry.
Do you have a pantry? What is your definition of "pantry?" Is it the cabinet or shelving unit for canned goods? Is it the sum of food products you have on hand at any given time? Is your refrigerator your pantry? What about the freezer? Does anyone have a root cellar anymore?
I'd like to examine the physical space of our kitchens and kitchen storage, the history of the pantry, methods of food storage, issues of economy, and the many skills required to cook delicious food with "what's on hand." It's my assumption that skilled cooks have well-stocked pantries, but what exactly IS a well-stocked pantry?
Keep up with new developments and take part in the conversation by joining the Yarns at Yin Hoo group on Ravelry, or following my #powerpantry board on Pinterest.  I will work to keep the board up-to-date by pinning links to listener suggestions.
---
Skill-building for the Apocalypse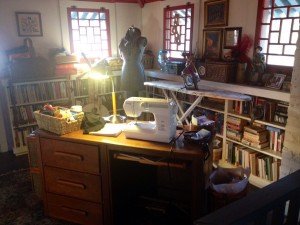 The podcast will now include sewing content, thanks to the addition of a new sewing machine to my studio / craft space.  It took awhile, but I cleaned and re-arranged until things fit together nicely.  My first projects will be from Weekend Sewing book by Heather Ross. I've also begun a sewing ideas board on Pinterest, but I try not to spend too much time there because . . . well, if you've been on Pinterest, you know why.