Episode 63: More than Sweet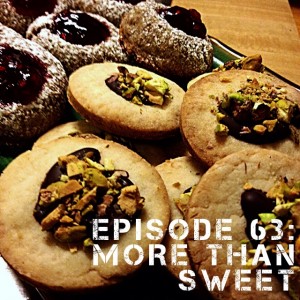 It's the holiday season and I go on a bit about the Christmas decorations at Yin Hoo.  This episode contains the following segments: Ever-expanding Skill Set, A Little Bit o Learning, The Back Porch, The Front Porch, and Double Happiness.  Have you ever wondered why some sugar substitutions work better than others? In this episode, I review some major points about the chemistry of using sugar in baking, and relay some tips about substituting honey, maple syrup, molasses, and sucralose (Splenda). Plus, a review of my special kind of gift knitting.
---
LISTEN:
---
Almond Hazelnut Gateau – This recipe calls for "whipped topping," but I recommend substituting heavy cream whipped to firm peaks. It's decadent, but not too sweet.
Links to information about sugar and sugar substitutions:
Baking with Sugar and Sugar Substitutes
---