Episode 60: Another Door Opens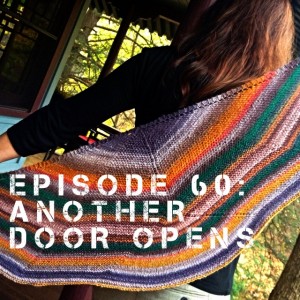 This episode includes the following segments: The Front Porch, The Back Porch, Ever-expanding Skill Set, A Little Bit of Learning, and Gratitude Journal. This week, I talk about developing my very first shawl design, Another Door Opens. I'm so pleased that the pattern is complete and available on Ravelry. The Bulk Bins Cook-along continues — November is devoted to flour and we've been talking about pies. I'll go into a little more detail about blind baking crusts, a topic my mother touched on in Episode 59, but which needs a bit more explanation.
---
A Shawl Design Comes to Life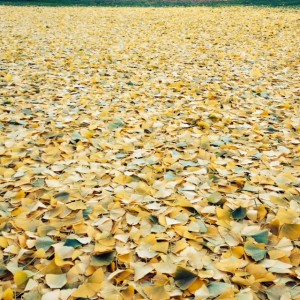 The idea for Another Door Opens has been living with me for about a year. I am fond of visiting a very large ginkgo tree on my daily walk. The golden color of the leaves as they turn, their gently sloping ridges and scalloped edge, the way they form a soft carpet beneath the tree — every aspect of the tree and its leaves inspired me. This summer, I tried to bring my ideas together into a pattern, but grew frustrated. Finally, my beautiful skein of spindle-spun yarn, made with fiber from Three Waters Farm, provided the push I needed to try my ideas again. The result is a shawl that begins with a triangular shape, but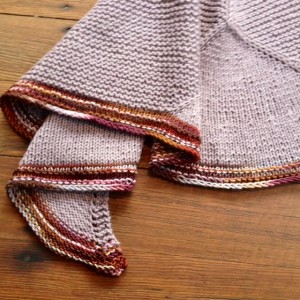 finishes with a soft border. The wingspan edge is nice and stretchy. Slipped stitches along the spine create a strong visual center. Recording the sequence of rows and stitches was one thing; devising a method of presenting the pattern was another challenging task. I'm pleased to offer a pattern in table format, with written directions and stitch counts for every row, plus percentage information so that you can use every bit of your selected yarn. The pattern has three sections, plus a border. Adding additional rows in any of the sections will result in a larger shawl. After completing the shawl design with my handspun, I worked it again with Quince & Co. Tern in the colorway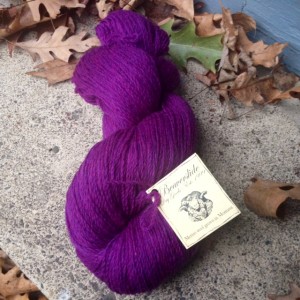 Dusk. I added a border in Claudia Handpaints fingering-weight yarn in the color Cabin Fever. I'm hosting a giveaway for a copy of the pattern, plus a beautiful skein of yarn (458 yards of 2-ply 80% fine merino / 20% kid mohair in the Wild Geranium colorway) from Beaverslide Dry Goods. Join the Yarns at Yin Hoo group on Ravelry and post a message in the contest thread for a chance to win.