Episode 54: Destination Rooftop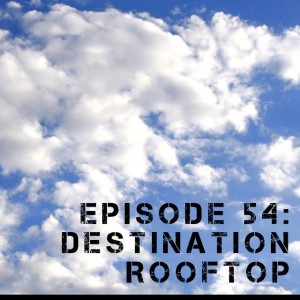 This episode includes the following segments: Ever-expanding Skill Set, The Back Porch, and Yarn Lover at Large. I hope you enjoy this week's interview with Laura Nelkin. Visit the Yarns at Yin Hoo Ravelry board for a chance to win a copy of Laura's book Knockout Knits. There is one week left to post a photograph of your finished object in the Asymmetri-CAL, an asymmetrical garment and accessory craft along. And, I continue my Bulk Bins Cook-along adventures with barley this month.
LISTEN:
---
Ever-expanding Skill Set
I'll be teaching spindling and writing workshops at The Inner Space in Highland Park.
Check out this short video of my spinning technique.
Lemony Barley Salad with Kale Pesto in Food & Wine
Butternut Squash and Barley Risotto in Cooking Light
Join the Bulk Bins Cook-along. Cook with barley in September. Contribute your recipes and photographs to the prize thread on Ravelry for a chance to win a pattern prize. Use #bulkbinscal to tag your posts to social media.
The Back Porch
Three Waters Farm polwarth/silk blend in Rooftop. 500 yards. 2-ply. Fingering weight.
Drop spindles printed on a 3D printer by TurtleMade.
Yarn Lover at Large
Laura Nelkin is the author of Knockout Knits and the extraordinary designer behind the M-Club, which is full of surprises and one-of-a-kind trinkets and treats. You can find out more by signing up for her mailing list, joining the lively Nelkin Designs group on Ravelry, or visiting her at Rhinebeck, where she will be signing books in Building B and selling pattern kits in Booth A25.
Trillium Yarns has relocated to Morristown, NJ.