Episode 43: Imperial Girl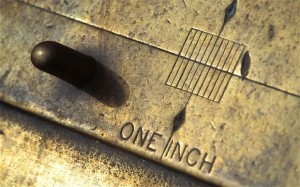 This episode contains the following segments: The Back Porch, The Front Porch, Ever-expanding Skill Set, and Off the Shelf.
---
LISTEN:
---
The Back Porch
This week I completed Fireflies Rising, a beautiful crescent-shaped shawl designed by Helen Stewart, host of the Curious Handmade podcast. I found Helen's pattern a dream to knit and I was also very pleased with my yarn choice and my decision to add beads to the shawl. My only disappointment is that the beautiful color of the shawl does not photograph well.
The Front Porch
The school year has finally come to a close and I'm looking forward to a summer on the porch. A summer of knitting, spinning, crocheting, and weaving. The porch at Yin Hoo is a beautiful place to watch the creek below and wait for a cooling breeze on a hot day. If I'm lucky, Samuel will appear with some iced coffee. Or I'll wander into the kitchen and bring back some fruit to enjoy outside. I look forward to sharing photographs and updates on my projects. Christmas knitting has begun! Check out the details on my Ravelry page.
Ever-expanding Skill Set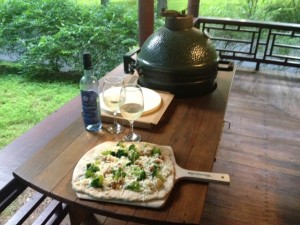 June has been wild card month for the Bulk Bins Cook-along, and I've been experimenting with homemade pizza crust. I've had some success with a recipe from My Bread by Jim Lahey. He's the guy who popularized the no-knead bread-making technique. So far, I've made decent pizza that doesn't stick to the surface of my pizza stone. I would like to perfect the technique and create a pizza with a thin, crisp crust. Our pizza stone fits our Big Green Egg, a ceramic charcoal grill that is modeled after a Japanese-style kamado grill, which can heat to high temperatures without drying your food.
Next month, we'll cook along with quinoa. It is the perfect canvas for a wide array of fruits, veggies and cheeses available at your local farm stand or farmer's market — or event the food you're growing in your own yard this summer. I look forward to seeing your photos and recipes on the Ravelry discussion board and Instagram. Use #bulkbinscal on social media.
Off the Shelf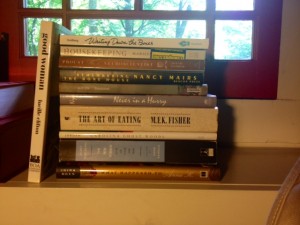 This segment was suggested by Valerie, who saw how my yarn stash is tucked into my bookshelves and asked me to talk about some of my favorite titles. Thank you, Valerie, for that suggestion, and for mentioning in your letter that you add a "top 10" books of the year list in your holiday cards. What a great idea! In examining my books in preparation for this segment, I found that most of my collection is contained in four main categories: classic literature, contemporary literary fiction, memoirs by female authors, and poetry / books on writing. I pulled eleven books that have been powerful for me. Of course, there are so many other favorites. I look forward to learning about your summer reading on the discussion thread.
Persuasion by Jane Austen
What Happened to Anna K? by Irina Reyn
Remembering the Bone House by Nancy Mairs
Carolina Ghost Woods by Judy Jordan
Writing Down the Bones by Natalie Goldberg
Never in a Hurry: Essays on People and Places by Naomi Shihab Nye
Good Woman by Lucille Clifton
The Art of Eating by M.F.K. Fisher
Housekeeping by Marilyn Robinson
Proust Was a Neuroscientist by Jonah Lehrer
Secret Ingredients: The New Yorker Book of Food and Drink (anthology)
---
I love the solitude of reading. I love the deep dive into someone else's story, the delicious ache of a last page.       — Naomi Shihab Nye