Episode 35: Poem in Your Pocket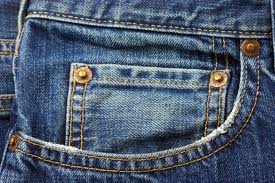 This episode includes the following segments: Ever-expanding Skill Set, The Back Porch, The Front Porch, Double Happiness and Gratitude Journal.
LISTEN:
Ever-expanding Skill Set
My contribution to Easter dinner was a rice pie with a custard-like texture.  I've made this dish many times, and I'm always trying to find new ways to amp up the flavor.  This year, I used freshly-squeezed orange juice as the cooking liquid for basmati rice.  I also soaked the pine nuts overnight in orange liqueur.  Finally, I scraped vanilla from 1/3 of a fresh bean rather than use vanilla extract.  Farm-fresh eggs and very high quality ricotta are essential. This dessert is not too sweet, light because of the phyllo crust, and a great balance to a salty ham dinner.
The Back Porch
Farbklang, (the color of sound) is an asymmetrical design for an accessory by Simone Eich of Wollwerk.  This pattern knits up quickly and lends itself to improvisation and experimentation.  I'm very pleased with the results.
The Front Porch
I've heard the yarn and the colors of Leading Men Fiber Arts praised on several podcasts, so I thought I'd try some lace weight to knit Tripartite, a loosely structured Stephen West design.  The color, seaweed, is going to be perfect for summer.  It is a beautiful tonal turquoise, and will look well with natural linen, white, and black garments.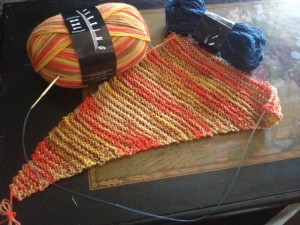 The Clincher by Ash Kearns could become your new sockhead hat, as long as you don't mind purling.  I guess a lot of knitters DO mind purling, but this accessory is a great project for a precious skein of sock yarn and some scrap yarn in a contrasting color.  It has a pleasing ribbed texture and can be worn in a variety of ways.  I think it's pretty easy to work on in a social setting and works well for travel knitting, too.
Double Happiness
Thursday, April 24th is Poem in Your Pocket Day.  You're encouraged to select a pocket-sized poem, place it in your pocket, and share it throughout the day with loved ones, co-workers, even friendly-looking strangers.  Here is a link to short, printable poems in case you need some help finding one.
Share the happiness.  Here are some ideas from Poets.org for giving poetry a place on Poem in Your Pocket Day:
Post pocket-sized verses in public places
Handwrite some lines on the back of your business cards
Distribute bookmarks with your favorite immortal lines
Add a poem to your email footer
Post a poem on your blog or social networking page
Project a poem on a wall, inside or out
Text a poem to friends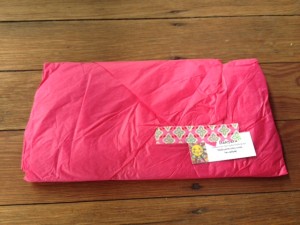 Would you like to win what's inside this pretty pink package?  It's a project bag from Halcyarn Knitting Accessories.  All you need to do is enter the contest in the Yarns at Yin Hoo group on Ravelry by posting your shopping advice.  I'm traveling to the Maryland Sheep and Wool Festival in May and I'd like your suggestions for how to make use my shopping dollars.
Gratitude Journal
This week, I read "Thanks," a poem by W. S. Merwin.  This poem is not new; however, I recently discovered it in my six-week poetry class with the Geraldine R. Dodge Foundation.
in the faces of the officials and the rich and of all who will never change we go on saying thank you thank you