Episode 24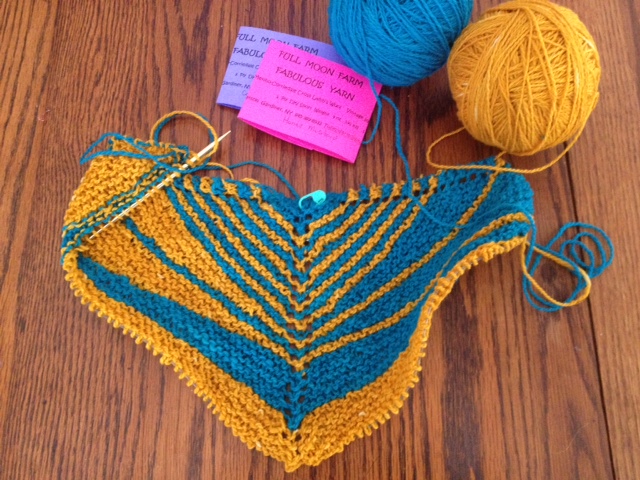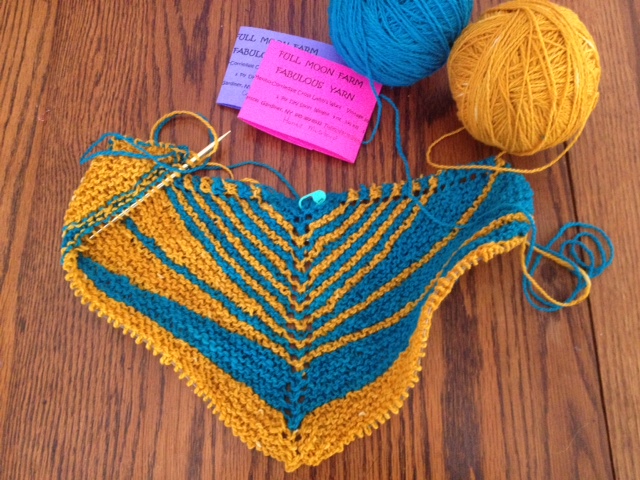 This week's episode features the following segments: Yarn Lover at Large, Double Happiness, and The Front Porch. 
---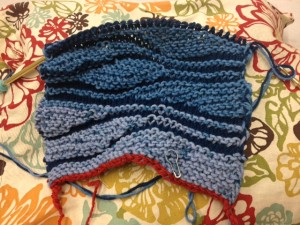 Yarn Lover at Large
On Saturday, I took a class with Tricia Weatherston.  The class, held at my LYS, Mountain Knits & Pearls in East Stroudsburg, was devoted to the concept of swing knitting.  The technique was named and developed by Heidi Liegmann, who offers a series of workshops to help knitters learn the methods and make a variety of projects.  Swing knitting is distinguished by numerous segments of German short rows, made using the double stitch, as opposed to the typical "wraps and turns" method. While Liegmann uses musical vocabulary (stanza and melody) to describe the technique, our class at MKP used a pattern by Brigitte Elliot, who employs agricultural terminology (field and furrow) and a much less wordy, more technical set of instructions.  If you're interested in swing knitting — beware!  You must be able to clear your life of distractions in order to work on these patterns.  They are not difficult, but they do require your full attention.
---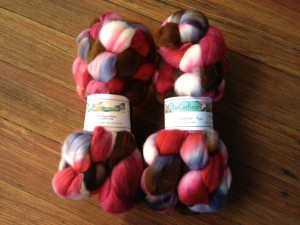 Double Happiness
There's nothing like the pleasure of starting a new braid of fiber on my wheel.  This week, I'm fortunate to begin the gift of some fiber from Fat Cat Knits in the Valentino color way. This is PERFECT for the season — bright pops of pink and other candy colors, balanced by a luscious chocolate brown.  The fiber was a gift and my first time spinning Ginny's wares.  It's a pleasure to spin.  Did I mention that I love the colors?  I hope to have at least 4 ounces complete by Valentine's Day.
---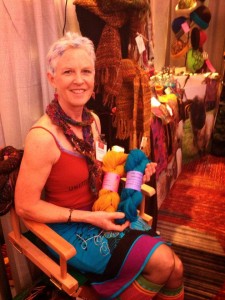 The Front Porch
In Episode 23, I mentioned that I did make a purchase at Vogue Knitting Live.  I met the beautiful, engaging Laura Watson at her booth, which was bursting with Full Moon Farm's Fabulous Fiber.  Since one of my goals for 2014 is to purchase yarn from new-to-me purveyors, and since the farm's location in nearby Gardiner, NY makes the yarn local, I decided to buy enough yarn for a project I've had in my queue for awhile.  The Aggregate shawl by Jimenez Joseph of JimiKnits is the perfect showcase for the vibrant colors of Laura's yarn.  I'm really enjoying this pattern and the yarn, a 2-ply of Merino-Corriedale cross fiber.
---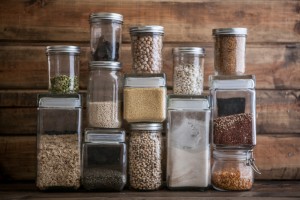 Bulk Bins Cook-along
The spotlight on lentils thread on Ravelry will remain open, but on January 31, I will be choosing a winner from among those who have posted to win a pattern of $7 value or less.   Next month's spotlight is on oats.  The Ravelry thread for discussion, recipe sharing and photos will open on February 1.
No winter lasts forever; no spring skips its turn.    — Hal Borland