Episode 23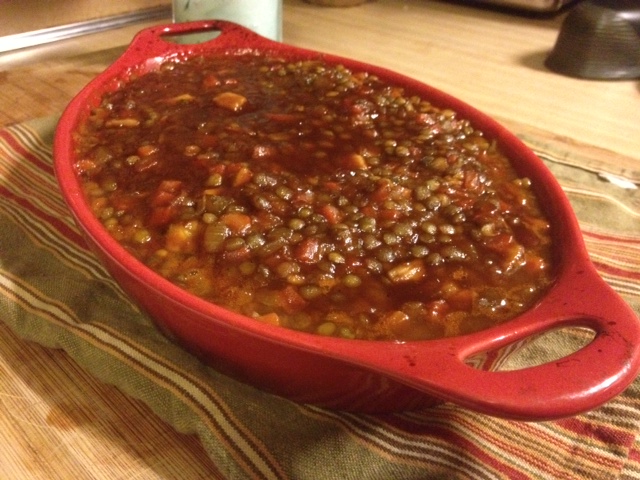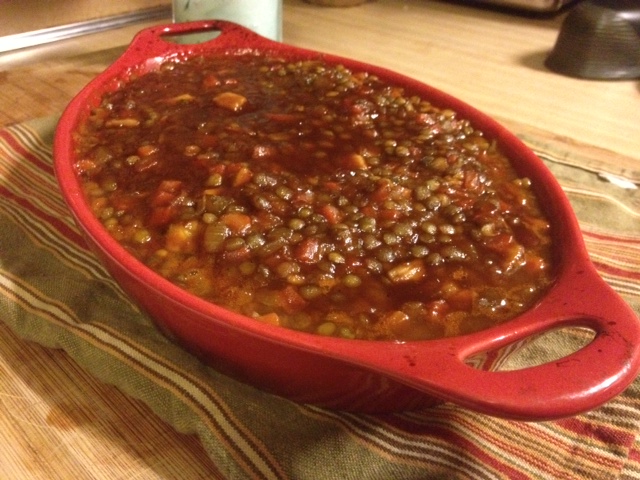 This week's episode features the following segments: A Little Bit of Learning, Ever-Expanding Skill Set, Yarn Lover at Large, The Back Porch, and The Front Porch.
---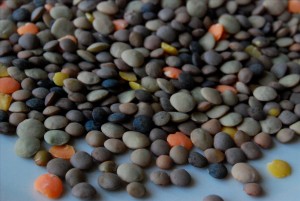 A Little Bit of Learning
One of the things I forgot to mention when I discussed the nutritional properties and cultivation of lentils in the last episode was the tradition of eating lentils at the new year as a symbolic gesture.  It is customary in some cultures to eat lentils on New Year's Eve or New Year's Day because lentils, resembling tiny coins when they're cooked, are an auspicious symbol of wealth and prosperity and are said to bring luck.  I think that auspicious eating for the entire month of January is in order. For some great recipe ideas and more suggestions of lucky foods for the new year, visit the Whole Foods Market website.  If you're cooking along with the bulk bins cook along, you can enter into the monthly drawing for a pattern prize on Ravelry by posting your comments, recipe ideas, links, and photographs in the Bulk Bins CAL thread. You can also join in the fun by using #bulkbinscal on Twitter.
---
Ever-expanding Skill Set
Oh, my, were these barbecue lentils good.  I'm talking stick-to-your-ribs, incredibly tasty.  I served these over baked potatoes.  Yum.  I began with  a recipe suggested by a listener and adjusted it based on the contents of my pantry and the fact that I don't have a crock pot.
This recipe is adapted from Karen's crock pot version, with turkey stock and leftover turkey from my Thanksgiving bird. I used my Le Creuset cookware so that I could cook on the stovetop and in the oven using the same pot. Also, I've employed two techniques I've learned through my research on cooking with lentils: 1) salt slows the cooking process, so it's best to add salt once lentils have reached the desired level of doneness 2) lentils are easier to digest if you add them to already boiling liquid.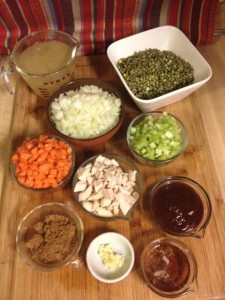 2 tblsp. olive oil or butter
1 onion, chopped
2 carrots, chopped
3 stalks celery, chopped
2 cloves garlic, minced
1 1/4 c. turkey stock
2 c. French lentils, soaked overnight and drained
1 tsp. salt
1/2 c. organic catsup
1/4 c. brown sugar
3 tblsp. maple syrup
3 tblsp. balsamic vinegar
1 c. diced turkey breast / thigh
In a heavy-bottomed pot over medium-high heat, sauté onions for 3 minutes. Add carrot, celery and garlic, continue to sauté another 3 minutes. Do NOT add salt. Reduce heat to low and cover; "sweat" for 7 minutes. Pour in stock and bring to a full boil before adding lentils. Stir, then reduce heat to low and cover; simmer for 12-15 minutes or until nearly all of the liquid has been absorbed. Stir in remaining ingredients. Pour into a casserole dish and bake in 350 oven until bubbly.
I didn't have any bacon on hand, but if I had, I'd prefer to dice 2-3 slices of bacon and render, using bacon fat to replace oil/butter. Then, I would reserve the crispy bacon and sprinkle on the top before serving.
---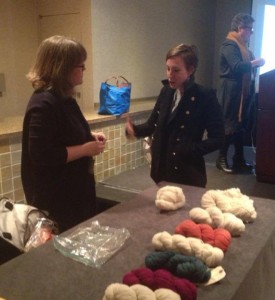 Yarn Lover at Large
On Saturday, I took the train to NYC to spend a little time at Vogue Knitting Live.  Specifically, I wanted to attend a lecture by Clara Parkes, whose memoir, The Yarn Whisperer, I had recently read. I was late to the game in learning about her Great White Bale project, but I wanted to learn more.  Clara purchased a bale of Saxon-merino fiber (that's 676 pounds), then set about the task of working with mills and dyers in the US to turn that fiber into yarn for a the enterprising folks who purchased exclusive access to the products and Clara's story about her journey.  During her lecture, Clara showed photographs and video, and discussed the triumphs and the many, many challenges of her journey.  In closing, she implored members of the audience to think carefully about the people, products, and industry practices you are supporting when you purchase each skein.  If you're interested in the state of the US textile industry, you may enjoy "Fruits of the Loom," an article and photo essay that appeared recently in The New York Times.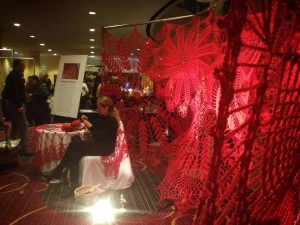 There were many, many artists with work featured at VKL, and that was one of the highlights for me in visiting the conference.  One artist, who was sitting inside a magnificent work titled Keeping up Appearances, was Ashley V. Blalock.  This is a stunning and thought-provoking piece that invites conversation about contemporary attitudes towards domestic arts.  The structure of the display is reminiscent of doilies — intricate patterns of delicate crochet work. However, delicacy is contradicted by the large scale and bold use of color, which suggest raw emotion,  perhaps even violence.  It was a pleasure to speak with the artist about her incredibly provocative installation.
---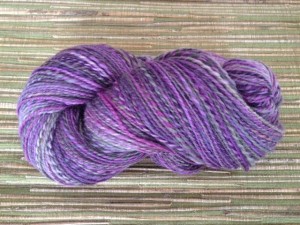 The Back Porch
This weekend, I finally finished the plying of some fiber I've had on the wheel for a few weeks.  Falkland refers to the wool of sheep from the Falkland Islands, rather than a particular breed of sheep.  The wool has a relatively long staple length, is strong but not too course, and is recommended for beginning spinners.  The braid I spun, from Patricia of Beesybee Fibers, was 4 ounces.  I was able to get 405 yards of a 2-ply yarn in fingering weight.  The color is sour fig; I used a fractal spinning technique, dividing the fiber in such a way as to maximize barber-poling (the effect of two different color plies twisted together throughout the yarn.)
---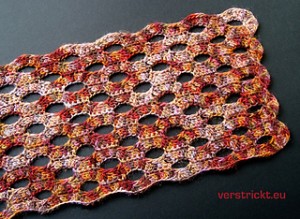 The Front Porch
This week I was given the gift of a lentil-inspired pattern by Andrea Delhey.  It's called Indian Lentils and it's perfect because I've been thinking lately that I need to get back to some crochet projects. I'm using some Noro Taiyo sock yarn for this scarf.  The pattern is very easy to memorize and its long, long rows give make it a good one for working on while I'm chatting or watching a podcast.
I started the journey [of The Great White Bale] wanting 
to explore how yarn was made in this country.  But during the journey I became more interested in who and why.    — from Clara Parkes' lecture at Vogue Knitting Live, NYC 1.18.14