Episode 17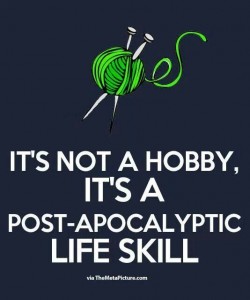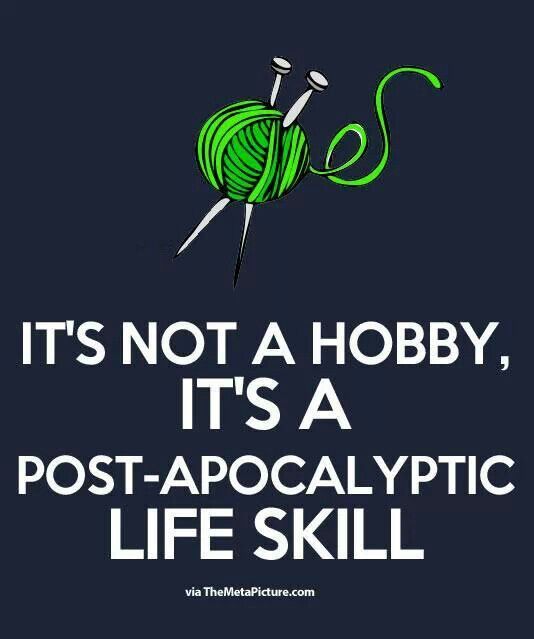 This week's episode includes segments titled: The Back Porch, The Front Porch, On the Screen Off the Shelf, and Ever-expanding Skill Set.  I wish everyone a productive week.  If your home is like mine, there will be an exhausting amount of cleaning, baking, and cooking.  I'll be trying to keep perspective and spend some time relaxing and knitting each day.  I also pledge to remember that laughing with family and friends is more important than anything else.  Happy Thanksgiving, everyone.
---
Back Porch / Front Porch
This week, I completed another Urban Lace Infinity Scarf and I've begun a third.  This is a great pattern for gift giving.  My first completed scarf was a long version.  The next two will be smaller cowls using one skein each of Lion Brand Amazing in the Arcadia color.  I also completed some top secret knitting for Samuel.  Hopefully he's too busy with upcoming Bovine Social Club gigs to hunt for clues about his Christmas gifts!  On the front porch are preparations for the Advent Scarf mystery KAL from zemy.  I have yardage and needle requirements so that I can get ready for casting on in early December.
---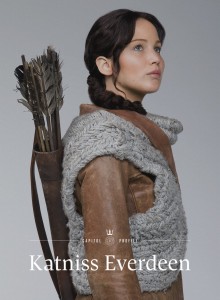 On the Screen
My friend Ashley alerted me to the stunning knitwear in Catching Fire, the second film in the Hunger Games Trilogy.  Jennifer Lawrence (Katniss) wears an armor-inspired short tunic over a vintage leather jacket. Can you say post-apocalyptic chic?  A little bit of research led me to Sarah Hurwitz' Knit York City blog, where I learned the designer's name, Maria Dora.  I also learned that the piece featured in the film is not knit.  However, that didn't stop Lollyknits from designing a Katniss Cowl and offering it free for Ravelry members.  Ashley and I are exploring yarn choices right now.  I hope to cast on soon.
---
Off the Shelf
This week, I'll read an excerpt from "Knitting as Creation Story" by Barbara Kingsolver, one of my favorite authors.  The piece is featured this month in Orion Magazine.  Make a cup of tea, put your feet up, and read it one chilly evening this week when you need something restorative.
---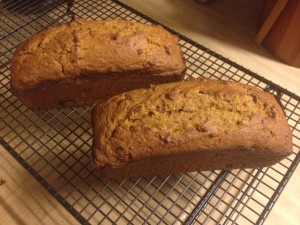 Ever-expanding Skill Set
This marks the last evidence of my pumpkin fixation. Until next year.  This morning I opened some organic canned pumpkin and made two recipes.  Well, variations of two recipes:  pumpkin mac & cheese and pumpkin bread.  When I feel inspired, I don't let the fact that I don't have the complete list of ingredients on hand stop me.  That's one of the benefits of being an improvisational cook.  So, I substituted cream cheese and ricotta for some of the cheeses called for in the mac & cheese recipe.  I also used ricotta in place of the sour cream in the pumpkin bread.
"White fleeces shaken free of second cuts, rolled and bundled and stacked, ready for spinning, look for all the world like loaves of bread on a bakery shelf, or sheaves of grain or any other money in the bank. The universal currency of a planet where people grow cold." — Barbara Kingsolver