Episode 5
This week's episode includes the following segments: Double Happiness, Yarn Lover at Large, The Back Porch and The Front Porch.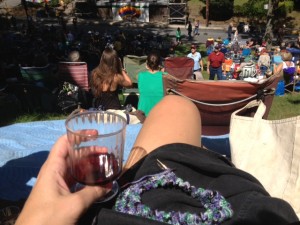 Double Happiness
Knitting and listening to jazz while sipping wine and nibbling cheese and sopressata on a sunny September afternoon is really the best life has to offer.  This weekend, I took advantage of the time to work on a few projects while visiting with friends on the hill at the Delaware Water Gap Jazz Festival.  If you ever visit the Poconos the weekend after Labor Day, put the jazz fest on your list.  Here's a photograph of the ambience, with my Sockhead Hat by Kelly McClure on my lap.  I used the very stretchy cast on method in Tillybuddy's YouTube tutorial.
---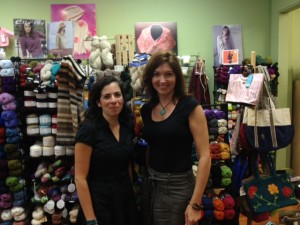 Yarn Lover at Large
Laura Nelkin is well-known for her knitted and beaded jewelry designs.  I was lucky to take her class on knitting the mudra cuff at my local yarn shop, Mountain Knits and Pearls in East Stroudsburg, PA.  My skill set expanded as I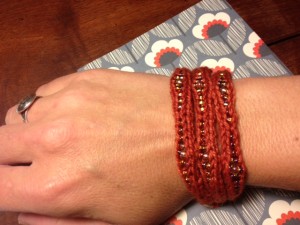 learned to string beads before knitting, use double-pointed needles, and anchor I-cord onto a ringed clasp.  Check out Laura's blog for more details about her whirlwind weekend of teaching in Pennsylvania.  And if you ever get a chance to take one of her classes — sign up without hesitation.
---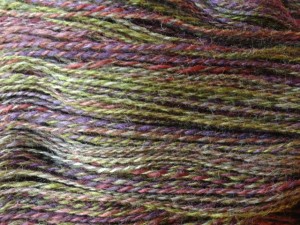 The Back Porch
After two weeks of intentional spinning, I completed my handspun from mixed Blueface Leicester in the Country Cottage color.  This fiber, from Beesybee, spun up very nicely into 447 yards of sport weight, 2-ply yarn for the Batad capelet by Stephen West.  I had a lot of fun wringing the water out by hand — becoming a human salad spinner and spraying water all over the leaves of the hostas in my garden.
"Autumn is a second spring when every leaf is a flower."  —  Albert Camus