Episode 41: A Witness to Color
This episode is devoted to an interview with Patricia Briceño of Beesybee Fibers in San Francisco, California.
LISTEN: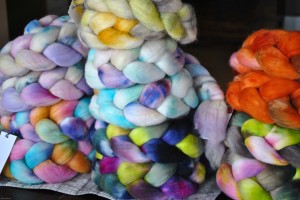 I placed my first order for fiber with Patricia shortly after I learned to spin, about a year ago. The color was Woodland Gnome and the fiber was Blue-faced Leicester. The yarn, all 274 yards of it, became my first hand spun, hand knit shawl. It wasn't long before I began to scour Patricia's Etsy store for my next braid of fiber, and my next. Patricia's sense of color and approach to dyeing has fascinated me, so I asked her to record her responses to some interview questions and she generously agreed. Patricia has also supplied the photographs for this blog post and a gorgeous skein of yarn for Yarns at Yin Hoo's first craft along, the Asymmetri-CAL, which begins in August.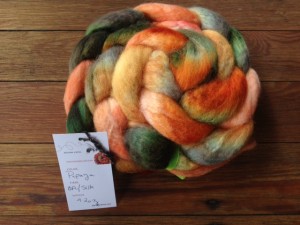 It turns out the name Beesybee was not Patricia's choice of a shop name, but the constraints of Etsy prohibited her from choosing another one and now the name is growing more agreeable.  Having spent her childhood in Yucatan, Mexico, Patricia is still informed by her early years, the influence of her grandmothers and her surroundings in what was once a small town. April's Phat Fiber sampler box with the theme "How Does Your Garden Grow?" featured a sample of Patricia's Papaya colorway. She explains her development of the color and the Phat Fiber program. If you don't know about the Phat Fiber phenomenon, now's the time to learn! I have not been so lucky as to score one of the rapidly-selling boxes, but I did purchase a braid of Papaya in the BFL/silk blend. It's on my wheel right now.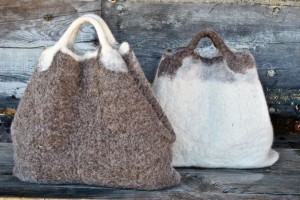 Patricia explains that she began dyeing fiber for her own use, in felting projects. These photographs are just a few of the wonderful examples of her work. You can see more recent examples of felting and read about her process on the Beesybee blog. On occasion, she will instruct a felting class, so if you're in the San Francisco area, you'll want to be on the lookout of one of those. Over time, selling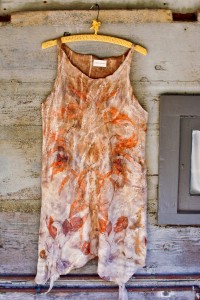 dyed fiber and yarn became a natural extension of her process. Now she has developed relationships with many of her customers, who keep returning to see what new color inspiration has made its way into Patricia's yarn and fiber. You can see some of the finished projects on the Beesybee Finished Objects thread. Each summer, Patricia hosts a spin along; this summer there are three variations of color to spin. You'll want to listen to this interview in its entirety to find out about Patricia's current projects, her aspirations, and her thoughtful and responsible business practices. I hope you enjoy this glimpse into the life of a fiber artist.
If I had to say what is most important to me, it would be keeping that spark, that imagination, alive. — Patricia Briceño