Episode 38: Porch Spinning Four Point Oh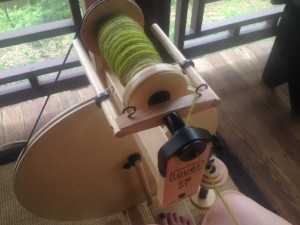 This week's episode contains the following segments: Ever-expanding Skill Set, On the Porch, Yarn Lover at Large, and Double Happiness. 
LISTEN:
Ever-expanding Skill Set
Amaranth has been on the menu this week at Yin Hoo.  I used the grain to make a mushroom dish — kind of like a porridge.  Using this recipe as a jumping off point, I incorporated dried porcini mushrooms and sautéed shallots into some frozen chicken stock to make a rich, thick broth in which to cook the amaranth.  This is a good thing, because amaranth doesn't have much flavor; nor does it have starch to lend a dish a creamy texture. Cooked, it reminds me a lot of quinoa.  I didn't think it would be very exciting, so I made my own version of a mushroom duxelle — diced Crimini mushrooms sautéed in garlicky butter with a touch of cream and a heavy dose of chopped parsley — to spoon on top of the porridge.  I can't make a duxelle without hearing Julia Child's voice in my mind.  Here a decent recipe for mushroom duxelle, but I keep mine quite simple and light.  If you decide to join in the fun, tag your creations with #bulkbinscal on social media.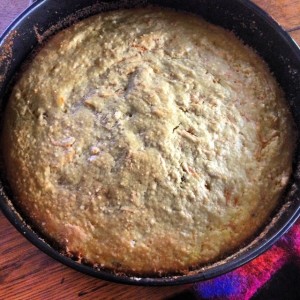 Another recipe I made for the first time this week was Carrot Almond Cake with Ricotta Cream from Deborah Madison's Vegetable Literacy.  I made this cake adhering strictly to the recipe, and brought it to my mom's house for Mother's Day.  If you're fond of the version with the cream cheese icing, you will not be impressed with this cake.  But if you want something with a light, spongy texture and a great deal of tangy zest, this is one to try.
The Porch
Typically, I use The Back Porch to indicate completed projects and The Front Porch to specify projects that I plan to start soon.  This week, I've been working on the same few projects without making much progress on any of them.  I'm still knitting the Tripartite vest by Stephen West and The Clincher, an elongated triangular scarf designed by Ash Kearns.  I'm also doing some spindle spinning. My birthday gift to myself was an Aegean spindle from Jenkins Yarn Tools.  I'm really enjoying the lightness of the tool and the delicacy of the singles as I spin battlings from Hobbledehoy.  When the weather is warm and the sun is shining, all I really want to do is take my Louet wheel out onto the porch and spin.  Mixed BFL dyed in the color gradient Pollination by Patricia of Beesybee Fibers has been a fitting project to work on as pollen dusts the porch railings, floors, and even the windows in a violent coat of green.
Yarn Lover at Large
After referencing Renate Hiller and the "On Handwork" video in Episode 32, I've been longing to visit the Fiber Craft Studio in Chestnut Ridge, New York.  Last week, I attended their Open Studio session and a demonstration of natural dye techniques.  The instructor was Mikae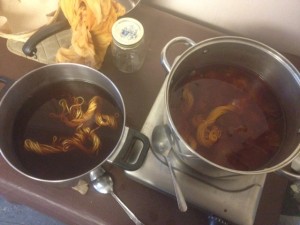 Toma, an engaging and informative teacher.  Around the table were six women with a passion for the fiber arts and many, many questions.  We watched and listened as Mikae demonstrated how to dye with onion skin, yellow cosmos, and madder root.  Now I'm inspired to experiment beyond the goldenrod I tried this autumn.  I even placed an inquiry about madder root at my local garden center.
Double Happiness
Yarns at Yin Hoo's first craft-along is in the works.  I have waited for our Ravelry group to reach 200 members before launching.  In the next episode, I'll talk about the theme for the CAL, the start and closing dates, and the exciting prizes that friends and fans of the show have generously donated.  We can even have an informal spin-along during Tour de Fleece if anyone is interested in spinning intentionally for their project.
Gratitude Journal
As I was typing up the blog post for this episode, I received a Ravelry message asking if my ears were burning.  Thank you to The Knitmore Girls for purloining my Ever-expanding Skill Set in Episode 281.  Jasmin and Gigi discuss some tips for spinning that can keep you from running aground with a long-term project, and invite listeners to share how they've been expanding their skill set.  Listening to these experience podcasters praise my show was quite a thrill!
A British porch is a musty, forbidding non-room in which to fling a sodden umbrella or muddy pair of boots; a guard against the elements and strangers.  By contrast the good ol' American front porch seems to stand for positivity and openness; a platform from which to welcome or wave farewell; a place where things of significance could happen.  — Dan Stevens