Episode 19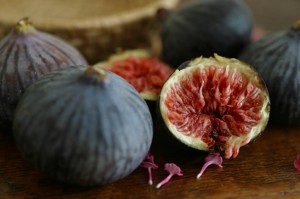 "Food comes first, then morals."  
Bertold Brecht (Threepenny Opera II.iii)
This episode includes the following segments: Ever-expanding Skill Set, A Little Bit of Learning, The Back Porch, The Front Porch, and Off the Shelf.
---
Ever-expanding Skill Set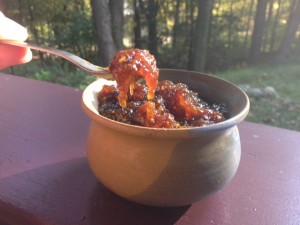 This autumn marked my second making and canning drunken fig jam from my colleague Guy's luscious white figs.  I start with this recipe and alter it according to my tastes. Specifically, I omit the salt, reduce the amount of sugar, replace the lemon rind with orange rind and the cognac with grand marnier. For a luscious product, I let the mixture cook down until it is incredibly dense.  To maximize my yield, I can the jam in the smallest jars I can find.  The possibilities for using fig jam are as many as your imagination runs wild.   My favorite way to enjoy it is water cracker -> goat cheese -> jam.  Yum!  It is one of the ways to bring the warmth of the summer sun to my Christmas table.   Another way to enjoy dense, fruity jams and chutneys is to use as a glaze for grilled meats. One of the best-known preparations for figs is figgy pudding, popularized by the Christmas carol; however, the boozy pudding has fallen out of favor in England over the years.  Dorie Greenspand and Michele Norris attempt to bring it back in this feature from All Things Considered.
---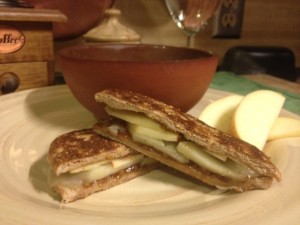 A Little Bit of Learning
Paired with some tart sliced apple, fig jam elevates a grilled cheese sandwich to an elegant dish.  The fig has always impressed me as exotic and enticing.  On the rare occasions we had them when I was growing up, my mother served them oven-roasted, just until they became a little runny, and topped them with a dollop of ricotta and a drizzle of honey.  Technically not a fruit, the fig is an inverted flower that grows best in Mediterranean climates.  Since it requires less water than many other crops, and is most often shipped dried, the fig is often touted as one of the more sustainable and sensible crops of California.  The US is #3 in the world in the production of dried figs, and the majority of those are grown in California.  Much of the research included in this episode comes from the website of the California Fig Advisory Board.
---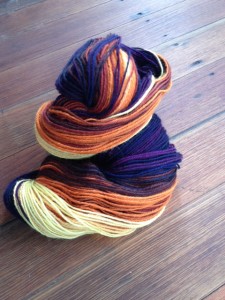 The Back Porch
Since purchasing the Honey to Fig Gradient from FiberOptic at Rhinebeck, I've been working on this spinning project.  The four ounce braid of 80 percent merino / 20 percent silk spun so thin that it has taken me a very long time to complete the spinning and to chain-ply it to preserve the color transitions.  I couldn't be more pleased with the finished yarn — 433 yards of silky soft yarn, from pale yellow through orange and burnt red to a deep and sparkly plum color.  There are two potential projects I have in mind for this yarn, both by Stephen West.  One is the small version of the Daybreak Shawl; the other is the Clawed Shawl, featured in the color issue of Ply magazine.
---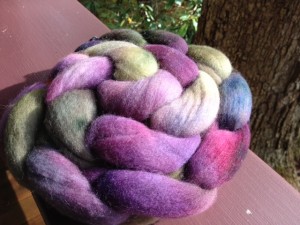 The Front Porch
Next on my wheel will be Sour Fig, four ounces of Falkland from Beesybee Fibers.  The colors of this fiber are closer to the white figs I used to make the jam.  My technique for spinning this will be to divide the braid and spin onto two bobbins, working to get as much barber poling as possible.  This might work well for another Batad, or an as-yet-unimagined project.
---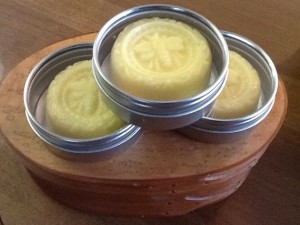 Little Things Contest
Low temperatures, nasty weather, less sunlight, holiday stress … December can be tough on us. Let's look to the little things as a way to keep smiles on our faces.  This giveaway is generously sponsored by Spinner's End Farm. Sherry will put together a little collection of goodies to pamper and nourish your skin: goat's milk soap, lotion bars, lip balm — a selection of handmade products to delight your senses and calm your holiday-wearied nerves. To enter, post a reply to the contest thread by January 4th.  One winner will be randomly selected from the contest entries.  If you can't wait to find out whether or not you're the winner, head on over to the Etsy shop and pick out your stocking stuffers now!
---
Off the Shelf
I consulted several sources for this episode.
Aphrodite: A Memoir of the Senses by Isabel Allende
Intercourses: An Aphrodisiac Cookbook by Martha Hopkins and Randall Lockridge
Interview: Figs–An Ancient Fruit that Is Truly Sustainable with June Stoyer and Karla Stockli