Apple Oven Pancake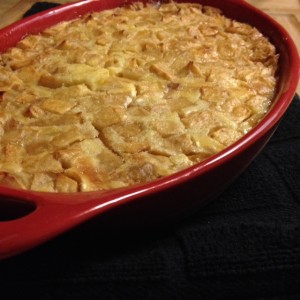 This recipe, perfect for tart or sour apples, comes to you from Rise Up Homestead. Jessie served this in the morning so that we would have the energy for a long day of catsup making. Enjoy this oven pancake with some crispy bacon and a strong cup of coffee, or in the evening with tea and spoon of cream drizzled over the top.
Apple Oven Pancake
Preheat oven 425 F.
Set a kettle of water to boil.
Place an 8 x 8″ or 8″ oval baking dish in the oven to warm with 1 tblsp butter.
Meanwhile, peel and dice 2 medium apples.
Remove baking dish from oven, add apples, spreading evenly.
Return baking dish to oven and allow apples cook (about 10 minutes).
Meanwhile, make a batter by whisking together 2 eggs, 1/2 c flour, 1/2 c milk, a few drops of vanilla and a pinch salt.
Remove baking dish from oven. Sprinkle apples with 1 tblsp brown sugar and 1/4 tsp cinnamon.  Toss to coat. Squeeze the juice of 1/4 lemon over apples, then top with batter.
Set baking dish in a large, deep pan, place on oven rack, and pour 1-2″ boiling water into pan to create a bain-marie.
Bake until the pancake is puffy and golden (about 15 minutes).
Serve immediately.