My Kind of Apple Pie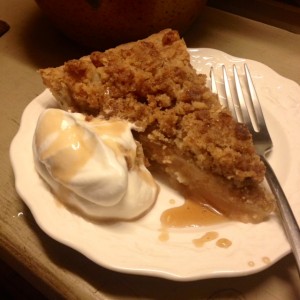 My Kind of Apple Pie  
This version of an American classic has a crunchy crumb topping that doesn't sink into the apple filling — that's because of a unique double crust.  Use a variety of apples from your outing to a local orchard or farm stand. This pie is perfect with a scoop of real vanilla ice cream and a drizzle of maple syrup. It is also a valid breakfast item, if you ask me.
---
Double Crust
2 c all-purpose flour
1 tblsp granulated sugar
1/4 tsp salt
1/3 c shorting
1/3 c butter (cubed / cold)
2 tblsp vodka
ice-cold water
In a large metal bowl, combine first three ingredients. Use a pastry cutter to cut in fat until mixture has a rather sandy texture and there are no large clumps.
Sprinkle vodka, then ice-cold water by the tablespoon. Use a fork to stir. Add liquid until the mixture comes together into a dough.
Form two disks (one slightly larger than the other), using the heat of your hands to shape. Do not knead the dough! Wrap each disk in parchment paper and allow to rest in the refrigerator for at least 30 minutes.
---
Crunchy Crumb Topping
1/4 c granulated sugar
1/4 c dark brown sugar
1/2 c all-purpose flour
1/4 c walnuts, roughly chopped
2 tblsp flaked coconut
6 tblsp butter
Cut butter into dry ingredients until the mixture has a course, crumbly texture. Set aside.
---
Apple Filling
8 – 10 medium-sized apples of different varieties, peeled, cored, and sliced
lemon juice
2 tblsp flour
2 tblsp sugar
1 tsp cinnamon OR
garam masala
dash freshly-grated nutmeg
As you peel, core, and slice apples, keep firmer and softer varieties separated into different bowls. Add lemon juice to sliced apples to prevent browning.  Add flour, sugar and spices. Toss to coat.
Heat 1 tblsp oil in a heavy-bottomed saucepan or stock pot and cook apples gently over medium heat until they start to soften. Add a few spoons of water to prevent sticking if necessary. Cook firm apples first; and softer/sweeter varieties later. Very sweet or soft apples do not need to be cooked at all. Remember, you are not making apple sauce; you're simply starting the cooking process for the apples. Allow mixture to cool slightly while you roll out pie crusts.
---
Preheat oven 375°
Roll out refrigerated dough on a lightly-floured surface. Place first (larger) round of dough in a deep pie dish, pour in apple filling and make sure there are no air pockets. Place a second round of dough on top. Cut off excess dough and crimp. Cut several large vents in the top of pie, brush with maple syrup, honey or a beaten egg white, then heap crumb mixture on top.
Place pie in center rack of oven and bake for 20 minutes.  Reduce heat to 350° and continue baking for another 40-50 minutes or until filling is completely cooked through and bubbling in the center.