Episode 9
This week's episode features the highlights of 36 hours spent in Vermont, plus an interview sure to boost your understanding of the term "post-apocalyptic skill set."
---
36 Hours in Vermont
Our little road trip to the Green Mountains included several stops and lots of driving around to admire the fall foliage.  We tasted cheese and made some purchases at Plymouth Artisan Cheese.  I highly recommend the Hunter, which is aged two years.  In addition to cheese, the shop offers a variety of Vermont-made wines and beers, as well as maple syrup and other handmade souvenirs.  In the evening, we took a drive out to Ripton Community Coffeehouse to hear a Quebec-based group called Goldilocks and the Three Bears.
The performers were enthusiastic young musicians who played fiddle in a variety of styles from traditional reels to classical pieces.  Several of the pieces featured French songs.  Coffee and delicious desserts were on sale.  Proceeds from the evening go to a local charity.  Finally, on our drive home, we stopped by the Dorset Farmer's Market.  In a charming little valley, this market features locally-grown produce and handmade items.  A lovely little Sunday afternoon market.  Unfortunately, there had just been a downpour before we arrived, so many people were shopping in ankle-deep water.
---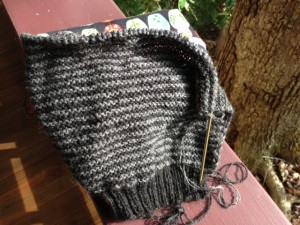 On the Needles
I took three projects on the trip, but worked only on two of them.  I'm nearly halfway through the striped garter stitch main portion of Stringband, a hat/cowl design by Stephen West.  And I've begun 22 Little Clouds, a narrow shawl by Martina Behm.  The Lavender & Sage color of Frolicking Feet DK is so pretty and makes knitting go quickly.
---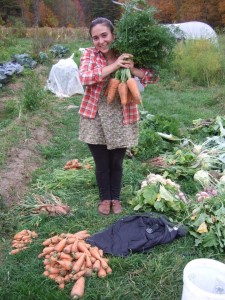 Homesteading: An Interview with Jessica
Much of the weekend was spent visiting with my sister and her partner on their homestead.  This year, for the first time, they plan to spend the winter on their farm, and there are many preparations necessary over the next few weeks.  Snow can come early to Vermont, and it's not fun to be taken by surprise.  In this interview, Jessica discusses the natural beauty of Vermont, her philosophy on bee keeping, her recent harvest of root vegetables, and butter making.  In the top photograph, Jessica shows off some of her 18 ounce carrots.  In the lower photo, she poses next to tomatoes grown and canned on the farm.  Thoreau almost posed for his picture, but saw something interesting and darted away at the last moment.
---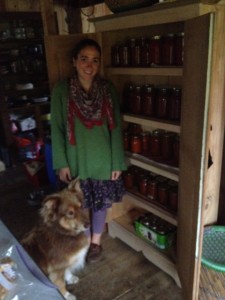 "Bees are somewhere between insects and God." — I don't know who said it first, but Jessica quoted it in our interview.
"Nothing makes the earth seem so spacious as to have friends at a distance; they make longitudes and latitudes." — Henry David Thoreau