Episode 8
This week's episode includes the following segments: The Back Porch, Yarn Lover at Large, Ever-expanding Skill Set, The Front Porch, and Gratitude Journal.
---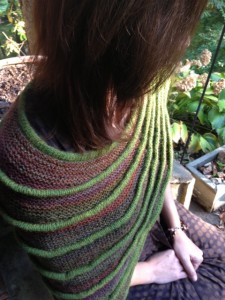 The Back Porch
My Batad is complete.  I'm calling it Acid & Autumn.  The colors are appropriate for this time of year when the leaves have started to turn many colors, yet some of them remain a bright, vibrant green.  New skills I acquired in completing this project are: spinning with intention, selecting colors for high contrast, knitting in short rows, forming welts, weighing yarn to determine if there's enough remaining for a pattern repeat, and using an I-cord bind off. I was concerned that the colors would be difficult to photograph, but Samuel has captured them without any trouble.
---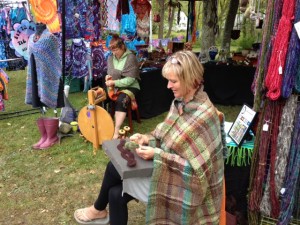 Yarn Lover at Large
Last weekend I discovered the wonderful artists of Simpatico Fiber Collective when I attended the Highlands Festival at Waterloo Village in Stanhope, New Jersey to watch Bovine Social Club perform.  Julianne and Rebecca were selling luxurious garments, accessories and yarn at very reasonable prices.  Even more interesting was their comfort in demonstrating their crafts and taking questions from everyone who wandered by. Pictured here is Julianne with a needle felting project and Rebecca spinning on her Louet.
---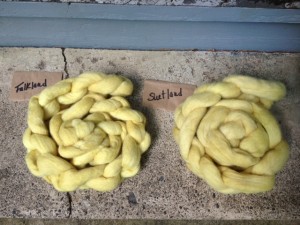 Ever-expanding Skill Set
My naturally-dyed fiber is all dry and a pretty color yellow.  I am eager to begin spinning it.  The color is very difficult to photograph with accuracy.  When I eventually get around to putting it on my wheel, I would like to pair it with some naturally grey wool.
---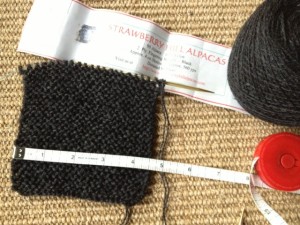 The Front Porch
Now on the needles is my first-ever project for Samuel, Stringband.  Yes, it's another Stephen West design.  We selected alpaca from Strawberry Hill Alpacas.  It's beautiful, but incredibly fine.  After doing the first swatch of my knitting career, I determined that I should hold the yarn double.  Working on the project has been a challenge in the evenings because I'm not used to such dark yarn.  I'm still a beginning knitter.
---
Don't Forget to Enter the Teacher Tribute Challenge
To enter the contest, think of a meaningful teacher in your life.  It may be someone who taught you in a classroom, or someone from whom you learned in a less formal environment.  Write a letter to that teacher and mail it.  Finally, post a tribute to that teacher on the Ravelry thread, or leave a comment by clicking the reply link on Episode 7.  You have until October 31st to post your tribute in a comment or reply.  In early November, I will select two prize winners, one drawn at random from the comments on Episode 7 on my website, and one from the Ravelry thread. I'll tell you more about the prizes and post photos once I purchase them. I have some priority prize shopping to do at Rhinebeck this year.  Ravelry members can also double-dip by posting on the Ewe University forum.
"I would rather sit on a pumpkin, and have it all to myself, than be crowded on a velvet cushion."   –Henry David Thoreau