Episode 21
Happy New Year!  This episode includes segments titled The Back Porch, Double Happiness, The Front Porch, and Ever-expanding Skill Set.  Listen to the podcast episode for the Little Things contest prize winner.
---
The Back Porch
Since spinning the honey to fig gradient from FiberOptic, I've been eager to get started on making something with the extraordinary merino-silk that took an age to spin and chain-ply.  I did not get enough yardage to knit the Clawed shawl featured in Ply magazine's COLOR issue, so I decided to knit a Daybreak shawl by Stephen West.  This required dividing the yarn into two separate balls.  After a lot of number crunching and second-guessing, I made the cut.  It turns out that my instincts were pretty good.  I was able to keep complementary colors playing against each other throughout, and ended with a border of dark hues.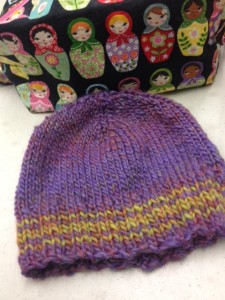 Another completed project is the Bitsy Baby Beanie by Ellen Silva of the Twinset Designs podcast.  The pattern is great for beginning knitters and the perfect size and difficulty for charity work.  Each January, I try to make several contributions to a charity.  This year, I've decided to knit hats for the Click for Babies initiative, which seeks to educate parents about the period of "purple" crying and the significance of shaken baby syndrome.  Hats for this charity should be in newborn / infant sizes and must be at least 50% purple.  I've searched through my stash for purple yarn and I intend to knit several hats for the cause.
Double Happiness
This holiday season, my suspicions about my knit-worthy family were confirmed.  Everyone on my gift list received my handiwork with a smile and a thank you.  It was fun to knit for them, and even more fun to see them wear the things I made.  I'm already planning some projects for gift-giving next year.  I'm also delighted by the thoughtful gifts I received–gifts for a knitter!  Four of my favorites: a vintage adjustable dress form on a heavy stand (her name is Gertrude); a glass head for modeling hats; The Fleece & Fiber sourcebook; a needle case by Crippenworks, and a set of awesome headphones.
The Front Porch
After a quick search on Ravelry, I located my list of goals for 2013.
1) Learn to knit socks.
2) Get the basics of changing colors to make stripes in a pattern.
3) Attend the knit nights at my LYS and get to know some local knitters.
4) Go to Rhinebeck.
5) Continue to drum up interest in the String Theory knit/crochet club I've volunteered to advise at the school where I work.
6) Knit something for my husband's 2013 Xmas. I'm thinking some cashmere yarn and a masculine scarf pattern.
Even though I did not spend the year thinking about and crossing off items on this list, I managed to accomplish all of them.  I suppose the act of committing to your goals in writing is a kind of affirmation that you will strive to work toward them.  With that in mind, I've constructed a list of goals for 2014:
knit a sweater
try a felting project
purchase yarn & fiber from new-to-me purveyors
record 45 podcast episodes by August
host a knit along
attend a knitting retreat
Ever-expanding Skill Set
This year, in order to expand my culinary skills, I've decided to experiment with products from the bulk bins at my local health food store.  In the past, I've turned to the bins for inexpensive alternatives to packaged items at the supermarket.  But there are so many products I've never tried.  By focusing on one ingredient each month, I can really expand my repertoire of recipes and cooking techniques.  I hope you'll join me for a year-long cook-along.  In January, the spotlight will be on lentils.  Share recipes, links and photographs of your dishes on the Ravelry thread.  The more often you share, the greater your chances of winning a prize in the monthly drawing!  Get started with Monastery-style Lentil Soup, found on my friend Kristy's blog, Creative Wisdom Wellness.
"Throw your dream out in front of you and walk into the dream."  — Carl Jung