Episode 20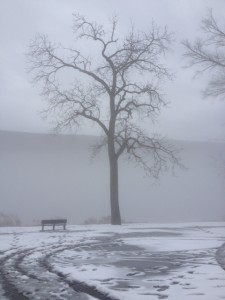 This episode includes segments titled: The Back Porch, The Front Porch, Off the Shelf, Ever-expanding Skill Set, and Double Happiness.  One of my discoveries this week is the Danish word hyyge (hYOO-guh).  Although the rough translation to English is "cozy," that term does not begin to address the concept of well-being and happiness embraced by Danes, and especially during the holiday season.  Cultivating a warm and inviting atmosphere in my home during the holidays is one skill that I continue to improve.  Decorating, organizing, building a fire, and cooking up tasty new recipes are just some of the ways I practice the art of hygge during the Christmas season.
---
Soon to be finished is my advent scarf.  I've been working on this scarf since December 1, but haven't managed to complete the ideal one-chart-per-day.  Most of the charts are 15 rows, plus a 3-row divider section.  The gorgeous snowflakes are 27 rows, and take several days for me to complete.  The other complication is that I'm using a bit more yarn than I anticipated.  So, I think I'll end up with 20 designs in my advent scarf, and I'll add a ribbed band to each end of the scarf.  The pattern is by Tricia Weatherston (zemy on Ravelry). This should be finished in time to give to my mother on Christmas day.
---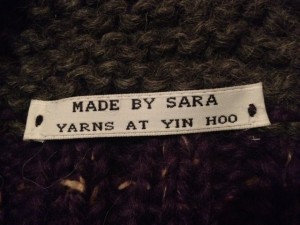 The Front Porch
On of my unanticipated purchases at Rhinebeck was a set of 100 sew-on labels from It's Mine.  These arrived shortly before Thanksgiving.  I really like the simple styling. Now, I need to sew these onto each of my knitted gifts before giving.  Sewing the labels is more time-consuming than I anticipated, but I think I'm getting better with each try.
---
Off the Shelf
Knitting Yarns: Writers on Knitting edited by Ann Hood
Mastering the Art of Soviet Cooking: A Memoir of Food and Longing by Anya von Bremzen
---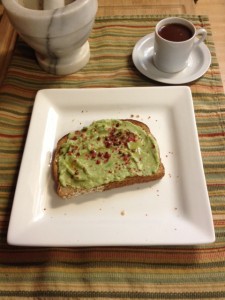 Double-Happiness
I first enjoyed avocado toast at Cafe Gitane in New York City. Simple and delicious, this toast looks festive enough to serve for Christmas breakfast or brunch.  Mash together a ripe avocado, add salt and lemon juice, then spread over a piece of hearty whole-grain bread.  Drizzle with a high-quality olive oil and sprinkle with roughly-cracked pink peppercorns. Serve with freshly-brewed espresso and watch the birds flying busily about the feeders on a lazy winter morning.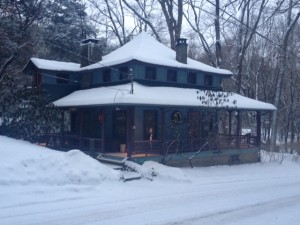 HAPPY HOLIDAYS FROM YARNS AT YIN HOO