Episode 113: Shine Through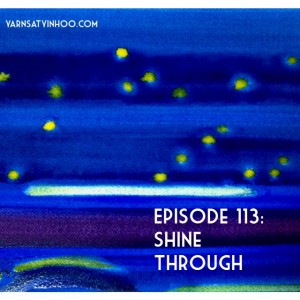 This episode includes the following segments: Chinwaggin', Ever-expanding Skill Set, Off the Shelf, Yarn Lover at Large, and On the Porch. This week I visited Philips Academy Charter School in Newark, NJ. I brought along 15 students from fiber arts seminars and the String Theory club to meet Handwork teacher Judith Symonds and her 5th graders. The students and their handwork program are the subject of this video, filmed by the Craft Yarn Council. We took a blending board to make rolags for the 5th graders, and we learned to make decorative cording on kumihimo looms.
---
Ever-expanding Skill Set
Lemon Pasta with Peas & Ham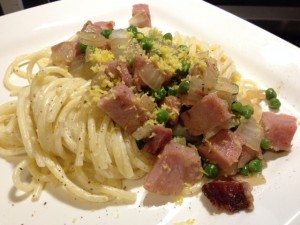 Cook your favorite pasta in heavily salted water.
Meanwhile, grate the entire rind of one lemon and squeeze all of the juice. Set aside.
In a cast iron pan, saute a diced onion in olive oil. Turn heat to low; add 1 c. frozen peas and 1 c. ham cubes. [Other vegetable / protein combos include: swiss chard and bacon;  asparagus spears and shrimp or tofu.]
When pasta has cooked to al dente, drain and return to pot. Toss with 1 tablespoon oil or butter, 1/3 c. Greek yogurt, the lemon juice, and most of the grated rind.
To serve: top the pasta with peas and ham mixture; garnish with remaining lemon rind and freshly-ground pepper.
---
Off the Shelf
I will be hosting an Eat Your Words read-along this summer and I'd like listener suggestions for excellent reads with a culinary theme. You can titles from your already-read or to-read list to a page on the Ravelry forum.
---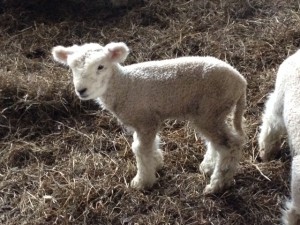 Yarn Lover at Large (in Saratoga Springs, NY)
The Yarn Shop at Foster Sheep Farm
Washington County Farm & Fiber Tour
---
On the Porch
It's a knit-along for Hediye and Paper Cranes! You can find more information about the patterns and prizes on the thread.