Who Needs Cookies?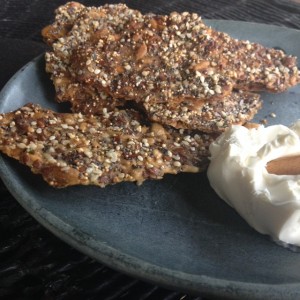 I found myself craving a very crisp cracker that is healthy but doesn't make me feel like I'm eating health food. These crackers are gluten-free, loaded with nutritious seeds, can stand up to a spread or dip, but are fabulous on their own. They're crunchy, salty, seedy and with a hint of sweetness too. I recommend making a double batch. They make an excellent snack and would be excellent for holiday gifting. Don't rush the oven time and store in an airtight container.
---
Who Needs Cookies?
Oven 300°
1 tblsp amaranth seeds popped in oil over high heat
1 tblsp chia seeds
1 tblsp hemp seeds
1 tblsp poppy seeds
1 tblsp sesame seeds
1/2 c amaranth flour
1/2 c quinoa flour
1 tsp salt
2 tblsp olive or coconut oil
grated rind of 1/2 orange
juice of 1/2 orange, plus water to equal 1 1/4 c
1/3 c flax seeds
1/2 c pumpkin seeds
1/2 c sunflower seeds
maple syrup or honey
coarsely ground sea salt
Mix first five ingredients together in a small bowl. Set aside.
In a large bowl, whisk together flours, salt, oil, orange rind, orange juice and water. Stir in flax, pumpkin and sunflower seeds, plus two tablespoon of the five-seed mixture. Allow to rest at room temperature for ten minutes.
Pour batter (it will look alarmingly thin) onto two parchment-lined baking sheets and spread evenly. Sprinkle the remainder of the five-seed mixture on top.
Bake for 20 minutes or until the crackers have a bit of a crust. Brush the surface with maple syrup and immediately sprinkle sea salt over the top.
Return pans to oven and bake for another 30 minutes.
Reduce oven to low / warm. Crackers will continue to crisp over the next hour or two. Break each large sheet of crackers into squares or shards and store in an air-tight container for up to two weeks.