Episode 75: Not Only, But Also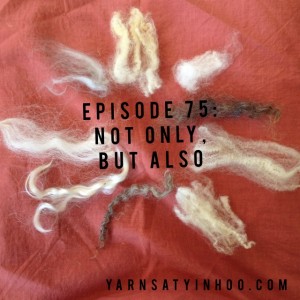 This episode includes the following segments: Ever-expanding Skill Set, Sheep to Shawl, The Back Porch, Yarn Lover at Large, Double Happiness and Gratitude Journal. I announce the winner of the TurtleMade Contest and introduce two student fiber artists. The photo on the left pictures nine different fibers my Fiber Studio classmates and I were invited to sample: (clockwise from top) Romney, Merino, Lincoln, Columbia, Clun Forest, Wensleydale, Angora goat, Huacaya alpaca, and Angora rabbit. I chose some Clun Forest and Lincoln to spin at home.
---
Ever-expanding Skill Set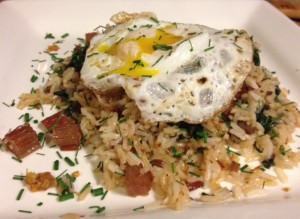 In April, it's all about condiments, and there is great conversation and recipe sharing going on over on the Ravelry board.  Lately, I've been craving Thai chili paste in everything. I put together a quick rice dish with sautéed leeks and Swiss Chard, topped with crispy grated ginger and garlic and a fried egg. To boost the flavor of the rice, I stirred in some chili paste.  Yum.  This dish is an adaptation of Jean George Vongerichten's Ginger Fried Rice. It's good as a side or on it's own for a quick supper.  Tag your creations with #powerpantry.
---
Sheep to Shawl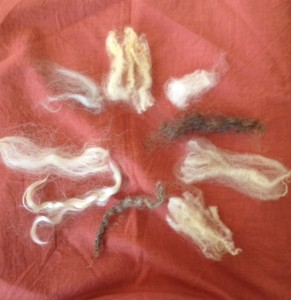 April's session was the best yet. There was so much learning and working that I can't believe we fit it all into one day.  We began by discussing a reading, which I've excerpted below. This was followed by a lesson on the drum carder, and then we were off to Eurythmy class. It was my first and I had no idea what to expect, but I really enjoyed it.  So later, naturally, I looked it up to learn a bit of background. Eurythmy is expressive movement as taught in the tradition of Rudolf Steiner and the Waldorf education system. It uses movement and color to express sound and meaning. During much of the class, as we were repeating rhythmic movements, the instructor was reciting lines of poetry. Our work has been focused so far on wool from Jacob sheep, but this week our instructors placed before us a variety of nine types of washed fiber, and invited us to take some and experiment. Photo above: (clockwise from top) Romney, Merino, Lincoln, Columbia, Clun Forest, Wensleydale, Angora goat, Huacaya alpaca, and Angora rabbit.
Patient repetition — doing again and again procedures that only seem to be the same, entering ever more deeply and intimately into the qualities of the material — this trains the will. The movements of a hand worker are measured, harmonious, well-considered.  It is not only the unevennesses in the substances that are smoothed out, but also unevennesses in character.  The result of his work the product of his own hands, shows a person how far he has progressed in his schooling.
                                                                       from Dr. Gerda Kramer "A Preamble about the Crafts"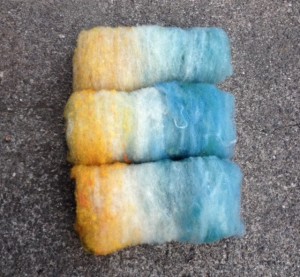 After lunch, class participants engage in several hours of handwork, trying new skills under the guidance of the instructors and sharing ideas with classmates. This is my favorite part of the day.  The beautiful space of Fiber Craft Studio hums with energy and industry and a constant flow of stories and laughter. I used the hand carder to make three batts — carding together some Hog Island fiber, and hand-dyed fiber on sale at the studio. Someday, I will figure out how I want to spin these batts; right now I'm just having a lot of fun gazing at them.
---
The Back Porch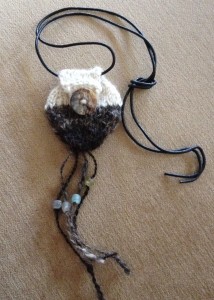 Our first major assignment for the Sheep to Shawl course was to use some of the yarn we've processed and spun so far to design and knit a small bag or pouch.  Inspired by the beautiful variations in the color of Jacob fleece, as well as the transient nature of Ruth from Housekeeping, I came up with a design for a small amulet.  As I designed, I took photographs and recorded my pattern so that I could make it available to others.  Reliquary is available on Ravelry; it includes line by line instructions and a photo tutorial. You can use very small needles and fingering weight yarn to make a tiny little amulet, or thicker yarn and larger needles to knit a small pouch. Decorate with fringe, beads, and a one-of-a-kind button to make a special keepsake.
---
Yarn Lover at Large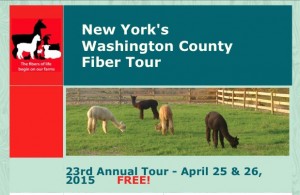 Next weekend, I'll be touring some of the farms in New York's Washington County.  The farm and fiber tour is free and each farm hosts some kind of interesting event or learning experience. Are you going? You should go! Here are some of my intended stops:
Battenkill Spinning Mill — Greenwich, NY
St. Mary's on the Hill — Greenwich, NY
Ensign Brook Farm — Greenwich, NY
Dancing Ewe Farm — Granville, NY
Argyle Brewing Company — Greenwich, NY
Dish Bistro — Greenwich, NY
---
Double Happiness
I've been talking about the possibility of recording my student spinners for awhile, but last Monday, at our String Theory club meeting, we actually took the time to record a short segment. Selene and Courtney are experienced crocheters, and now they're learning to spin. I think you will really enjoy hearing their comments in this segment. We talked about their history as crafters, how fiber arts help them deal with stress, and their fantasy projects.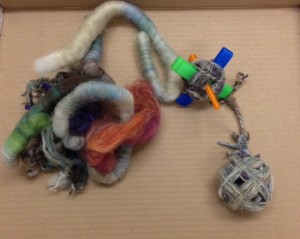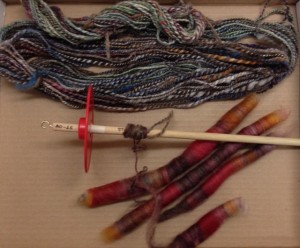 ---
 Gratitude Journal
This week I read "To Be of Use" by Marge Piercy.
The pitcher cries for water to carry
and a person for work that is real.