Episode 67: Handwork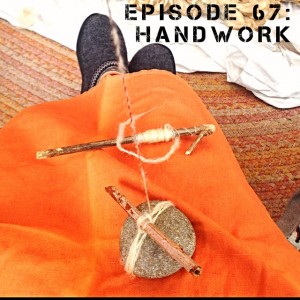 Snow has covered the ground at Yin Hoo and there's more on the way. Hopefully there will be enough time between shoveling sessions to work on some thrummed mittens while I sit by a toasty fire. This episode includes the following segments: Ever-expanding Skill Set, Yarn Lover at Large, Gratitude Journal, And Sew Forth. I announce the winner of the zebra project bag pictured on the cover of Episode 66. There's a giveaway of beautiful Kauni yarn just in time for Valentine's Day — check out the prize thread on the  Yarns at Yin Hoo Ravelry group to make your entry.
---
LISTEN:
---
Ever-expanding Skill Set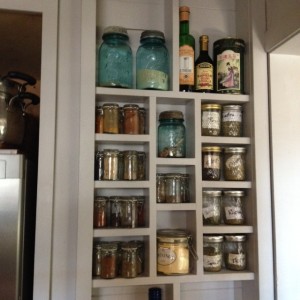 Since the last episode, I discovered that the can-can sale may be particular to the US East Coast supermarkets. But some listeners have commented about their favorite items to stock when they go on sale: beans, broth, pasta.  My go-to is Annnie's Mac & Cheese. I know it's not so great in the total nutrition department, but I can never resist it!
There's been a lot of discussion about de-cluttering and getting organized, so I thought that this week would be a good time to discuss staying organized. Without good habits, we can easily return to a cluttered, disorganized state. Adhering to the principles of mise en place helps me stay organized in the kitchen, but the principle (known to chefs as meez) can also be applied in other areas of your life. Check out this segment from NPR's Morning Edition. The All in Its Place blog has a great excerpt from Anthony Bourdain's Kitchen Confidential, where he explains how important a chef's meez is to his efficacy in the kitchen.
This week's question is:
What are your tips for staying organized in the kitchen?
Comment below, make a post to the Ravelry thread, or use #powerpantry to contribute your photos, tips and suggestions.
---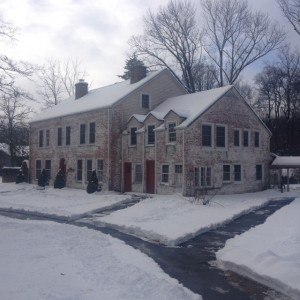 Yarn Lover at Large 
I've begun a year-long Sheep to Shawl course, which will meet one Saturday a month. The event takes place at Fiber Craft Studio in Chestnut Ridge, NY. Our class meets in Orchard House, a beautiful old building on the campus of Threefold Center, a training facility for Waldorf educators.
I spent Friday night in one of the dormitory rooms (that corner room was my refuge) and awoke to a dazzling white morning.  There was just enough time before class to meet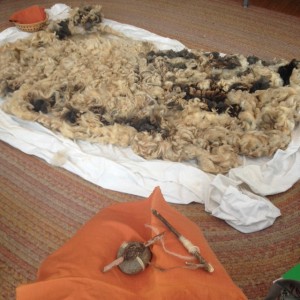 Deb (L1ttleredhen) for coffee and conversation before class began.
This week, we encountered the beautiful fleece of Hazel, a Jacob sheep raised by Jenny Jump Farm in Hope, NJ. We also got in touch with our primitive roots, and spun using hitched twigs and spindles made from sticks and stones. Homework before the next class will consist of washing 2.5 ounces of Hazel's fleece. I'm using some of the methods I learned from Sadie's fleece processing class during the Super Summer Knitogether.
---
And Sew Forth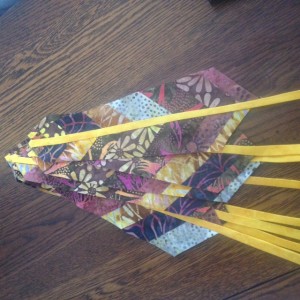 Last weekend, I completed eight feathers for the Birds of a Feather appliquéd skirt designed by Anna Maria Horner. The project so far has consisted of strip-piecing 6 different types of fabric, cutting right and left sides of feathers, cutting spines for feathers, sewing feathers to spines, and lots and lots of ironing to press seams out of the way and smooth the fabric for ease of sewing. I'm pleased with the way the feathers have turned out, and look forward to another sewing day, when I will make a pattern for the skirt according to my measurements, and cut the skirt fabric on the bias.