Episode 49: Putting Food By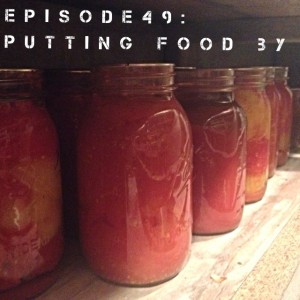 This episode includes the following segments: The Back Porch,  Yarn Lover at Large, and Ever-expanding Skill Set. I announce the Bulk Bins Cook-along prize winner for July and list the prizes for the Asymmetri-CAL.
---
LISTEN:
---
Asymmetri-CAL Updates
There is an assortment of very cool prizes for our Asymmetrical Craft-along. Thanks to everyone who has generously contributed a prize. You can see photographs of the prizes on the finished object thread on Ravelry. Join in the fun. It's not too late to start now; the CAL continues until September 26. To participate, you knit, crochet, weave or sew a garment or accessory that is asymmetrical in design, structure, or use of color. There are progress photos and camaraderie on the chatter thread.
The Back Porch
In order to win Stash Dash this summer, I needed to turn production into high gear for the end of July and the first week of August. The friendly competition, hosted by TheKnitGirllls, invites crafters to knit, crochet, spin, and weave the equivalent of 5K of yarn. My self-imposed goal was not only to use 5,468 yards of yarn from my stash, but also to engage in as many different crafts as possible. Since the last episode, I was quite focused and completed three projects: two woven scarves, and a shawl design by Simone Eich of WOLLWERK. My total yardage for Stash Dash this year was 6,037 yards.
 14 total projects — 6,037 yds
Yarn Lover at Large
Last week, Samuel and I visited the Warren County Fair. It's a small fair, but there was plenty to see and do, including petting the sheep and alpacas, watching the baby goats jump around their pens, paying our respects to the poultry, pigs, cows and horses, and wandering through the produce tent. One of the 4H groups had spindles for sale: $10 included the spindle, fiber and a free spinning lesson. Too bad we were visiting during the animals' dinner time, so the girls were pretty busy with their livestock. There was great fun at the tractor pull, which featured vintage machines as well as tractors with stock-car engines. I don't know enough about this event to write about it convincingly; all I can say is that there was smoke and noise and dust enough to please any fair-goer.
The Hunterdon County Fairgrounds, where I attended the fair each year in late August, is now a vast landscape of strip malls and parking lots. The new fairgrounds are located a few miles away in Ringoes, New Jersey. This September (the weekend after Labor Day) I'll be volunteering at the New Jersey Sheep & Fiber Festival on Saturday morning, to help out at the Fleece Show and Sale Tent. This is a small festival, but with some excellent vendors. If you're interested in volunteering, you can find a list of options and contacts here.
Ever-expanding Skill Set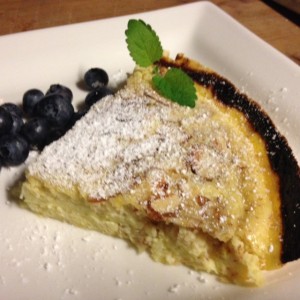 Nuts are in the spotlight during the month of August. Expand your skill set by participating in the Bulk Bins Cook-along. Shop the bulk bins at your local supermarket or health food store. Buy some nuts. Look up recipes online or create your own. Replace other proteins in a dish with nuts. Take photographs of your culinary creations and post them to social media with #bulkbinscal. This week, I hunted down a recipe I haven't made in awhile. It's the Lemon-almond Pan Tart from Mark Bittman's The Minimalist column. I really miss that column and the accompanying videos. This tart works for breakfast or brunch. It even makes an elegant dessert. The next time I make it, I will replace the lemon with lime and the cream with coconut milk for a festive sumer variation.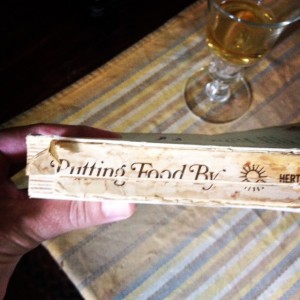 It's taken several tries, but I've finally convinced my mother to share some of her expertise on the podcast. We spent the day canning in her kitchen, and sat down for a few minutes to talk about food preservation. Hopefully, I'll be able to bring additional segments from Mom in future episodes; she is a master of many practical arts. One of my favorite things to do in Mom's kitchen is to look through her collection of recipe books. Pictured is her copy of Putting Food By, the canning reference to which she frequently consults. This well-loved edition has no front or back cover; even the spine is in tatters. This week's episode cover is a photo taken in Mom's pantry, where the beautiful jars of preserved produce are arranged on wooden shelves.