Episode 48: Home Sweet Home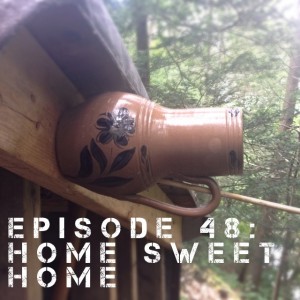 This episode contains the following segments: The Back Porch, The Front Porch, Ever-expanding Skill Set, and Double Happiness. Welcome to Yarns at Yin Hoo. I'm especially happy to have new listeners who may have heard about the podcast at SSK.         
---
LISTEN:
---
The Back Porch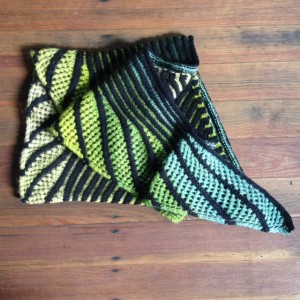 Since returning from Nashville, I've completed several projects that have been in the works for about a month. The Nymphalidea shawl took flight with a wingspan of over seven feet. The wing-like design is a very nice way to feature my handspun Pollination from Beesybee fibers. I recommend the pattern for any special handspun or yarn with color changes. I found the rows easy to memorize, but I did make a few modifications, which are explained on my Ravelry project page.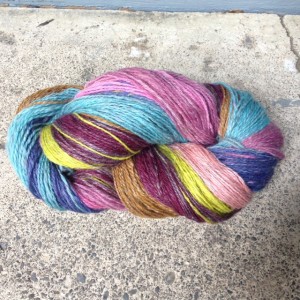 For those of you who are not so familiar with the fiber arts, spinners take on a very big challenge during the Tour de France; they participate in an event called Tour de Fleece. I know. I know. Last year, I did all of my spinning on my new Louet, and dragged it with me during a busy three weeks. This year, I spun on a Turkish drop spindle — much more portable. To my surprise, the spindle was also very productive. I plied all of the yarn on my Louet and came up with 417 yards of beautiful lace weight yarn.
The Front Porch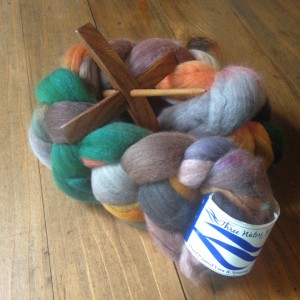 Spinning with TeamJenkinsTurkish2014 was so much fun that I've decided to set another spindling goal and spin for the Fall Mini Spin-along. Between August 1 and September 30, I will attempt to spin an entire braid of Polwarth/Silk from Three Waters Farm on my drop spindle. I've been very intrigued by this small and simple tool, and have even begun a practice of meditative spindling.
In order to "win" Stash Dash, I need to use up another 1200 yards from my stash.  That will be difficult, considering there is only a week left to cross the finish line. Certainly, I will be starting Tiffany, a shawl by Simone Eich of WOLLWERK designs, and I'll be dipping into my stash for the yarn for this project. I may also pull out an unfinished project and try to complete it. Join in the fun and start a project on August 1.
Ever-expanding Skill Set
Thai Quinoa Salad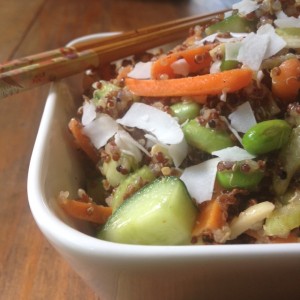 Rinse and cook 1 cup quinoa according to package directions in water or stock. I added 1 teaspoon ground ginger, 1 teaspoon ground cardamom, and 1/2 teaspoon salt to the cooking liquid.
Meanwhile, cut fresh ingredients into bite-sized pieces. Use anything from the garden! I used 1 cucumber, 1 cup carrots, 1 small zucchini, 2 stalks celery, and 1 cup blanched edamame. Toss vegetables with 1/2 cup Thai peanut dressing and the juice of a lime. Stir in 1/2 cup almonds or cashews for extra crunch and protein.
When quinoa has finished cooking, allow it to cool before tossing with vegetables. Sprinkle with large coconut flakes or chopped peanuts before serving.
This dish makes a great salad for lunch or a side at dinner. Add diced chicken or tofu for more protein and serve it as a main course.
Double Happiness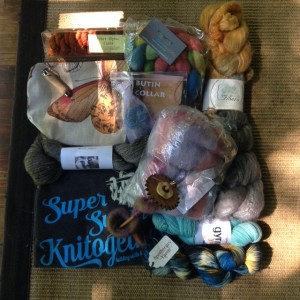 SSK is over, but it has been fun to re-live the experience by watching and listening to podcast reports. There are even a few new podcasts on my list now. One I'd like to recommend in particular is Transient Wool Merchants,  featuring Amy of Ross Farm Fibers.
I've also been digging into my new purchases from the SSK market. As promised, here's a photo of all the goodies. I've been learning to use a top whorl spindle — I was very lucky to be a door prize winner during the opening and closing ceremonies. On Wednesday evening, I won a kit from Nelkin Designs and on Saturday evening I won a gorgeous drop spindle and fiber batt from Dawning Dreams.