Episode 45: Observation Deck
This episode includes the following segments: Yarn Lover at Large, The Front Porch, The Back Porch, and Double Happiness. I also announce the five winners of WOLLWERK patterns in anticipation of the Asymmetri-CAL, which begins on August 1. This podcast is loosely structured and lightly edited.    
---
 LISTEN:
---
Yarn Lover at Large
This episode is brought to you from Nashville, Tennessee. I'm in town for the Super Summer Knit together (SSK), a retreat hosted by TheKnitGirllls. My plan is to record a few episodes on location, and upload them right away–like an audio diary of my experience. I hope you enjoy them. In this episode, I talk about the classes I'll be taking: spinning with Malia and fleece prep 101 with Sadie.
The Front Porch
"What projects do I take to SSK?" has been foremost in my mind over the past few days. Conventional wisdom demands a simple design that I can work on while socializing, and bright colors or color changes to keep my interest. I've decided on taking a pair of yoga socks that will be a holiday gift, the Nymphalidia shawl, which is a bit more intricate, and another skein of rustic handspun to work into cord using my lucet. I anticipate that I'll spend a lot of time spinning on my Turkish spindle. Seriously, it's addictive.
The Back Porch
It's Tour de Fleece time and I've been doing lots of spinning. Most of it has been completed on my Aegean Turkish spindle from Jenkins Yarn Tools. I have a personal goal of spinning every day during the Tour de France, and hopefully I'll complete the battlings I purchased from Hobbledehoy at the Maryland Sheep & Wool Festival. When I have some time at home, I work on my Louet. This week I completed spinning the Papaya braid from Beesybee Fibers. This BFL/silk blend yielded 375 yards of a fractally-spun 2-ply.
Asymmetri-CAL Update
Congratulations to the folks who've won WOLLWERK patterns. Please contact designer Simone Eich, wuscheltigger, by sending a personal message on Ravelry. Let her know which pattern you'd like to receive. Thank you to everyone who has expressed interest in this craft-along. The official start date is August 1. You're invited to craft any pattern that is asymmetrical in design, construction or use of color. The Yarns at Yin Hoo group on Ravelry is growing, so join us. Chatter here. Post photos of finished projects here.
For those knitters spinning chunky handspun during Tour de Fleece, you might be interested in the Asymmetricowl, a pattern by Denae Merrill. It's available for free during the month of July. Thanks, Denae, for this generous offer!
In case you need just one more reason to participate in the Asymmetri-CAL, here you go. Susan, the dyer of Riot of Color, has offered up a skein of cobweb silk as a prize. Check out her shop to see the beautiful colors and dazzling yarn bases.
---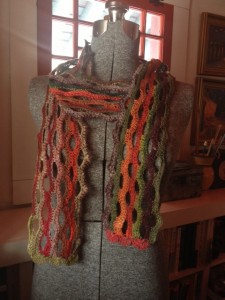 During the week of July 7, I facilitated an Open Institute at Rutgers University. Designed to help participants deepen their experience as writers, the institute is always inspiring. On Friday, we read aloud from writing we've produced during the week. I began this poem on Wednesday, when visiting poet Toney Jackson prompted us to write about significant objects from our homes. Immediately, I thought of Gertrude, the vintage dress form that was a Christmas gift from my sister, Laura.
On Being Gertrude
An actor inhabits a character, beginning with her feet.  Mine
are heavy metal, for a start.  I'm an hourglass,
upholstered in grey fabric, fragmented into several parts.
My chest can heave, and float apart, or shift together—no body
type is too trim or too remote for me to assume her shape
if she's a lady.  Sorry, fellas. My plate tectonics are of the feminine
kind, and are like to drive you crazy.  You've seen smooth-skinned
mannequins in department stores—they're bland as hangers.
Those gals are caged in their pre-ordained proportions,
but my physique says, more is more. My poem is for you women,
not the girls.  We're shape-shifters. We're full of surprises.
Look in our closets; we wear many sizes. What I mean is this:  My heart
is full-figured. I'm petite when it comes to petty concerns.
In terms of my singing voice, I'm just about average.  Don't talk to
me about some salad-eating, calorie-saving—don't say the word diet.
I'm expansive, not expensive.  And my curves do the talking 'cause
I don't have a mouth. Vogue, Cosmopolitan, — you'd best keep quiet.
They can dress me up, honey, but they'll never take me out.