Episode 44: Mother Grain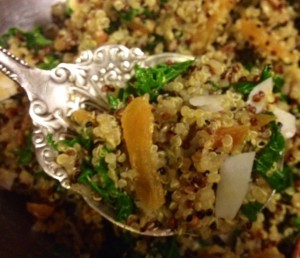 This episode includes the following segments: Yarn Lover at Large, A Little Bit of Learning, and Ever-expanding Skill Set.
---
 LISTEN:
---
Yarn Lover at Large
On the way back from Vermont, I took a slightly different route in order to visit Green Mountain Spinnery. This worker-owned cooperative is a special destination for knitters. Mom and I were given the informal, but highly-informative tour. We gaped at the vintage machinery and inhaled the sheepy fumes. Then, there was a little time for shopping. I selected a skein of Simply Fine, a single-ply mohair/wool fingering weight yarn.
A Little Bit of Learning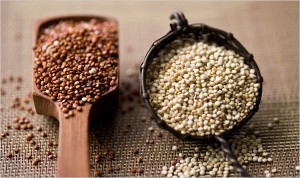 The health benefits of quinoa have been making headlines for several years. There's so much information that it's all a little overwhelming. Most of the information I share in this episode comes from the Whole Grains Council. I also heard a news story on The Splendid Table about the politics of quinoa. If you think you've learned everything there is to know about this amazing pseudo-cereal that grows high in the Andes mountains, you may be interested in Quinoa Quarrel, an interview with journalist Lisa Hamilton, which focuses on the politics of seed sharing. If you are concerned about exploitation of South American growers, and interested in learning more about quinoa grown in the United States, check out this article for more information.
Ever-expanding Skill Set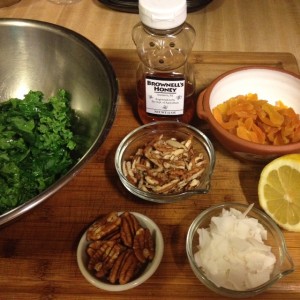 Inspired by swentea's post about a quinoa salad with kale and coconut, I set about combining some of my favorite flavors in a recipe of my own.
Southern Belle Quinoa
In a small saucepan, place 2 cups water or stock, 1 tablespoon butter, 1/4 teaspoon salt, 1/2 teaspoon cumin, 1 teaspoon sweet curry powder, and 1 cup tri-color quinoa (rinsed and drained). Bring to a boil and cover. Turn off heat and allow to rest (in a hot kitchen) or simmer (in a cool kitchen) for 15 minutes, until all liquid is absorbed.
Meanwhile, prepare a small bunch of kale by rinsing in cold water, then removing ribs and ripping into bite-sized pieces. In a large bowl, toss kale with grated rind and juice of 1/2 lemon and a dash of salt. It will begin to wilt.
Coarsely chop 1/3 cup dried apricots and 1/3 cup pecans. Add to kale in large bowl. Add cooked quinoa and toss contents with a few tablespoons of honey.
Garnish warm or cold salad with 1/3 cup whole pecans and 1/3 cup unsweetened coconut flakes.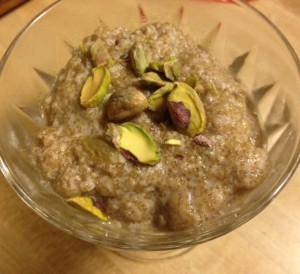 Just when I thought I would turn my back on amaranth for awhile, I came across a recipe for Chai-Spiced Amaranth Pudding. This preparation is an appropriate match for dense, sticky amaranth. I like the chai spices, too. I don't keep low-fat milk on hand, so I used 3 cups of whole milk and two eggs, omitting the cornstarch and halving the sugar. I only had a few golden raisins, so I added diced ginger. I also replaced the brittle with roasted, salted pistachios. The texture resembles that of tapioca, but it is not as light.
---
The poem for this episode is "Morning Swim" by Maxine Kumin. You can find this and other poems on Poetry 180.
My bones drank water; water fell
through all my doors. I was the well
that fed the lake that met my sea