Episode 42: Literal Interpretation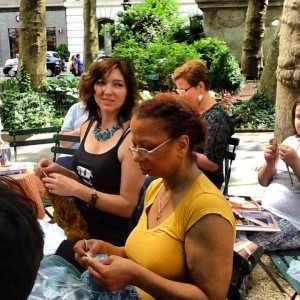 This episode includes the following segments: Yarn Lover at Large, The Back Porch, Ever-expanding Skill Set, The Front Porch, and Double Happiness.
Thank you to everyone who took the time to comment on Episode 41: A Witness to Color. I had a lot of fun interviewing Patricia of Beesybee Fibers. If you haven't had a chance to check out her blog or Etsy shop, get on that!
LISTEN
Yarn Lover at Large
It was a great day at Bryant Park in New York City. Samuel and Bovine Social Club had a gig at the Rodeo Bar later that night, so I went in early and spent a day in the park. Knitty City reserved a bunch of tables near the Gertrude Stein statue. I worked steadily on two projects and got to chat with some very friendly NYC knitters. You can see more photographs from this World Wide Knit-in-Public event on the Knitty City Facebook page.
The Back Porch
Last episode, I didn't talk much about my knitting. I've completed a number of projects over the past few weeks. The Shield Maiden by Emily of the Fibretown podcast is complete, in unspun Icelandic. This was a very enjoyable knit and a good experience with an unusual kind of yarn. I've entered this project into the Island Wool KAL hosted by Sarah of the FiberTrek podcast. I suspect my packages of wool were very generous, because I didn't even open the second one. So, I'm donating it as a prize for the Island Wool KAL so that another knitter can give it a try.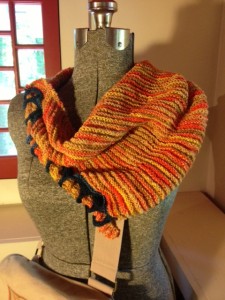 Drizzle, a hat designed by Mel of the Singlehanded Knits podcast, was a gift from Clare and something I've had in my queue for awhile. It was lots of fun to knit, is slouchy and fun, and would make a great gift. The Barley hat from tincanknits is very easy and knits up quickly in worsted weight yarn. My plan is to knit several of these, in various sizes, and bring them to SSK as my charity donation. I finally completed the Clincher (right), a scarf by Ash Kearns. This pattern is a great way to use sock yarn and scrap sock yarn in highly-contrasting colors. It's also good for social knitting.
Ever-expanding Skill Set
Recently, I've been catching up on back episodes of Curious Handmade with Helen Stewart. I really enjoy Helen's approach to her life and her craft, and I decided to knit one of her patterns, Fireflies Rising. Besides having a charming design that is perfect for this time of year, Helen has a stellar way of writing her patterns — with stitch counts and percentage complete for every row, all in a neat table so that you can check off the rows as you knit them. The shawl worked up quickly in Pagewood Farm's Glacier Bay in Camo.  The 3-ply yarn is incredibly round, so the fireflies in the pattern stand out nicely.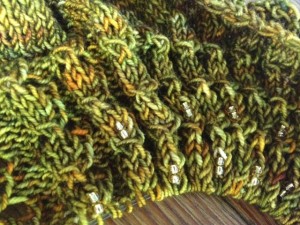 Perhaps this interpretation is too literal, but I really wanted to add beads to the Fireflies Rising shawl. I've only added beads, and sparingly, to a few patterns, so I thought very carefully about where and how many to add. Finally, I decided to add two beads to the abdomens of alternating fireflies on Rows 87 & 93 of the pattern. You can read more about my project on my Ravelry project page.
The Front Porch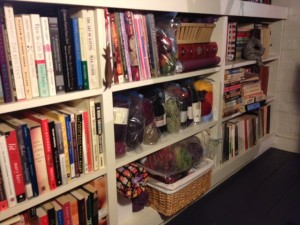 Inspiration to get things done has come from two different podcasts this month. For the second year, I will be participating in Stash Dash, hosted by TheKnitGirllls podcast. The goal is to knit the equivalent of a 5K by mid-August. Goals are good. I plan to knit (and spin and weave and crochet) as much of my current yarn and fiber stash as possible. In order to keep track of my goals and my progress, I've set up a Ravelry project just for Stash Dash. Stacie and Steph of the Must Stash podcast are hosting a Stash Flash this summer. It's an invitation to get organized and share photographs of your craft storage and workspace. This was all the prompting I needed to perform a deep clean of my office, recording studio, and stash storage. You can see more details here.
Double Happiness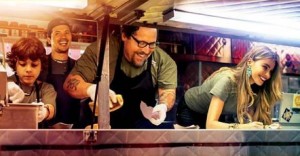 On rare occasions, I see a film twice. Chef opened the Montclair Film Festival, and I was lucky to see it with friends. When it arrived at our local cinema, I went to see it again. Chef is the perfect feel-good summer movie. Over the course of the film, Chef Carl Kasper goes from being a restaurant chef insulted by a popular food blogger, to a successful food-truck entrepreneur. If you're into food and cooking, go see this film. Evan Kleiman interviewed the writer and star of the film, Jon Favreau, and Roy Choi (of Kogi Korean BBQ)  fame on a recent episode of Good Food.