Episode 4
This week's episode features the following segments: Backstory, A Little Bit of Learning, Ever-expanding Skill Set, and Gratitude Journal.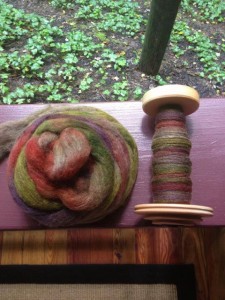 Since Episode 3, I have been working on intentional spinning. Here is half of my mixed BFL (bluefaced leicester) from Beesybee Fibers.  Hopefully next week I can report on yardage.  This fiber certainly has been a joy to spin.  The colors are lovely earth tones.  I've been spinning on the porch of Yin Hoo, watching the first orange leaves come floating down from the canopy.  When I need a break from spinning, I look for the heron's elegant form at the edge of the creek.  We've seen  as many as nine female Merganser swimming together and we have seen a few different bears walking along the path along the water's edge.
---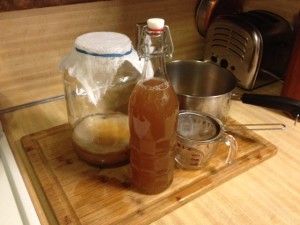 Ever-Expanding Skill Set
As promised in Episode 1, I've recorded a segment with my steps for making kombucha.  In June, I received a scoby from my friend Gwen, and have been practicing all summer.  Finally, I have a refreshing, effervescent, not-too-sweet fermented tea.  Instructions for kombucha begin at twelve and a half minutes into the podcast.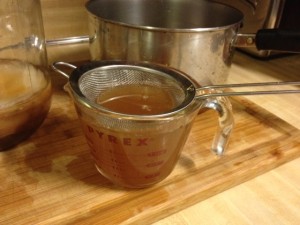 Begin by pouring off and straining kombucha.  Always leave a small amount of tea in the fermentation container with the scoby (symbiotic colony of bacteria and yeast). I've been fermenting mine for 10 to 14 days before preparing a new batch.  I store the brew in swing top bottles in the fridge.  Be sure to use food-grade glass for both fermentation and storage.  Make a new batch of tea by boiling one gallon of filtered water.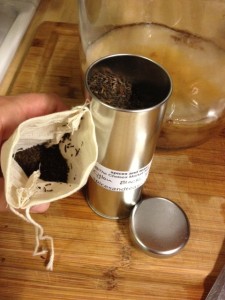 Add about 3/4 cup of sugar and stir to dissolve.  Remove the pan from heat and add 6-10 bags of black tea, or 6-10 tablespoons of loose black tea.  Allow to steep for 5 minutes and then remove the tea bags or strain the tea.  I put loose tea into a small cloth bag that acts as a tea bag.  When tea has completely cooled, pour it into the container with the scoby.  Sometimes this disturbs the scoby.  I handle my scoby with clean hands.   Keep the smooth, white surface of the scoby facing upwards.  Cover the fermentation container with cheesecloth and store in a cool, dark place.  Those who praise the benefits of kombucha usually mention its probiotic properties.  I'd love to hear from you if you make kombucha at home or have a great recipe to try.
 "What is a teacher? 
I'll tell you; it isn't someone who teaches something, but someone who inspires the student to give her best in order to discover what she already knows."  — Paulo Coelho