Episode 36: Lettuce Pray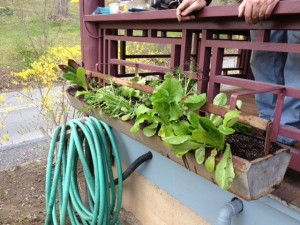 This week's podcast episode includes the following segments: Off the Shelf, Ever-expanding Skill Set, Yarn Lover at Large, and Double Happiness.
LISTEN: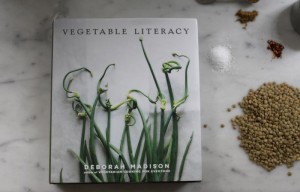 Off the Shelf
I've been intrigued with this book by Deborah Madison, a cookbook organized by families of the plant kingdom.  The chapters cover vegetables, herbs, spices and grains in surprising ways that help the home cook use them creatively.  The author also appeared on this week's edition of KCRW's Good Food program.  She talks with Evan Kleiman about the approach she takes in Vegetable Literacy, and explains how plants from the same family can create contrasting depths of flavor and texture.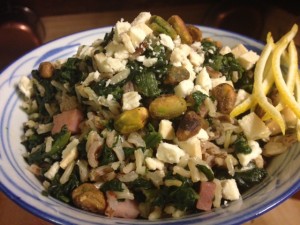 Ever-expanding Skill Set
I was particularly inspired this week by Rice with Spinach, Lemon, Feta and Pistachios from Deborah Madison's book.  I used a variety of types of rice, cooked in ham stock, as well as bits of ham left over from Easter dinner.  The cheese was a special gift of smoked feta from Vermont.  This was a great meal after Samuel and I worked to suspend a salad bar from the porch railing of Yin Hoo.  I have fantasies about picking delicate leaves of lettuce all summer long.  Let's hope the squirrels leave it alone. Keep your fingers crossed for me!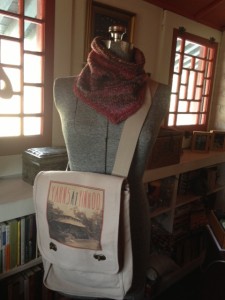 Yarn Lover at Large
On Saturday, I'll be traveling to the Maryland Sheep & Wool Festival.  Thank you to everyone who has made shopping suggestions.  I like the idea of finding a new tool — perhaps a nostepinne or lucet.  I'm also considering some punis for spindle spinning.  Mostly, I'm interested in meeting the talented people who work carefully all year and then bring their hand-crafted wares to the festival.  There will be a podcaster meetup in the Lower Corral at 1:30 pm on Saturday and I'm eager to meet listeners and make new friends.  I'll be handing out groovy buttons, too.  Hope to see you there!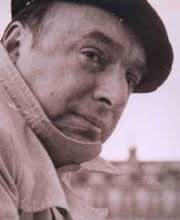 Double Happiness
Thanks to everyone who left comments and shared poems during National Poetry Month.  This week, I'll be reading an old favorite that was suggested by Rmh258 — "Ode to My Socks" by Pablo Neruda.  In his work, Odes to Common Things, Neruda heaped praise onto the simple things of our everyday lives. Many of the poems in this collection have become favorites. Look for translations by Robert Bly, who maintains elegance and simplicity in English.