Episode 100: Gather Here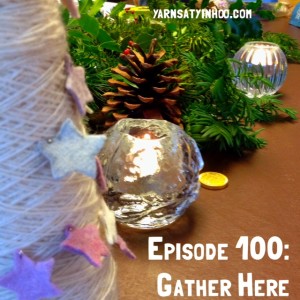 In this episode, I reflect on my year as a participant in Sheep to Shawl at Fiber Craft Studio and share my final project for the course. For additional information about the course and photos of the class sessions, take a look at sheep2shawl on my Ravelry project page. I will also announce the winner of the #powerpantry prize for November. The remainder of this episode will be devoted to a retrospective of my previous segments about the course.  I hope you enjoy listening. Each session at the studio opens and closes with a verse from the Tewa tradition.
---
Thank you for your support of the podcast and your encouragement over the course of more than two years and 100 episodes.  My shawl patterns are discounted to $3 until I record Episode 101. Check out my design page on Ravelry for more information.  You don't need to enter a code — just put the pattern in your cart and the discount will appear.
---
O

h our Mother the Earth,

oh our Father the Sky,
Your children are we, and with tired backs
We bring you the gifts that you love.
Then weave for us a garment of brightness.
May the warp be the white light of morning; 
May the weft be the red light of evening;                                                                                                    May the fringes be the falling rain;
May the border be the standing rainbow.
Thus weave for us a garment of brightness,
that we may walk fittingly where birds sing;
That we may walk firmly where grass is green.
Oh our Mother the Earth, oh our Father the Sky.
---