Snow Day Ginger Soup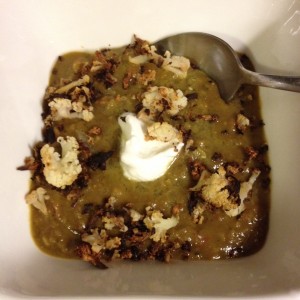 Taking ideas from several intrepid cooks, I played 'the pantry game' and used what was on hand in my kitchen to make this rich and tasty soup. Two handy finds were a partially-used jar of roasted red pepper strips, a small container of frozen kale pesto, and some Greek yogurt for a creamy garnish. What appears to be split pea soup is actually pungent with curry, ginger, and pesto.
---
1 onion, diced
3 carrots, diced
1 tsp. sweet curry powder
1 tsp. turmeric
1/2 tsp. cumin
1 tsp. salt
1/4 c. roasted red pepper, diced
3 inch knob of ginger, peeled and grated
1 clove garlic, minced
1 c. yellow lentils, soaked for one hour
3 c. chicken or vegetable stock
1 15 oz. can coconut milk
1/3 c. pesto
1 head of cauliflower florets, sliced into 1/4 inch pieces
---
Preheat oven 350º
Heat 1 tblsp. butter or oil in a large, heavy-bottomed pot. Sauté carrot and onion until translucent. Push vegetables to one side of the pot, add salt and spices. Stir gently while toasting — about two minutes.  Add pepper, ginger and garlic. Stir to combine all ingredients and cook for two minutes more.  Transfer to a bowl. Set aside.
Simmer lentils in stock until tender, about 25 minutes.
In the meantime, spread sliced cauliflower on a foil-lined sheet pan. Sprinkle with salt and roast in oven for 25 minutes, turning occasionally with a spatula. Cauliflower should be crisp and crunchy, but not burned.
Stir coconut milk, pesto, and onion mixture into lentils. Bring to a simmer.
Serve soup over roasted cauliflower.  Garnish with freshly-squeezed lemon and a dollop of Greek yogurt.